New York City One-Act play festivals are, by their very nature, a mixed bag. Quite often they just end up being a random assortment of shorts that play together unevenly and vary wildly in quality from one piece to the next. But then there's One-Act festivals like F*IT Club's Spring Fling. Now in its seventh year, this is a curated evening of one-act plays. Each year has a theme, to be interpreted however the playwrights feel. They can be completely esoteric, or overly literal. This year's theme was Rebound, and the offerings, on the whole, were strong.
Strung throughout the play, performed in the interludes between the other one-acts, was a piece called The Quickest Way written by Lucy Boyle. In it a woman fights to get over a break-up by getting under someone else. However, she does this literally, getting under chairs and benches that people are sitting on. Her strange quest takes her to places both new and familiar. This daft little piece works as a gentle farce, and so made for a good interlude play. It's toying with the theme was simple and doesn't engender too much deeper meaning, but it worked as a skeleton for the show.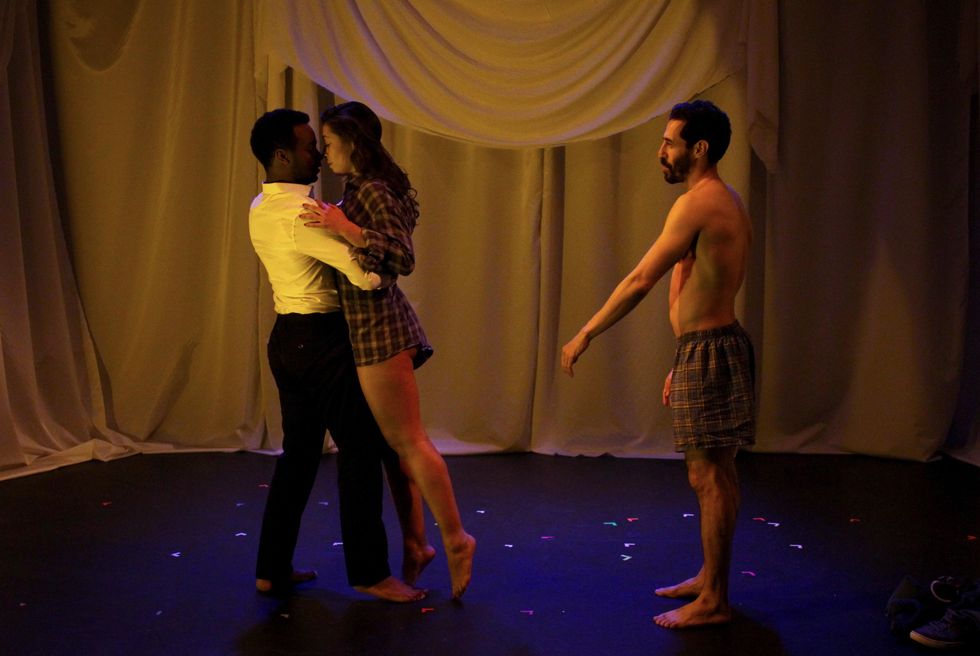 Photos by Crystal Arnette
Antares Returning (By Ryan King) saw the crew of a long distance, three-year space mission make the final return to earth. Styled in B-Movie sci-fi attire, the captain and first officer discuss the relationship they had whilst on board, and how it will end when they return to Earth. It starts as a goofy sex comedy, and ends up being a thoughtful musing on the nature of loneliness and purpose.
"Their one act session always feels like they're massaging a piece of the brain that most conventional drama doesn't reach..."
Alone in Our Sex (By Matthew Paul Olmos) had possibly the most adroit observations of the evening. A man and a woman in a new relationship are discussing sex. They reflect on sexual history, and the undiluted experience of sex with a first partner, and how everything beyond a first discovery then becomes a memory of the first time. A fascinating point of view.
Indescribable Snack (By Liza Birkenmeier) saw two women in a product testing room trying to come up with a name for a new snack food. In between mouthfuls and indecisive wrangling for nominative clarity they discuss love and relationships, and come to some amusing conclusions.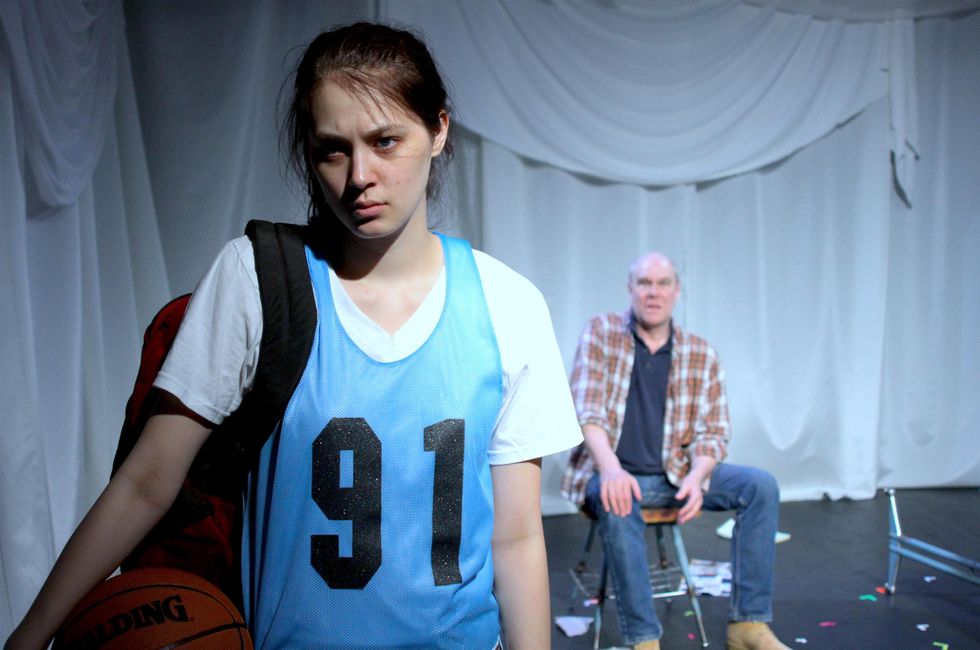 Photos by Crystal Arnette
Rodman (By Leah Nanako Winkler) was an endearing story about a daughter and her divorcee father. They have trouble communicating, except for when they talk about basketball. It's the only thing that ties them together. He admonishes her self-admonishment by praising her ability to get rebound shots. A simple enough premise, but beautifully played by Emma Kikue and Jay Patterson.
Robert and Lucy (By Ngozi Anyanwu) was a retelling of the 'Robert Johnson at the Crossroads' tale. In this iteration, the devil takes the form of Lucy, a mysterious and seductive woman. While certainly a fine interpretation of the story, it relies a little too heavily on audience foreknowledge, and felt more like it was playing for the reveal than for an independent truth in the text. Interesting, but thematically weaker than some of its fellows.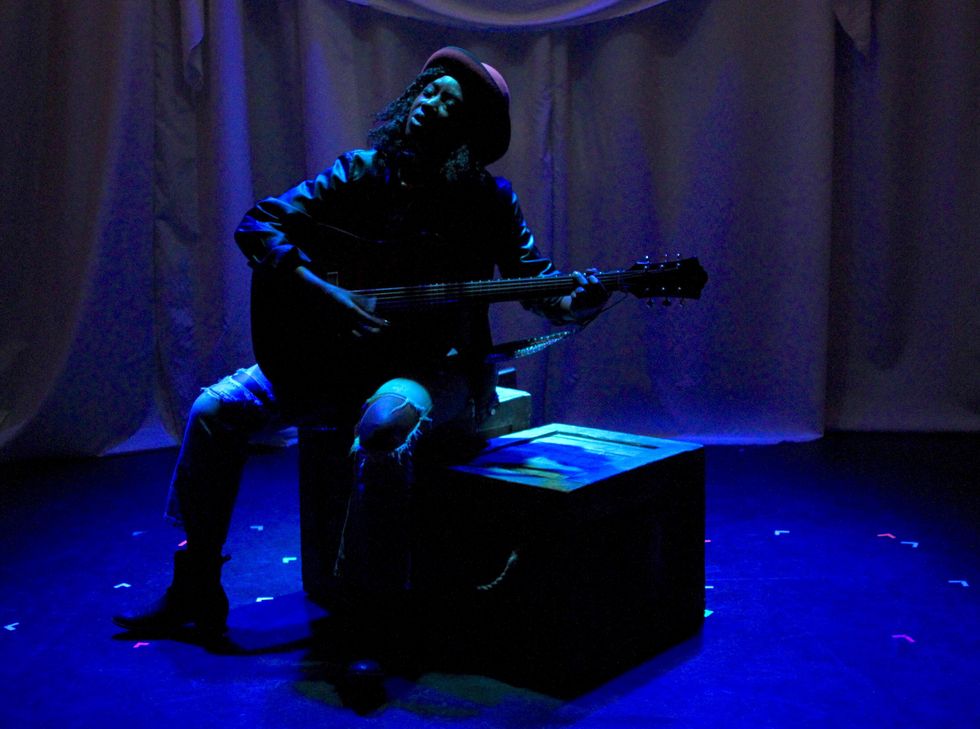 Photos by Crystal Arnette
Finally, All Is Bright (By Dan Moyer) saw a couple breaking up at SantaCon. They discuss the halting nature of their relationship, and their flaws. Eventually the man leaves. All the while the Santa next to them has been catching snatches of their conversation. He and the woman chat to distract her from what she has just had to do. A strange piece, whose humor arose from the fact that these serious conversations were being had whilst in ridiculous Santa gear. Moving and charming, if a little too long.
In summary, a good crop of plays, all featuring moments of excellence, and some transcending the limits of a one-act play in to being something more. What's always so nice about F*IT Club is the overall tone of the evening. Their one act session always feel like they're massaging a piece of the brain that most conventional drama doesn't reach. For that reason, their works are endearing, unique, and worth the experiment to go and see. Their run has unfortunately ended, but keep a look out for their work in future.