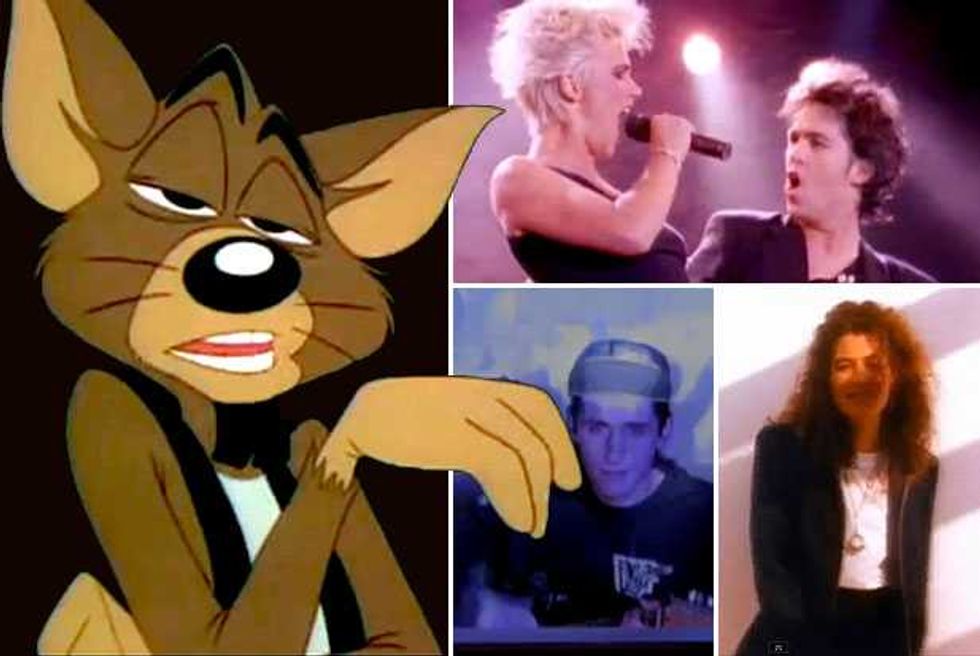 If someone was to ask you who the two least-cool popular artists of the early 1990's were, the answer would be simple: Kenny G and Michael Bolton, duh. The two represent nearly all that has aged badly about the era's pop music—the overwrought balladry, the complete lack of self-awareness, and of course, the god-awful hair. Yet because everything in American culture that was once popular eventually gets some sort of revisiting—though where that revival falls within the irony-sincerity continuum may vary from artist to artist—both men have experienced rebound years in 2011, Bolton guest starring on The Lonely Island's viral hit "Jack Sparrow" and Kenny G both appearing in the video for Katy Perry's chart-topping "Last Friday Night (T.G.I.F.)" and even guest-oboeing on industry darlings Foster the People's performance on SNL over the weekend.
Though the two men were easily the least hip artists of their era, there were plenty of early '90s pop stars in the same lameosphere, all of whom are nearly as deserving of a comeback for no real reason other than, hey, it's been two decades. MC Hammer, Vanilla Ice, New Kids on the Block and even Wilson Phillips (thanks to Harold and Kumar) are all disqualified due to all having been revived already at some point or another, but here's five thus-unrevived once-weres who we'd like to see a little more of before year's end:
AMY GRANT
Who She Was: The early-'90s-badness trifecta (ballads, sincerity, hair) that we previously applied to Michael and Kenny could fairly easily be applied to Christian pop singer Amy Grant as well, who at least had the good (well, time-appropriate) sense to occasionally cover her mega-spaghetti hair with a goofy top hat, making her something of a proto-Blossom. She did write some absolutely delightful pop songs, however, of which the best was clearly the #1 hit "Baby Baby," which was neither about Jesus (as her background would suggest) or some dude (as the song's deliberately misleading video would suggest), but her then six-week-old daughter Millie, thus making "Baby Baby" perhaps the only pop song in history with the word "baby" in the title to actually be about babies.
Suggested Path to Revival: An appearance on Justin Bieber's upcoming Christmas album would seem to make the most sense. Popdust intern Samantha swears that the unconventional rhythmic patterns of Grant's recording of "O Little Town of Bethlehem" blow her mind to this day.
ROXETTE
Who They Were: You could argue that Roxette should be disqualified from this list, due to the fact that DHT had a top ten hit with a cover of their "Listen to Your Heart" a half-decade ago, or due to the fact that they were Swedish, which gives them a kind of default coolness. Still, for a group that had four #1 hits (Four! Three more than N Sync and the Backstreet Boys combined!), they deserve a bigger revival than that, and no group whose biggest hit came from the soundtrack to a Julia Roberts romantic comedy could ever be considered that cool. Perhaps they could even bring Go West with them on their journey back to the limelight.
Suggested Path to Revival: It only seems fair that Swedish House Mafia should throw a guest spot to the most successful pop group in their country's history. (Well, except for that one from the '70s with all the blonde people.)
PM DAWN
Who They Were: Quick trivia question: Who was the first rap group to top the pop charts? Hint: It wasn't anyone who you'll see talking heads waxing rhapsodic about on a History of Rap special. The only people today who'll talk especially nostalgically about new-age rappers PM Dawn today are probably the members of Spandau Ballet, who were no doubt very grateful for the royalty checks that headed their way thanks to the sampling of the guitar hook from their '80s hit "True" in "Set Adrift on Memory Bliss." By the time of G-Funk and the East/West hip-hop rivalries of the mid-'90s, the preternaturally relaxed grooves of PM Dawn were as much a relic of the early decade as The Heights and slap bracelets, but Prince Be and DJ Minutemix are due a little love for their occasionally sublime brand of meditative funk.
Suggested Path to Revival: Does the word "Chillwave" mean anything to you? Neon Indian actually had a song on their first album called "Terminally Chill," and damned if that couldn't have been the name of a cut off Of the Heart, of the Soul and of the Cross: The Utopian Experience. At least throw a sample their way or something.
JESUS JONES
Who They Were: Amazingly, Jesus Jones was probably somebody's idea of alternative once upon a time. That perception lasted all of six months, the rough timespan in between the rise of End-of-Cold-War anthem "Right Here, Right Now" to national popularity early in 1991 and the release of Nirvana's Nevermind that autumn, after which a bunch of goofy Brits with dance beats and synth horns didn't seem quite so cutting edge. Jesus Jones probably should have stayed the course and hoped to get a couple more fluke hits out of it, but they decided instead to release the industrial-ish Perverse, uncoincidentally both the first rock album recorded entirely through a computer, and the last rock album Jesus Jones would release that anyone gave a shit about. It may have done them in eventually, but looking back, their idealism was kind of refreshing, actually.
Suggested Path to Revival: Considering the spate of recent hip-hop debut albums containing one if not multiple tracks in which the artist declares how goddamn glad they are to be where they are at that moment, frankly, it's somewhat amazing none of them have sampled "Right Here, Right Now" yet. Still not too late for that Cole World: The Sideline Story deluxe reissue, perhaps.
MC SKAT KAT
Who He (It?) Was: MC Skat Kat is perhaps the charter member of hip-hop's Featured Appearance One-Hit Wonder Hall of Fame, honoring those immortal artists whose only appearance on the Top 40 wasn't even with their own song. (Other first-ballot inductees include L.V., Loon and Ricardo "Rik Rok" Ducent.) The animated feline personification of a variety of soundalike rappers (most notably the duo of Bruce DeShazer and Marv Gunn, known as The Wild Pair), MC Skat Kat is best only known for co-starring in the music video for Paula Abdul's smash hit "Opposites Attract," allowing Paula to get her Gene Kelly on. To say that MCSK's existence is a reminder of simpler, less judgmental times in pop music would be a gross understatement.
Suggested Path to Revival: It's about time that Jennifer Lopez got a male lead worhty of her music videos, we think. No doubt MC Skat Kat would be more than happy to hop on the "Papi" remix.