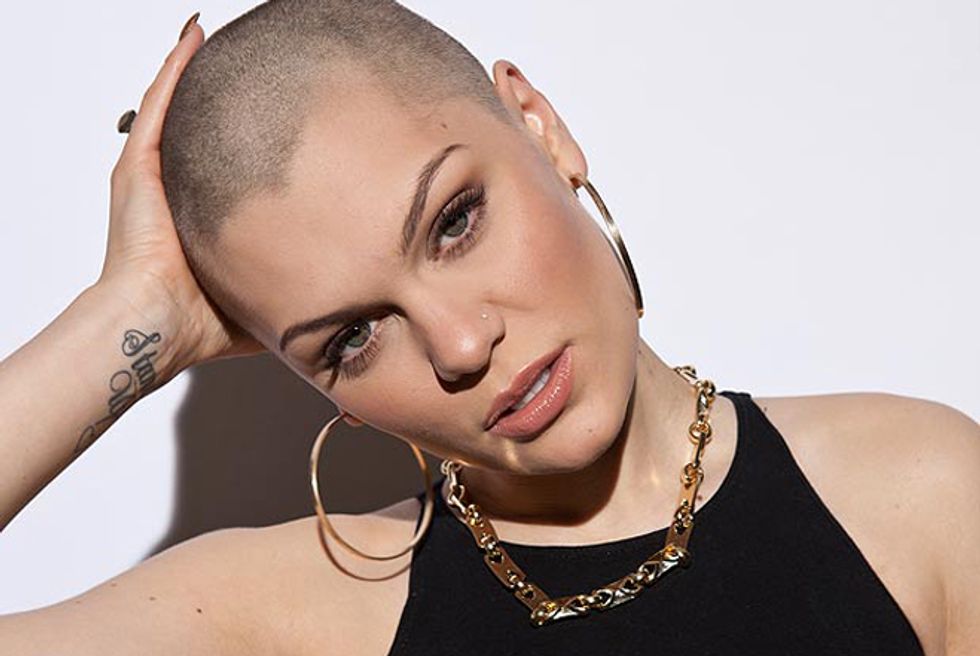 As a female pop singer, your hair is kind of important. Look at Beyonce, always flipping her long, highlighted curls on stage, or Shakira shaking her hips and her blond waves, or Carly Rae Jepsen bouncing around with her stick-straight bangs. Occasionally, though, a female pop star will go rogue, shaving it all off in an act of defiance, freedom, madness (Britney) or for a good cause. And it turns out that a bunch of them look hella great with no hair. Inspired by Jessie J's recent super-crop, behold: the female baldy hall of fame.
JESSIE J
British singer Jessie J was known for her shiny, dark bob, but earlier this month the 25-year-old had her head shaved on live TV to help raise funds for a charity that helps the homeless in the UK and provides fresh water and vaccines in Africa. A few days later, she dyed her buzz cut blond. And guess what, she looks freaking fantastic. Stay bald, please.
SOLANGE
While Jessie J shaved her head for a good cause, Solange shaved hers for ease of maintenance. The singer/DJ/fashion It girl debuted a nearly-nude scalp three years ago. As she explained to Oprah at the time, "Realistically I was spending about $40,000-$50,000 [on hair]. This phase in my life I want to spend the time, the energy and the money on something else and not the hair salon." Totally understandable.
SINEAD O'CONNOR
The original baldy! When this Irish firebrand hit the scenes in the '90s, her gorgeous songs (give "Nothing Compares
2U" a listen) were only upstaged by her stark, buzzed appearance. Unfortunately, it didn't age well. Still, for a few years Sinead and her bare dome were serious alternative fashion icons.
WILLOW SMITH
A little over a year after she released her debut single "Whip My Hair," Willow Smith cut all those braids off. She debuted the new style on Twitter by posting a photo to her WhoSay account. The cut was the first in a set of tentative, trying-to-find-myself moves, which also included the video "I Am Me." Her mom Jada explained the buzz, saying: "Willow cut her hair because her beauty, her value, her worth is not measured by the length of her hair. It's also a statement that claims that even little girls have the RIGHT to own themselves and should not be a slave to even their mother's deepest insecurities, hopes, and desires. Even little girls should not be a slave to the preconceived ideas of what a culture believes a little girl should be."
KELLIE PICKLER
Country star Kellie Pickler had her long blond locks shorn off last year after finding out that her best friend had breast cancer and was about to begin chemotherapy. The act of solidarity was also a way of raising awareness for the disease, as she said, "Cancer does not discriminate." Like Jessie J, she did it on live TV while filming a segment of Good Morning America. Afterwards, she Tweeted, "It's been a great life-changing day." Luckily for us, she's got a nicely-shaped head on her shoulders.
Photo credits: Jessie J/Instagram, AFLO/Splash News, eBay, HypeMixtapes