Playlist
Hey boy don't you know I got something going on?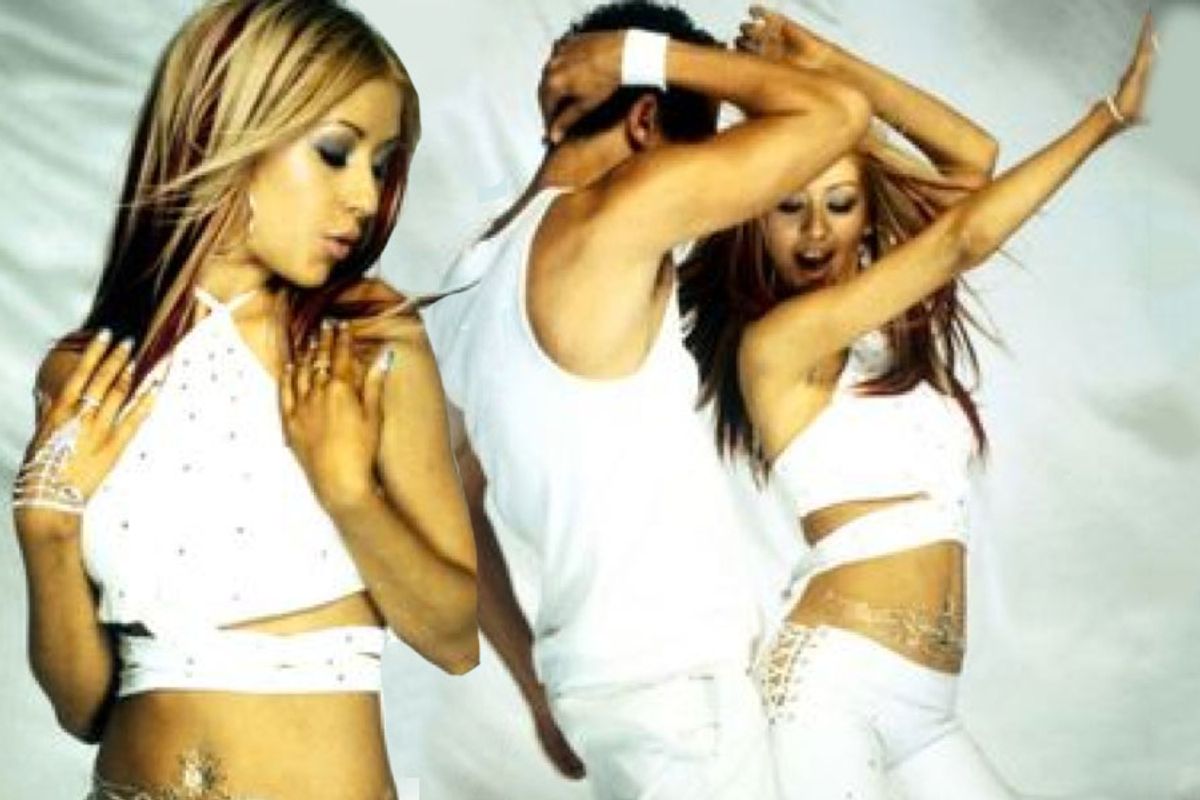 Flashback Friday Christina Aguilera Come On Over—When Christina was not yet 'X-tina' but was giving the middle finger to Mickey Mouse
Flashback to 2000 when Christina Aguilera was not yet quite 'X-tina' but was giving the middle finger to The Mickey Mouse Club.
And, what a middle finger courtesy her uncomfortably sexualized music video for her hit Come On Over (All I Want Is You).
Perhaps the portion of the song title in parenthesis was to assure Christina's man that this was no orgy.
But with the amount of ladies and gents dancing around in barely-there costumes, Christina may have wanted to add "and the rest of these people" to the name.
Sure, we get it, Christina was ready to shed that 'girl next door' persona and most of her clothing, for that matter.
To reveal to the world that she was now a woman and ready to sex things up.
The genie was out of the bottle and Christina's midriff was out of hiding.
Bonus… it was bejeweled!
Obviously, Christina sings like a dynamo and dances with precise choreography.
All the while flaunting different versions of basically the same outfit—a cropped halter top and skin–tight, flared, low slung pants.
Her body was on display, thin like it will likely never be seen again, hair long with colored extensions, and gyrating on whoever's the closest.
Lyrics like, "Do you wanna be the one tonight? We could do exactly what you like."
And "I can't help myself when you put your hands on me," were surely not part of The Mickey Mouse Club repertoire.
But Christina behaves like she's been singing this way for years.
No matter the backdrop of the scenes in the video or the hunky men fighting for her attention, Christina keeps it sexy and cool.
Or at least she thinks she does.
Unfortunately, high school girls worldwide stunned their teachers by showing up in Christina's look for the rest of the year.
"You better cross the line" and watch the 2000 video for Come On Over.
Christina's waiting for ya.
Scroll down to watch this week's Flashback Friday Christina Aguilera Come on Over..
---
READ MORE...
TFIF Flashback Friday – R Kelly Ignition (Remix)
TFIF Flashback Friday—Ace of Base The Sign
TFIF Flashback Friday—Usher You Make Me Wanna
TFIF Flashback Friday—Jessica Simpson Public Affair
---
Watch this week's Flashback Friday Christina Aguilera Come on Over..