TV
We watch the star for entertainment purposes and perhaps to learn about ourselves; she uses us as escapism, to break the tension in her life and hide from those she's afraid to let in.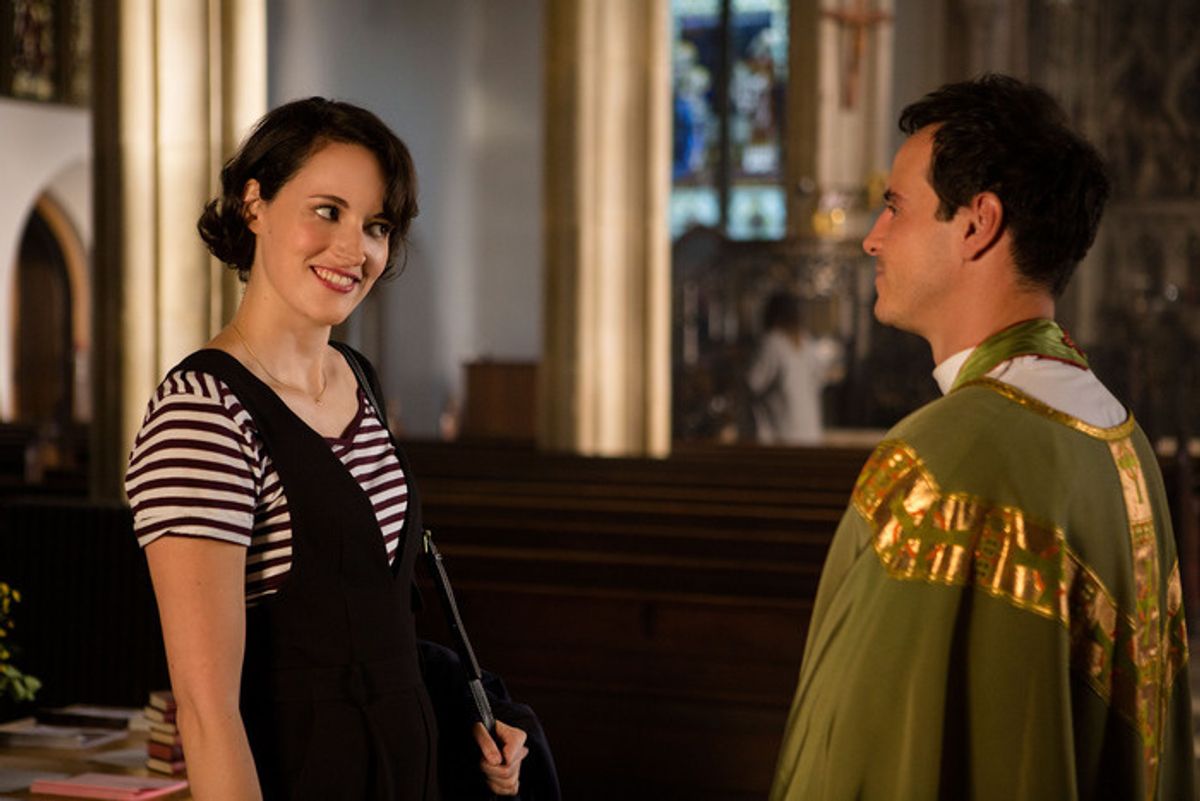 Steve Schofield/Amazon
If a perfect season of television exists, that unicorn would be Phoebe Waller-Bridge's second season of Fleabag.
Waller-Bridge, the series' writer and creator, stars as a young woman we know only as "Fleabag," a volatile Londoner with an insatiable sex drive and an immensely combative nature. The series (an easy 12-episode binge) is just as complex as its lead character, serving a cocktail of cringeworthy humor and dramatic conflict that pulls hilarity out of its heavy themes of grief and sex addiction. The best part: Fleabag's direct line to us, her viewers.

From its very first moments, Fleabag breaks the fourth wall to give us the explicit play-by-play of a sexual encounter as it's happening. While it's a plot device that's been used from Ancient Greek theatre to House of Cards, having unfiltered access to Fleabag's innermost thoughts lets us diagnose her far before she's ready to confront herself. It's a mutually beneficial relationship. We watch her for entertainment purposes and perhaps to learn about ourselves; she uses us as escapism, to break the tension in her life and hide from those she's afraid to let in.
Fleabag Season 2 - Official Trailer | Prime Video www.youtube.com
Watching Fleabag is like being a fly on the wall, but to Fleabag, we're a key component to her survival. We become willing participants in her life as she struggles to connect with her remarried father (Bill Paterson), godmother-turned-stepmom (the radiant Olivia Colman), and uptight sister, Claire (Sian Clifford). While Fleabag lets us ride shotgun through her zany existence, those around her—particularly her family—tip-toe around a traumatic experience that shocked Fleabag's universe and inadvertently excuse her overly erratic and selfish behavior. Claire is resentful (and maybe jealous) of Fleabag's uninhibited self-indulgence, while her godmother treats her like a toxin. We did nothing to deserve such unique perspective into Fleabag's psyche, but it draws us closer to her than any other character is allowed to get. She fears intimacy, yet provides us with VIP privileges to peek behind the curtain. Are we more real to her than her family, or just a safer option?

Thanks to the constant feeding of her addiction, she's a pro at pretending she's not tormented by grief. But we see her hurt. We intuit that there's something she's not telling us until all is revealed in the season one finale. Even the truth about the death of her BFF, Boo, with whom she owned and operated a guinea pig-themed café, is hidden until a shocking plot element is revealed. Fleabag not only hides from a dark past but actively represses it. Her attempts to convince us that everything's OK are largely unsuccessful, because we're able to see through her charade.
In season two, Fleabag is on the path toward recovery until a charming Catholic priest puts her progress in jeopardy of relapse. Fleabag is used to getting what she wants with minimal effort, but once the mutual attraction is both acknowledged and refuted, she looks at us and says, "We'll last a week." Only when she actually has sex with the priest does she point the camera to the floor, shutting us out for the very first time. The priest challenges her in a way we can't. He calls her out on her fourth-wall dissociation, asking, "Where did you just go? You just went somewhere!" While others make allowances for her behavior and distance, the priest holds her accountable, tethering her to the moment. Once that relationship reaches its inevitable, amicable end, Fleabag walks away from him and us in one fell swoop. As a once unstable woman, she's no longer titillated by private confessions and airs; she decidedly leaves her baggage—and us—behind.
A relationship between viewers and TV screens is typically a one-sided affair, but Fleabag's perpetually shattered wall changes the dynamic and offers sharp insight into a complicated character. The show's 11 Emmy nominations should help shine a brighter light on Waller-Bridge's deserving brand of quirky dysfunction. It's not often that an outpouring of hype and praise is justified, but Fleabag is one of those unique cases. It's a gem that traverses a tightrope between learning to accept and better yourself and doing what it takes to survive. Fleabag is incredibly human, and in a way, we are all Fleabag.