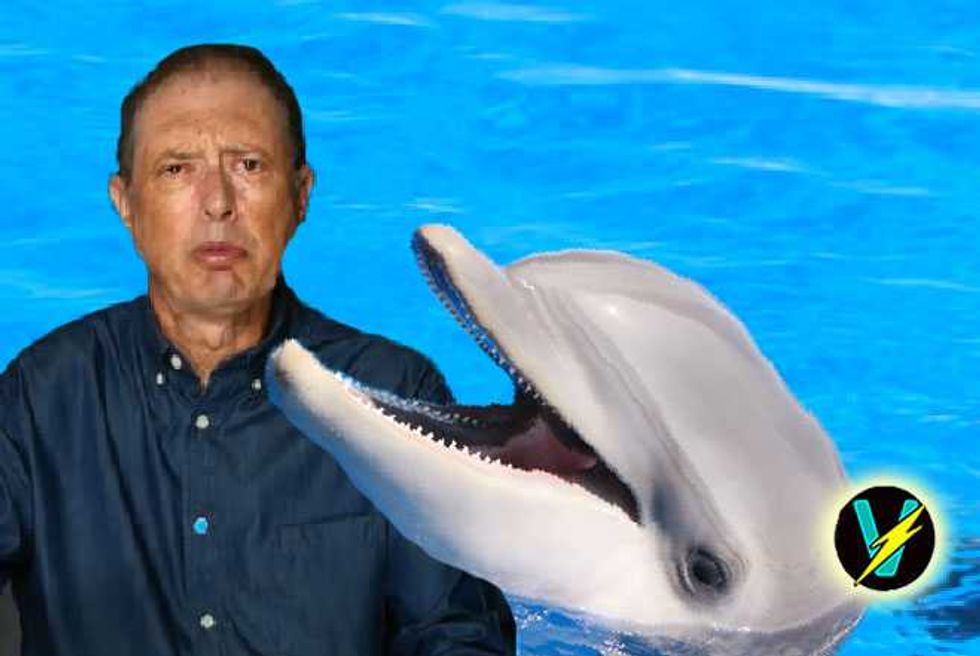 Malcolm Brenner really loves dolphins—like, really LOVES dolphins.

But, not in the way you and I may love dolphins, oh no!
Malcolm Brenner loves dolphins…. in the biblical sense.
Her name was Dolly...she was a dolphin..
The Florida man—because, of course he's from Florida—really loved one dolphin in particular.
And, that dolphin was named Dolly.
Brenner has written a book about the unique "love affair" he enjoyed with Dolly—so, if you love to read about dolphin sex, then this is your lucky day.
The book is titled, Wet Goddess—yep, really—and the Amazon description reads:
Set at the height of Vietnam protests, Jimi Hendrix and LSD, Wet Goddess is a story of strange encounters, awkward misadventures, and ultimately, love.
A love so pure
Ah, is there any love so pure as that between one man and his dolphin?
Brenner certainly seems to believe not.
The former investigative journalist embarked on his great mammal love affair back in the 1970s—but the story came to light again recently, following the release of a short documentary.
Dolphin lover
Titled, Dolphin Lover, the 15-minute movie details the "love affair" from Brenner's viewpoint.
Because, Dolly can't give her version of events, by way of being a dolphin. And dead.
You can watch the documentary, in its gloriously delusional, insane, entirety, right here on Popdust.
The way Brenner tells it, that little mammal minx actually seduced HIM—after he first met her during a visit to Florida Land in the early 70s.
First meeting
Brenner was just 19 when his and Dolly's eyes first met across an empty pool.
He says upon initial introduction, "there were no intimations that this dolphin and I would become lovers eventually."
He goes on to share that he was "fascinated" by Dolly, and that he was "enormously interested" in her.
Brenner says he slipped into the water, and initially Dolly wouldn't come anywhere near him, because "dolphins are suspicious of strange people."
And with good reason it transpires.
Dolphin wiles
However, Dolly's resolve soon crumbled, and before Brenner knew what was happening, he was being subjected to her dolphin wiles.
I started rubbing her forehead—she seemed to enjoy that—so I started rubbing her back, working my way down towards her tail. And as I was rubbing her, moving my hand towards her tail, Dolly started slowly rolling around her long axis.
By the time I got midway down her body I was rubbing her belly instead of rubbing her back.
And she swam forward so that I was rubbing her genital slit, and then she stopped moving.
I thought, 'This is embarrassing.'

Indeed.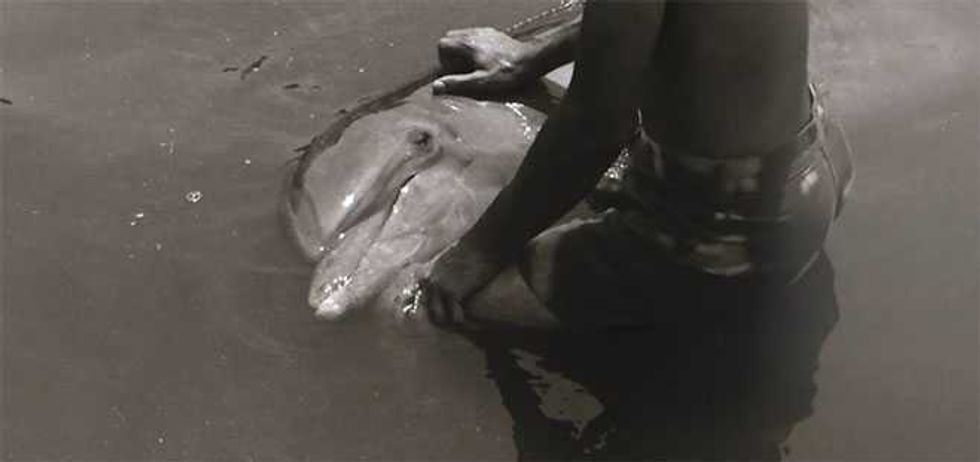 Brenner and Dolly, back in the day...
Brenner offers up more details on how he was "courted" by Dolly:
When I would get in the water with her, she would approach me, unafraid. She would solicit attention. I never fed her, I never gave her any food rewards. Her courtship as it progressed got more vigorous and intense.
She would rub her genital slit against me. And if I tried to push her away, she would get very angry with me.
One time, when she wanted to masturbate on my foot, and I wouldn't let her, she threw herself on top of me and pushed me down to the bottom of the 12 foot pool.

That Dolly! Doesn't she know about playing hard to get?
No man wants it served up cold on a dolphin flavored plate!
Change of seduction plan
Well, it seems Dolly soon learned that lesson, as Brenner explains a change in Dolly's seduction technique:
Eventually she seemed to get the message that that wasn't going to work. She became very gentle.
She might open her jaws and run her teeth very gently along my arm, or my leg, which produced an amazingly erotic feeling to me.
Which I think was her way of saying to me, 'look, I'm very strong, but I'm not going to harm you.'

He later describes, in more detail than you could ever possibly want to envision, exactly how he had sex with the "very passive" dolphin.
"She was very gentle, she was very cooperative, she was enormously erotic," Brenner says—and we're going to leave it at that.
He claims Dolly received great pleasure from their sexual liaisons, that she climaxed, and that post-coital, they would "stare into each other's eyes for a couple of minutes."
Victim to aggressor
Brenner's logic, thinking, mental framing and conclusions are akin to those of a text book sexual abuser.
His romanticizing of non-consensual sexual acts—because, let's face it, a dolphin isn't really capable of giving consent—his blaming the victim, turning them into the aggressor and himself into the seduced.
He talks about "making love" to Dolly, waxes lyrical about their "very long courtship that lasted about half an hour."
At one point, Brenner puts forward his case for why he did NOT rape Dolly—and it's basically Pedophile 101:
You can't out swim a dolphin in the water. Michael Phelps could not out swim a dolphin in the water. A dolphin in the water is in its element.
We spent half an hour in courtship… if it had been rape it would have been easier for her to stay in the pen where the male dolphin would have protected her from me.
Instead, she chose to squeeze between a couple of boards and get into another pen where we had some privacy.
And what she ended up wanting to do, was to make love with me.

Zooaphilia is all about the love
Brenner talks openly and honestly about zoophilia—explaining it's different to bestiality, because those people just want to have sex with an animal and walk away—whereas he has tender, caring emotions for his animal partner.
Oh, and then there's the part where Brenner tries to draw a parallel between his zoophilia and mixed race sex.
But, moving quickly along.
Brenner admits his first sexual encounter with an animal occurred around the age of 11 or 12—when he tried to have sex with the family dog—a foxy little hound named Miss Cavell.
Apparently though, Brenner misread the signals, and despite the miniature poodle being in heat and having sex with a stud dog, she shunned his advances.
An experience he describes as an "embarrassing incident" and "not very romantic."
Oh, we feel ya buddy! Few things are more embarrassing than being blue-balled by the family dog.
Heartbreaking confessions
On a serious note though, Brenner's candid confessions are also kind of heartbreaking.
He talks about "feeling unclean" about "wondering what was wrong with him" and why he wasn't having "normal desires for women."
"It made me feel abnormal," he shares. "It made me feel like I wasn't one of the guys, you know."
He pin points the first time he realized that he was sexually aroused by animals:
I first realized I was sexually attracted to animals when my father took me to see a Walt Disney movie called The Shaggy Dog, and strangely enough I found myself getting an erection, at 5-years old. After that, I was aware there was something different about my sexuality.

Sexual abuse
Brenner goes on to talk about what he believes helped form his highly taboo desires:
I think what made me a zoophile was the very intense physical and sexual abuse I suffered at the hands of a psychiatrist in my youth. Intense prodding, probing, pushing, squeezing of my musculature.
He performed fellatio on me when I was about 5-years old.
And, I have a very vivid memory of something forced up my anus.
Between this man's inappropriate sexual molestation of me, and my mother being a kind of cold, distant character, I think I found animals to be a safe and secure depository, if you will, for my sexual desires.

And, therein lies the crux.
Animals are not "depositories" and they are not created for the purposes of human sexual desire.
The exact same way children aren't—no matter how damaged and abused the sexual aggressor may be.
Oh, by the way, Brenner's "love affair" with Dolly may have broken plenty of taboos, but it didn't break any laws—at the time.
It took up until 2011 for the Sunshine state to finally outlaw sex with animals.
For more entertainment, music and pop culture updates and news, follow Max Page on Twitter.
Let This Florida Woman Keep Her Pet Alligator Rambo, Goddammit!
Florida Pro-Gun-Nut Mom Shot In The Back By Her 4-Year-Old Son
Florida Man In High Speed Chase Claims His Dog Was Driving


Puppy Shoots Florida Man Who Was Trying To Kill Him And Six Other Dogs
Florida Man Has Revenge Sex With Alligator Story Fake As Crocodile Tears
Ode To Florida—Sunshine State's Very Best Criminal Nut Jobs And Wackos