FILM & TV
Zoey Deutch fights off Adam Scott and other perverts at #Tribeca2017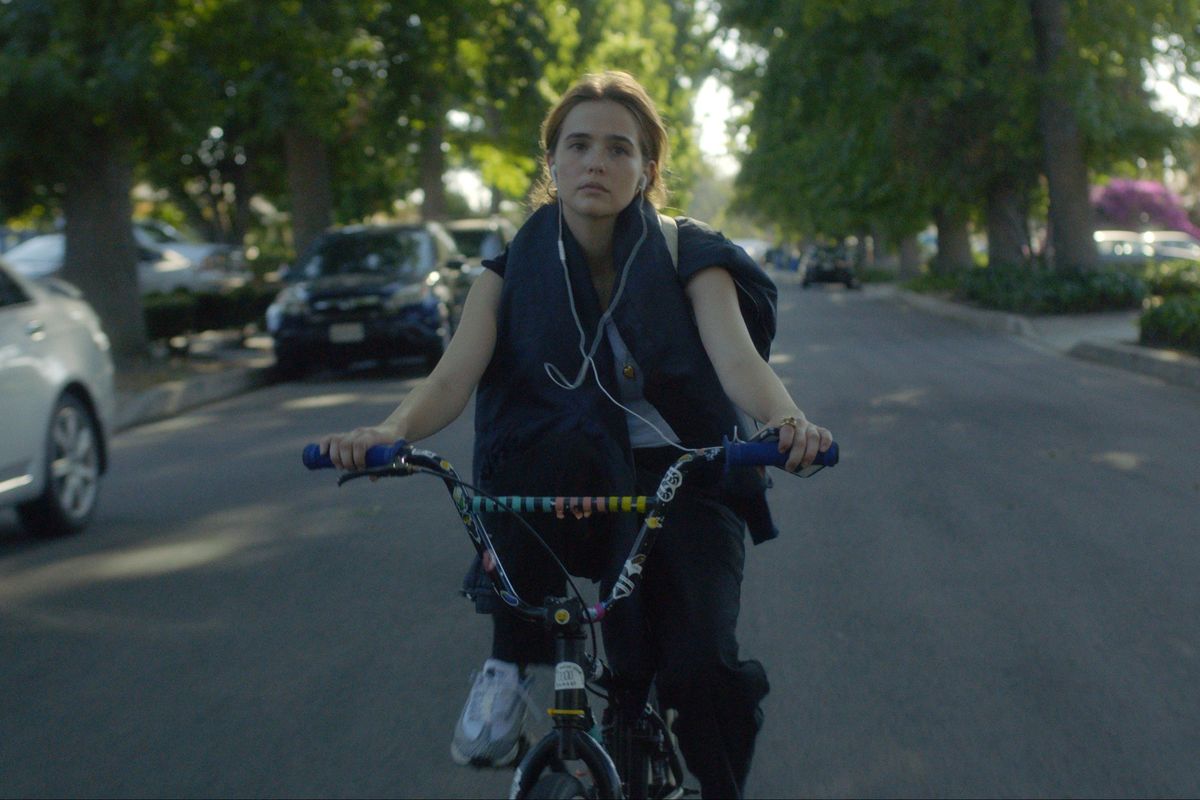 Flower (dir. Max Winkler)
---
Hands down, I will fall for any movie wherein it is slowly revealed that Adam Scott is a pervert. From his early bromance days to his cultish breakthrough in Party Down and, later, this year's Big Little Lies, there is something nefariously evil about the way that man plays straight. Maybe it's that goatee that's always trying to pretend to be a beard. In a scene in Max Winkler's sophomore effort, Flower, which played at this year's Tribeca Film Festival, Scott's character accosts Erica Vandross (Zoey Deutch, Everybody Wants Some!!) with his knowledge of real hip hop like Eazy-E and KRS-One. Big bad ass, right? We come to discover that he is a former school teacher who had a pretty creepy interest in his middle school students. Good riddance.
His unmasking comes at the hands of Erica and Luke (Joey Morgan), the overweight son of the man (Tim Heidecker) that her mom (Kathryn Hahn) is about to marry. They make an odd pair: Erica felates older men and blackmails them and Luke just popped out of a stint in rehab after developing a taste oxy in order combat social anxiety. This is post-Kevin Smith comedy, as in blowjobs, but also quite human: Morgan plays his miserabilia without a hint of irony and the suffering, none of it attached to movie's sexual fare, is felt and real. Some tasteless jokes are set up at his expense but the movie loses interest in them fast. Meanwhile, while I turn away and cluck, Winkler sets up a world made of colors that burst out of their lines, like David Hockney with some interest in the potential of shadows. Flower builds its ordinary world with naturalistic varnish and this extends to the people: Hahn wins of the not-yet parental pair, her idea of motherhood is fun with the correct edges, the kind of mom who'd buy you pot.
But the kids: they dance to Angel Olson. They go after the man Luke claims molested him but couldn't catch because, as it turns out, it wasn't quite true. This is terrible, in a moral sense, but this is redeemed by the truth of the matter being that Scott's character was, indeed, molesting people even if they were not Luke. Strange, if a tad Machiavellian, but it doesn't really matter a whole lot. It's all shot in the colors of the Southern Californian desert where there are cacti and the sounds of police sirens that are like daytime cicadas. They fall in love.
---
There are fun teen movies about drugs, there are fun teen movies about zombie apocalypses. Why are there so few about sex?
---
Are there a lot of comedies about pedophilia? A lot that end with sorta step-siblings getting in on? The breezy confidence that Deutch, playing a seventeen-year-old high schooler, carries herself as pedo bait recalls Ellen Page in the first half of Hard Candy, a movie that slowly dissolved into an overblown thriller. Where other teen sex romps from Fast Times at Ridgemont High to Juno dither around with their boring virginities and tedious pregnancies, Flower likes sex and likes love. It's a script, penned by Winkler, Alex McAulay and Matt Spicer, with an earnest engagement in the morality of all that, but with zero interest in vindictively punishing its teenager protagonists. This might be why McAulay's orginal version of the story has been sitting on the Blacklist since 2012. Like Harmony Korine's Spring Breakers, the sheer onslaught of it comes across, like its humor, as a bit much at first. There is, for instance, the earnest use of the word "bedazzle." But Deutch and her team of unashamed compadres (Maya Eshet and Dylan Gelula play the best friends) sell it and you love it. There are fun teen movies about drugs, there are fun teen movies about zombie apocalypses. Why are there so few about sex?
Winkler's last movie, Ceremony, was ditto romcom fare, with a beach wedding setup to boot, but Flower moves the game significantly up: it's a movie that cracks with the energy of a lead whose self-possession rivals that of Amy Schumer's profane self-confidence in Trainwreak, her and Judd Apatow's attempt to shake up the genre. An abundance of Apatow's world in on display in Flower, too—Apatow collaborators Danny McBride and David Gordon Green are some the big names putting money behind Flower. But Winkler's decision to helm the story on Deutch is what breaks Flower out of the last decade's batch of dirty jokes and boring families. Deutch makes Flower into a kind of West Coast Broad City, a feminist celebration of self-possession that I'm happy to see exists outside the terrain of New York.
And those perverts. Unraveling Adam Scott's cool guy act deserves an Oscar.
---
Andrew Karpan fought perverts with his sexual powers throughout his youth. He's all worn out now, however. Follow him on Twitter.
---
More Movie Fun:
Shoshanna dons overalls, falls in love in "The Boy Downstairs"
The Tribeca Film Festival opens to bloody aplomb