Floyd Mayweather buys new jet;
Floyd Mayweather is so goddamn rich he's just taken delivery of his SECOND private jet!
According to TMZ, he made the purchase two weeks ago because he was just kinda bored with the first one.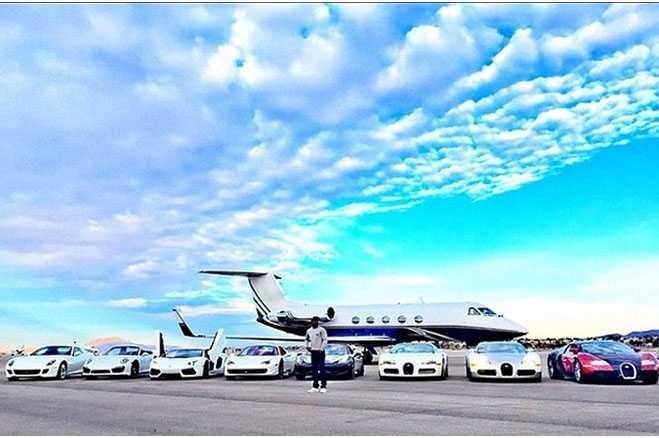 Mayweather in a previous understated display of his jet and supercars.
Floyd, the highest earning sportsman in the world, parted with his cash when the Gulfstream caught his eye.  His rep said;
"It's a 12 passenger Gulfstream III with gold cup holders, gold sink, gold accents throughout.  It has all white leather seats and a fully stocked kitchen.  He now has two jets.  Air Mayweather 1 and 2."
Just how much transport does one person need?
I get that he's surrounded by an entourage but two jets?  Even if you're as awesome as Floyd Mayweather believes himself to be, you can only be in one place at a time.
---
Read more...
Floyd Mayweather Allegedly 'Riled Up' Rapper Earl Hayes Before Murder Suicide
Justin Bieber Proves Blondes DO Have More Fun—Buys Himself New Private Jet
The Smallest Penises In Hollywood—Check Out Who's In The Teeny Peen Team
---
He's allegedly retired, but doesn't seem to be trimming his budget at all—similar planes come in at a cool $37 million.
Check out this understated display of wealth—all we can say is he must have a REALLY small dick...