Top Stories
MUSIC | The electronic duo give the historical figures a modern spin.
Facebook
"The 'XL' video tells the story of a new age Bonnie and Clyde," the duo share.
One of the most infamous gun-toting pairs in history, Bonnie and Clyde led a bloody and disastrous manhunt up until their death in 1934. Throughout the four years they knew each other, the duo, reportedly killed multiple people and committed various acts of robbery, including the theft of several automobiles across states lines in their various calamitous heists. Their tale of mayhem would inspire the 1967 film, Bonnie & Clyde, starring Warren Beaty and Faye Dunaway, and spill over into various other artistic media. From Merle Haggard's "The Legend of Bonnie and Clyde" to 2Pac's "Me and My Girlfriend" and Jay Z & Beyonce's "Bonnie & Clyde," countless singers and songwriters have either made subtle references or explicitly retold the iconic story of bedlam and greed. Now, electro-pop outfit Fly by Midnight reinvent the account for the modern era, polishing up the cultural touchpoint with their new single "XL."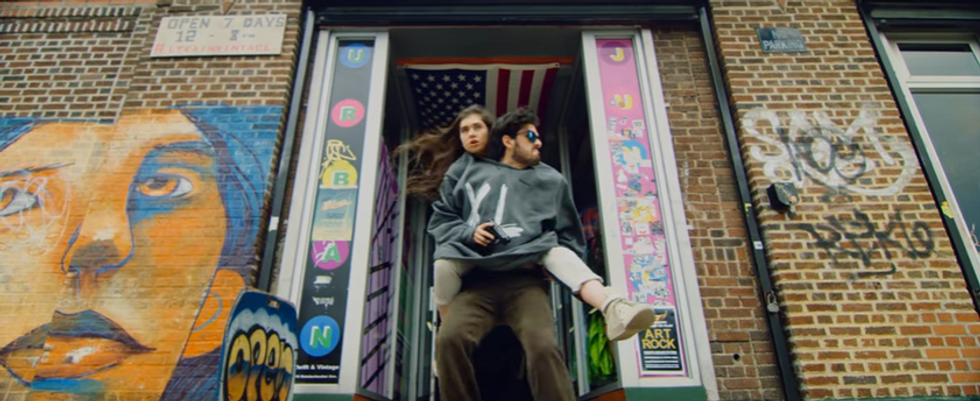 Screenshot
In the accompanying visual, premiering today, Justin Bryte, of MTV's Dream Bigger, and Slavo, a producer with Emergence Music Group, give a similar but distinctly contrasting narrative. "'XL' is a very different track for us. The lyrics, production & overall vibe really embody a more chill/indie side," the duo tell Popdust of the song, which even contains bellowing '80s synth-filtered guitar. "The 'XL' video tells the story of a new age Bonnie and Clyde. Two Brooklyn-ites who decide to rob a thrift store together. It's about the bond of two petty criminals who become even closer--no pun intended--after wearing this sweater."

The two leads become entangled in an intoxicating love-strewn, destructive high which only can be achieved from robbing a local clothing store. From there, they head up to a roof overlooking the Brooklyn landscape and cuddle underneath the low-cast sun. The camera zooms and flies overhead, and footage flickers between the unraveling, albeit enchanting, story and the bandmates performing atop a police car. The nostalgic detail is akin to a Chainsmokers track, feverish and blissful. "Alleviate, exhale your feelings on me. Fire away, whatever's got you burning. I don't got a place, I got a car. We can go anywhere. Don't really matter to me," the duo recount on the opening lyric, leading into the soaking hook: "And she said, 'can we chill in your XL sweater all night? Can we stay up and lay together 'til sunrise? Think I know what'll make me better...no sleep, just you and me in your XL sweater."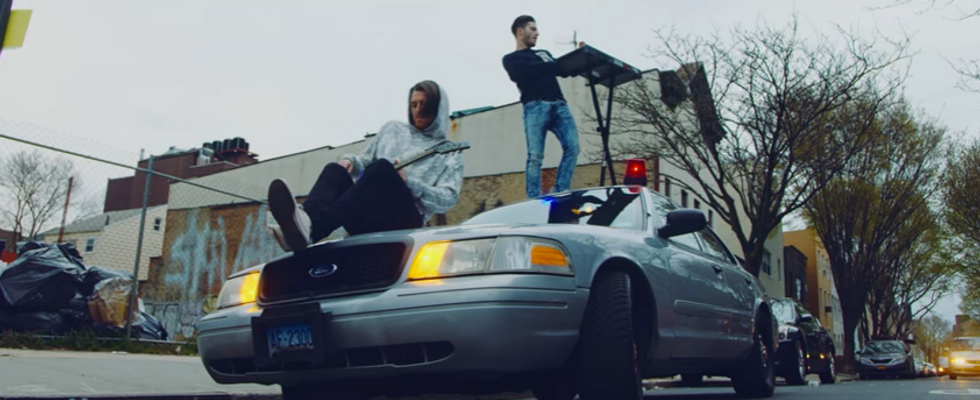 Screenshot
The juxtaposition of tender romanticism against the darker-edged storyline is welcoming and invigorating. "Sit back, recline with me. Slip on the Calvin Klein for me. Exhale your troubles and struggles from your lips to my lips," they later tease. "Oh, this is heavy. Oh, I'm not ready for it. She's copacetic. I'll never forget it..."

"XL" (out now on iTunes) follows a long chain of cover singles, including Harry Styles' "Sign of the Times," Julia Michaels' "Issues," and Charlie Puth and Selena Gomez's "We Don't Talk Anymore," which has collected 11 million streams across their socials and Spotify.
Their upcoming EP, Party Favors, is expected later this year.
Watch the clip below:
---
READ MORE ABOUT MUSIC...
Katy Perry apologizes to Taylor Swift, vows to end bad blood
WATCH | Citizen Føur party in the desert in "Want You Back" music video
XYLØ strip back "I Still Wait for You" into stunning acoustic