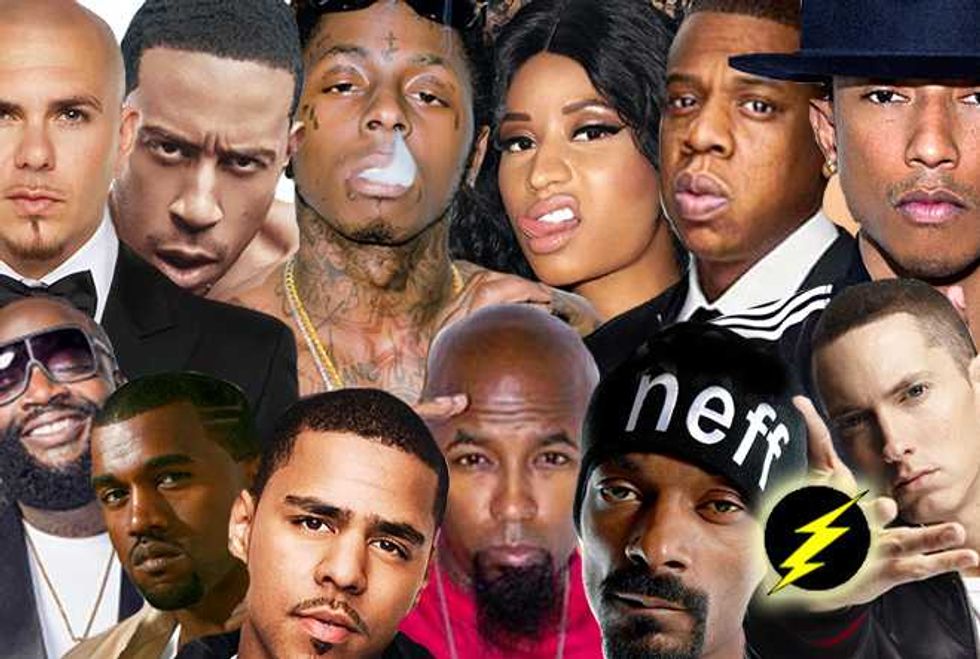 Forbes has released its annual Cash Kings list—ranking Hip Hop's richest stars of 2015.
Although all the names are established and well known stars within the world of Hip Hop, there's still some surprises—like how much money Diddy is worth, despite rarely performing these days.
Nicki Gets Naked—Definitive Collection Of Minaj Sexy Selfies
There's also a brand new number one—with last year's winner, Dr. Dre, dropping down the list to number four.
Depressingly, although not surprisingly, there's only one woman who makes the cut—Nicki Minaj, of course—coming in at an impressive number nine, with an estimated worth of a cool $21 million.
Why Drake Is Hip Hop's Whiniest Little Bitch
The usual old moguls are still all there—Diddy, Jay Z, Kanye West, Pharrell Williams—having acquired their vast fortunes by way of a combination of their musical ventures and savvy business practices, diversifying into the world of fashion design, merchandising, TV hosting and entertainment branding.
But, there's definitely more than a couple of eye opening revelations when it comes to the net worth of some performers on the list—I mean, who would have thought that Wiz Khalifa is worth more than Minaj?
Iggy Azalea Claims She Changed the Face Of Hip Hop
Forbes estimates the 28-year-old's net worth at a staggering $21.5 million, placing him in between Minaj and West on the list.
Oh, and sorry Meek Mill, but you're likely going to be PISSED when you learn just how much your rap adversary, the delicious Drake, is worth these days.....$39.5 million anyone?!!!
Who says nice guys always finish last?
Take A Stroll Down Hip Hop Memory Lane With These Iconic Beastie Boys Photos
You can check out the top 20 richest Hip Hop stars of 2015 in Popdust's gallery below. And let us know in the comments below what you think of the 2015 cash Kings list...
For more music and pop culture news and updates follow Max Page on Twitter