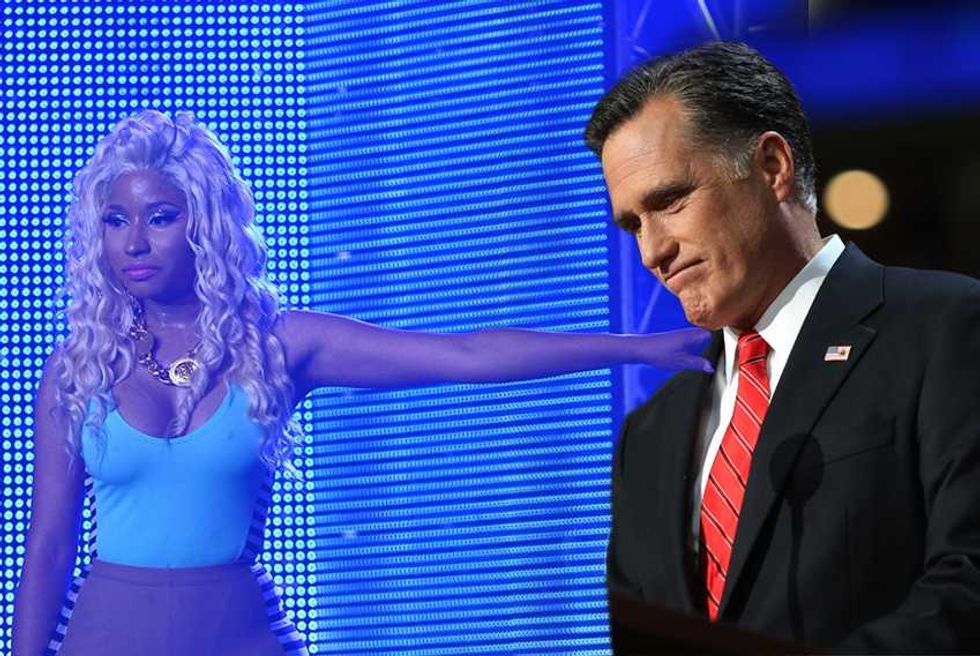 While you were grilling this Labor Day, Nicki Minaj apparently endorsed Mitt Romney in Lil Wayne's mixtape album Dedication 4. In a freestyle verse on "Mercy," the Queens rapper comes clean: "I'm a Republican, voting for Mitt Romney / You lazy bitches is f----ing up the economy."
Since the list of Republican rappers is fairly short, to say the least—shoutout to MC Rove—this endorsement is a bit surprising. What does it mean? We've got a few ideas:
Nicki Minaj really is a Republican. Disgusted by Obama's health care law, Minaj did some soul searching, and came back convinced we need Mitt Romney in office to cut federal spending and eliminate the capital-gains tax. The best place to announce this change of heart, she knew, was on a Lil Wayne mixtape CD.
She's playing a character. In that bit on "Mercy," Minaj is pretending to be a Republican as a boast on how rich she is, just like later in the verse, when she pretends to hang out with monsters in Miami to prove how scary she is. They're metaphors, people!
She's criticizing Republicans. Imagine the first line "I'm a Republican..." is in quotes. Then the second line "You lazy..." is referring to the speaker of the first part. Dicey, but possible.
She likes the sound of it. Here's the full bit:
I'm a Republican, voting for Mitt Romney

You lazy bitches is f---ing up the economy

Out in Miami I be chilling with a zombie

Diablo Alejandro de Mello Gandhi!
This doesn't make a large amount of sense if you are looking for literary realism. If you're looking at it instead as a way for Minaj to play around with different rhymes for "omni," well, then suddenly it all falls into place!