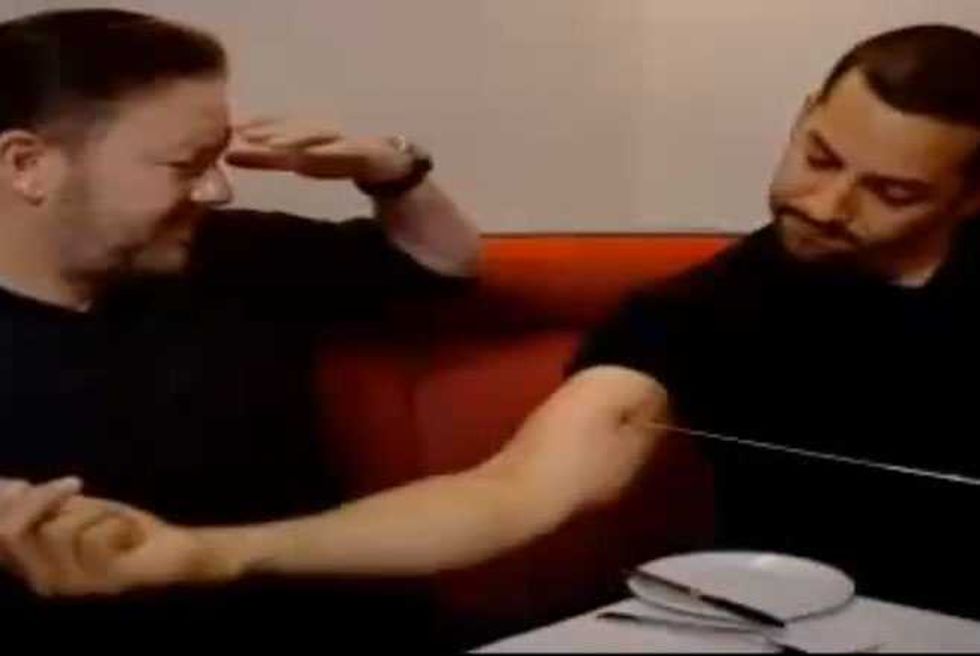 It's not often you see Ricky Gervais lost for words.
But, that's pretty much what happened after he encountered a particularly gruesome David Blaine magic trick—and Popdust has the video.
Gervais was one of the guests on Blaine's Real or Magic last night and was subjected to a trick that involves Blaine seemingly sticking a gigantic needle right through the middle of his upper arm.
Ricky alternates between spluttering his words and losing his shit during the stunt, branding Blaine "a maniac" several times.
"That's not a…. that's real.. he stuck a needle through his arm.." an astounded Gervais says. "You saw it.. you saw it, right? He stuck a needle through his fu**ing arm… but he couldn't of, because no-one would do that …so how did he do it? Why would you? Why would you do that?"
"Either way it's one of the best illusions I've ever seen close up," Gervais concludes to a grinning Blaine. "Or… you're a maniac."
Decide for yourself….