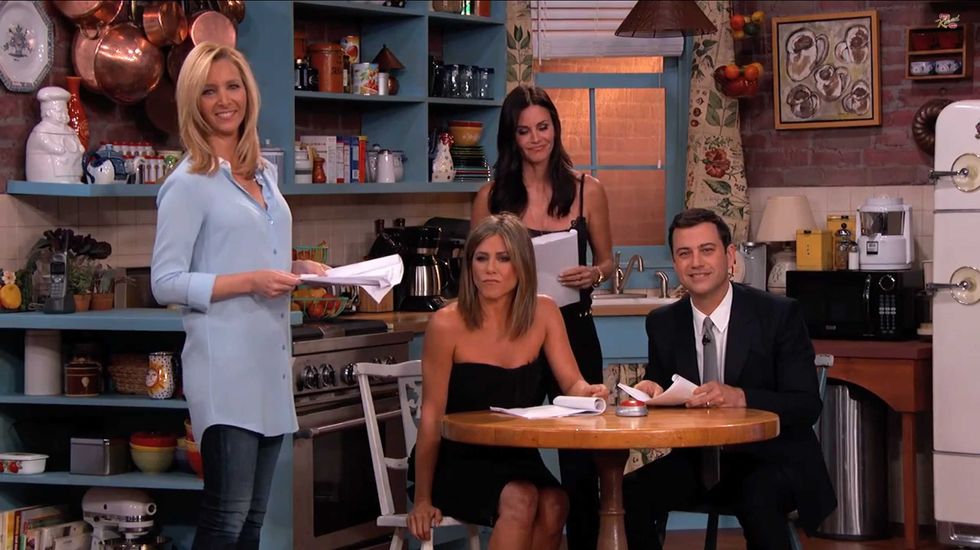 It's the reunion that we've all been waiting 10 years for and cheeky Jimmy Kimmel has finally made it happen.
The late night talk show host apparently tricked Jennifer Aniston into an impromptu reunion on Wednesday night with Courteney Cox and Lisa Kudrow. And he went all out to make it happen.
If Jennifer thought she was going to be on Jimmy's show just to promote her new film Life of Crime, she was wrong.
During the interview the comedian caught the 45-year-old unawares by saying:
"So, in the '90s, I was a big fan of the show Friends. I loved the show so much that I actually wrote some fan fiction…"
He then sheepishly said:
"So I was just wondering…I wrote the script and if you would do a scene from it with me?"
At that point Jimmy led the bemused actress over to another part of his set to unveil a replica of the characters Monica and Rachel's New York apartment.
He said:
"This is an exact replica of the kitchen from the show. I actually spent $80,000 making it. To the T. Every detail is correct."
Jennifer – who played Rachel Green on Friends – seemed genuinely shocked and reluctantly played along with Jimmy's gag. However, she put her foot down when he handed her a "Rachel wig" to plop on her head.
Playing the character Ross, Jimmy then spends the next six minutes trying to get Rachel to make love to him.
In the hilarious sketch he gets some surprise guests to help him along the way. Enter Courteney Cox who played Monica Geller and Lisa Kudrow who played Phoebe Buffay.
Jennifer played along, although she did jokingly protest that the script was "dumb" and "stupid."
But, as Jimmy pointed out:
"Is it dumber than living in a huge apartment in New York City for eight years even though you work at a coffee shop?"
Touché.
And, just to remind us of how ridiculous the show sometimes was Jimmy joked about all of the friends meeting up so "we can all have breakfast together as a group before work like normal people do all the time."
When the girls ask where Joey and Chandler – the other friends – are Jimmy said, "They're dead."
Poor guys. In Jimmy's world Marcel the monkey bit them and gave them "monkey rabies."
On Thursday the comedian tweeted: "Rachel, Monica & Phoebe are back with their BEST co-star yet!"
Check out the full sketch below.