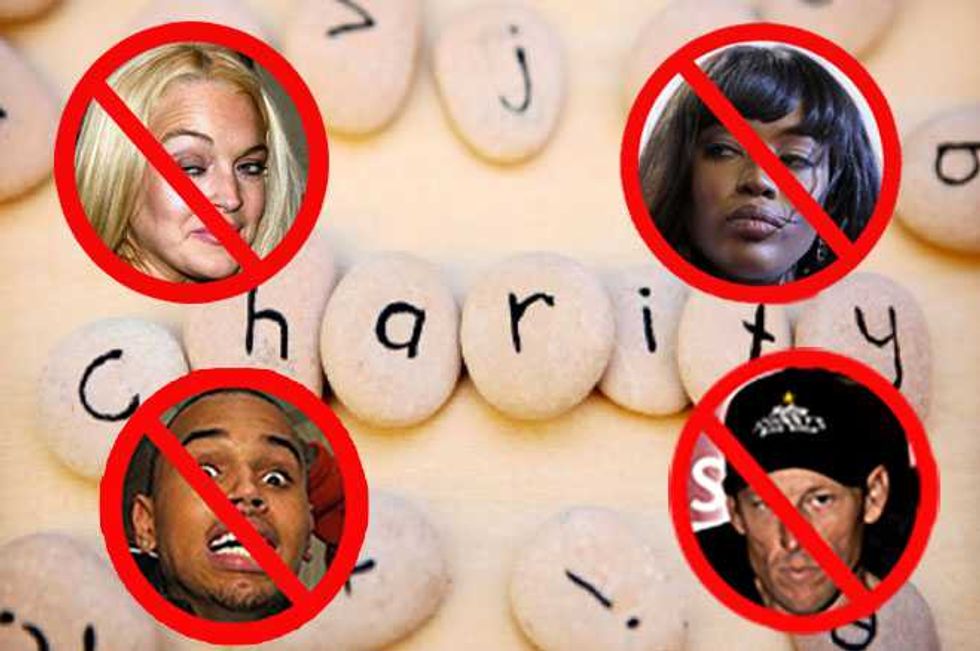 Remember that saying there's no such thing as bad publicity? Well that's not true if you're a charity and you want someone to front your campaign.
For many non-profits, controversial stars like Chris Brown, Naomi Campbell, Lindsay Lohan and Lance Armstrong need not apply.
According to The Hollywood Reporter, philanthropy executives and people who match stars with charitable causes have actually turned away some stars wanting to lend their services to help better the world – or in some cases, improve their public image.
One expert explains:
"You have to be appreciative and you can't say, 'Thank you for your interest, but there's no way in hell'.

"It has to be a much softer dismissal."
Presumably that's what many non-profits told Breezy when his team allegedly approached several high-profile charities in a bid to clean up his image following his 2009 arrest for beating up Rihanna.
Seems mug shots are a no-no in this field.
According to Shawn Sachs—whose firm Sunshine Sachs represents charities like the Bill & Melinda Gates Foundation.
He says:
"If someone is taking mug shots and they've been associated with your brand, you will reap some of that bad [press] too."
Just because you started the charity doesn't make you immune either. Armstrong was ditched from his own charity, Livestrong Foundation, after his doping scandal led to him being stripped of his Tour de France titles.
Doing something that completely goes against the principles a charity represents is also a cardinal sin in the philanthropic world.
So, as you can probably imagine, Naomi Campbell strutting around in a sable coat, just after she said she'd rather go naked than drape herself in fur, didn't sit well with PETA.
The animal rights organization's senior vice president of communications, Lisa Lange, tells the Reporter: "We fired her for wearing fur."
As for everybody's favorite serial liar, LiLo, in 2009 she was accused of exaggerating the success of her work after partnering with a non-profit to film a BBC documentary about child trafficking in India.
The actress tweeted just 24 hours after setting foot in the country: "Over 40 children saved so far…"
And when it comes to reality TV stars, they'll wait a long time for Lara Shriftman at the PR firm Harrison & Shriftman to call on their services.
She says:
"I look for people who are really, really behind an issue and are working for the cause.

"Not someone who is just looking to get publicity for publicity's sake."
All those Real Housewives better get to the back of the line!