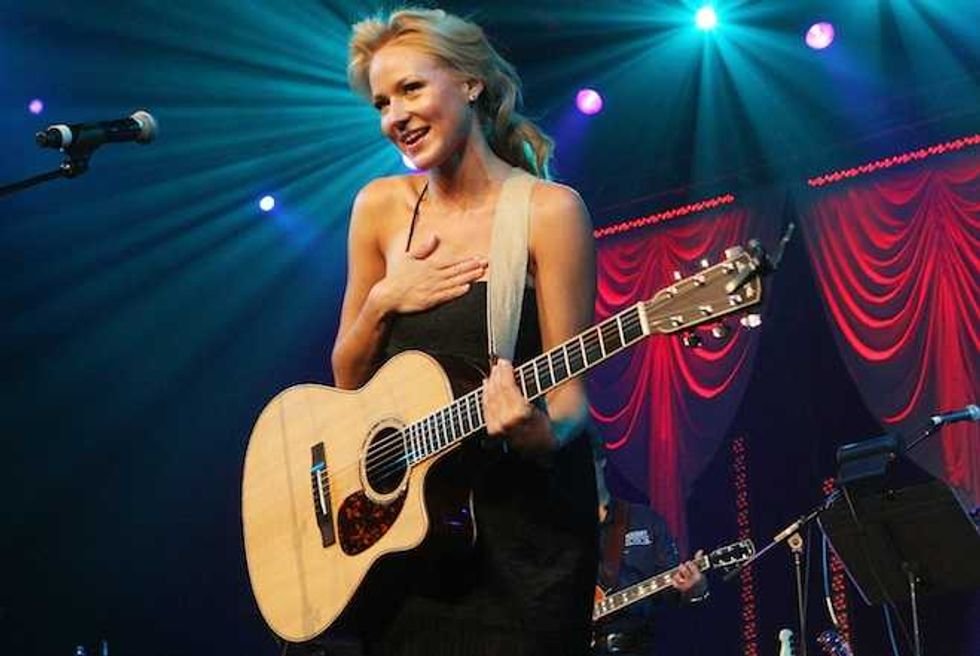 Today, we celebrate the 39th birthday of "You Were Meant For Me" folk crooner Jewel. Of course we all know her as the beautiful singer/songwriter/actress/poet who once had a very memorable guest stint on 7th Heaven. There are, however, two key aspects of Jewel that have become synonymous with her character. One is her teeth...
...and the other is the fact that she once lived in a car. That's right! Prior to becoming folk music royalty, 18-year-old homeless Jewel Kilcher lived out of her car in San Diego. We're glad she had enough "Intuition" to know it was well worth any mobile malcontent.
Conspiracy Theory Thursday — Is Jim Morrison Alive?
Jewel is not the only celebrity to have once called their car home. In honor of her birthday, here are the most famous examples of celebrities who were forced to slum it curbside.
1. Jim Carrey
When the Ace Ventura actor was just a teenager, his entire family took janitorial jobs and lived out of a Volkswagen camper
2. Hilary Swank
Swank and her mother lived out of a car for about eight weeks when they first moved to Los Angeles for Swank's acting career. Two Oscars later, Swank is living much...swankier.
3. Drew Carey
The funnyman lived out of his car for 18 months while trying to earn a spot on The Tonight Show With Johnny Carson. Not only did he get the chance to perform his stand-up set, but he was invited to Carson's couch after.
4. Lil' Kim
Lil' Kim and her mother left her abusive father when she was 8-years-old. "There was a time when my mother and I were living out of the trunk of her car."
5. Tyler Perry
When he was an unknown playwright in Atlanta, Perry was forced to live out of his car after one of his projects flopped.
6. Dr. Phil
Dr. Phil's experience living out of a car with his father as a teenager has certainly aided his ability to counsel those in need.
7. Debbie Reynolds
The Singing in the Rain star was forced to shut down her Las Vegas movie museum and live out of her Cadillac in the '90s due to financial problems.
8. William Shatner
1969 was not a good year for Shatner: Star Trek went off the air and he and wife Gloria Rand divorced. Before finally finding other work, he lived in a camper.
9. Suze Orman
Before becoming a financial guru, Orman cut trees and lived out of her car in Berkley, CA.
10. Colonel Sanders
KFC-EO Colonel Harland David Sanders slept in the backseat of his car with his wife while trying to convince restaurants to use his special fried chicken recipe.
11. Kelly Clarkson
After pre-Idol Clarkson's Los Angeles apartment burned down, she slept in her car and showered at the gym.
12. Jim Morrison
The Doors frontmas lived on rooftops, couches, and cars in Venice Beach, CA before lighting people's fires (musically).
13. Sally Jesse Raphael
According to her autobiography, the talk show host lived in her car for a time. We wonder if she still wore those iconic red glasses...
14. David Letterman
Yet another talk show host who was car-bound for a time! Before making it big, Letterman lived out of a red 1973 Chevy pickup truck.
15. Danny Bonaduce
The comedian/child star/TV and radio personality was still signing autographs while living in a car by a dumpster in the '80s.
16. Sam Worthington
"I was living in a car before I signed up for Avatar," claims the Australian actor.
We hope these tales of vehicular vitality inspire you to persevere, regardless of the shape of your teeth or the size of your hands...