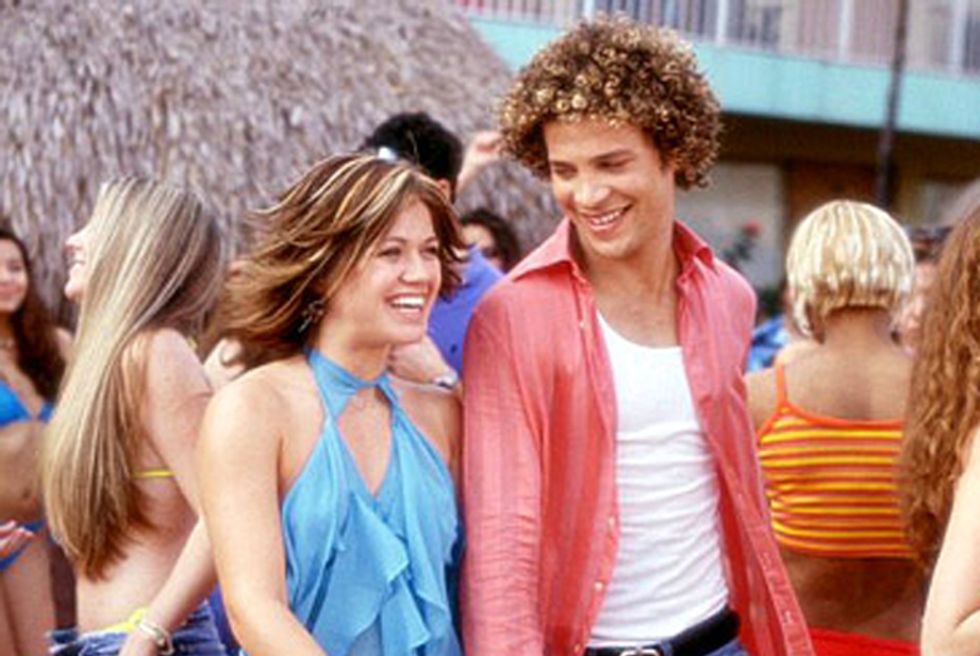 With Spring Breakers on its way to becoming one of the best (or at least most inspirational) spring break movies of all time, what say we crack open a cold can of decade-old nostalgia and reflect on the worst.
It might as well have been called From Justin to Kelly: A Contractual Obligation. Neither American Idol season one victor (and consequent superstar) Kelly Clarkson nor 2nd place finalist (and consequent...former Idol finalist) Justin Guarini appeared to have any interest in having their names in that title at any point in the film. Just how bad is it? You could say Idol season one is to Kelly Clarkson's career as From Justin to Kelly is to Justin Guarini's, if you feel like being a little mean to ole JG. In terms of accolades, it won the Golden Razzie for Worst "Musical" of Our First 25 Years in 2005, and if you'd like a Wiki visual...
Fortunately, the idea was not replicated in season two of Idol—although From Ruben to Clay might have been the homoerotic Of Mice and Men romper we've long prayed for.
Now, at this point, you're probably thinking to yourself, "If it's so terrible, why have you watched it 13 times?" First of all, umm, how did you I'd watched it exactly that many times ya little Nancy Drew?! Second of all, because it's fascinating. My four equally FJTK-obsessed friends and I have each selected one musical number from the film to break down, leaving you with a consummate understanding of why From Justin to Kelly is so offensively terrible, it's worth watching 13 (or more) times.
First up, a song that explains why From Justin to Kelly won (yet another) Razzie for Worst Choreography...
1. "The Bounce (The Luv)"
Kelly is a small-town waitress and aspiring singer, but don't get too attached to her hopes and dreams—they're not mentioned again after the first scene. Her friends Alexa and Kaya convince her over a round of one beer (made by popular brewing company "BEER") to drive them to beautiful Miami Fort Lauderdale for spring break. Little does she (or we) know, they will not be drinking or staying in a coed hotel.
Justin is the leader of "The Pennsylvania Posse," which is comprised of Justin, his nerdy friend Eddie, his douchey friend Brandon, and Justin's hair. TPP strolls down the boardwalk, checking out fully-clothed honeys and discussing their plans to throw the most epic (read: hopelessly PG) whipped cream bikini contest, when all of a sudden…
…it's time for our first group number!
Do you like Destiny's Child's "Jumpin' Jumpin'," but wish it were terrible? "The Bounce (The Luv)" has got you covered! Like all songs that spell "luv" as such, it's not a thinker. The caliber of lyric we'll be faced with for the rest of the film is set here—Kelly, for instance, muses, "Tall, short, dark, blonde/Who's the right decision?/Boy I need a vision/If you wanna dance with me."
And boy does she get her vision—in the form of dance. Just when we thought the choreographer had inked the final words of his suicide note with a group towel dance, this happens:
What should we call this dance? To my eyes, it looks like a puppet master trying to revive his puppet as it undergoes rigor mortis atop a table. Whether this is a metaphor for their relationship or just a classic spring break mistake, it sets Justin and Kelly's tour-de-farce romance into action and earned the film (yet another) Razzie for Worst Choreography.
Still, this is just a small sampling of what makes FJTK a film we "luv" to h8.
—Samantha Martin is a performer, writer, and tweeter in NYC.
Next up, a snoozey duet with sober spring breakers and a tap dancer as its backdrop...
2. "Forever Part of Me"
Remember when you were on spring break in college and your buddy asked, "Hey man, it's like 5:30. You want to start pre-gaming for tonight's spring break festivities?" to which you swiftly replied, "No way dude, I've got to get down to that gazebo by the beach to watch the tap dancer with everyone else in Fort Lauderdale!" From Justin to Kelly gets that this is the custom of all college youths on the first evening of their all-too-short spring break vacation, and it gets you.
As the throngs of other sober coeds stare mindlessly in one direction with a single arm raised above their head, enthralled with the rhythmic toe-tapping of a third rate Savion Glover, Justin and Kelly just can't seem to get something out of their heads…each other. You see, about seven minutes ago, these two lovebirds briefly touched, and that desire created so much tension between the "characters" that it builds to the fantastically milk toast duet that is "Forever Part of Me."
For Justin and Kelly both, the thought begins only as a small itch (sung only in their minds). Like any true love, however, the intensity builds over time (20 seconds here) until there is enough passion to actually sing out loud! Oh, my! If only they could find each other!
There he is! What?! Kelly, seriously, you didn't see him?! HOW IS THAT POSSIBLE?! He is a solid foot taller than everyone else, his head is shaped like a catcher's mitt, and you're SINGING THE SAME SONG! Not to mention, you're the only two people not fixated on this native man in tap shoes.
As the song lumbers on with the unstoppable force of an American black bear, we realize Justin and Kelly are truly meant to be together, not unlike a fresh coat of drying paint and a second coat of paint with a slightly glossier finish. Justin and Kelly both believe, as the lyrics point out, "We've got a chance we've got to take." Just as the prodcers took a chance with two previously unknown lead actors with little to no acting experience.
—Chris McKeever is a raconteur and jokesmith living in NYC.
And now, a lengthy salsa number between two characters we haven't had a reason to care about yet...
3. "It's Meant to Be"
Listen. I think that this song exists. It has to, right? There's no way that I blacked out on some bottom-shelf liquor and experienced this song out in the real world in some horrific capacity, only to later force it into my memory's "From Justin to Kelly hole," is there? I say this because a quick Google search for "it's meant to be from justin to kelly" turns up only a black hole of one star amazon reviews of the DVD for this film, beckoning me to turn back now. Sirens. I tie myself to the mast and press onwards.
Look, I understand that this song is forgettable. I admit that when I mentioned this song to a group of people who've seen FJTK a combined total of 24 times, nobody knew what I was talking about. I'll even yield the floor to any and all haters trying to remind me that this song serves as a lateral plot move in the C-story of a movie that barely cobbles together an A-story. That's all understandable. But to be so forgettable as to disappear from history? From reality? No.
"It's Meant To Be" serves as the showcase love song for Kelly's smart friend Kaya. We know that Kaya is "the smart one" in Kelly's group of friends because they spend their first, third, and fourth conversation organically bringing this up. (For the record, Alexa is the hot one, Kaya is the smart one, and Kelly is the one who is most often on screen.) We also know that Kaya is the smart one because she almost immediately breaks away from the other characters into her own subplot, as if attempting to somehow escape into a superior movie. Film technology only having advanced so far, she instead falls in love with a busboy named Carlos who works in the resort, where everybody in this movie seems to be milling about, acting like they want to have sex without ever using words like "sex." He puts a pretty flower in her pretty hair, like a Frankenstein in love, and off they go. Into the night.
Carlos takes Kaya to a little Cuban club that by the looks of it, Castro never managed to destroy with his communism. You can almost imagine him, watching a screener copy of this movie-musical/vanity project in his private room circa 2003, screaming with indignity when he sees this club. "Look at those colors! Those angles! So gauche! This is exactly what I was trying to do away with!"
The two dance and dance, occasionally with each other, but more often than not with other people. Luckily for the stupid stupid audience, they go well out of their ways to make eye contact with each other as they sing about how their love is meant to be.
Later in this movie Kaya gets Carlos fired from his kitchen job by entering his place of work and yelling at his boss, apropos of nothing. And if I'm not mistaken, Kaya learns Spanish halfway through this number through the magic of song. I don't remember. All I remember is a flash of white light and Tommy Lee Jones explaining to me that New York City has been experiencing some magnetic disruptions lately and that it was nothing to worry about and that somebody in a car would be by to take me home shortly.
—Branson Reese is a comedian living in Queens who performs regularly at The Magnet Theater and in elementary schools all over NYC with The Story Pirates.
Next up, a fantasy sequence where "fantasy" looks a heck of a lot like reality...
4. "Wish Upon a Star"
Southern-fried, self-absorbed Alexa is the nearest thing this rudderless movie has to a villain. She repeatedly tries to keep Justin and Kelly apart because...she's jealous of how good Kelly is? Or something? It's pretty hazy. After multiple viewings of FJTK, I still defy anyone to make sense of the characters' motivations. The script is underwritten to the point of being confusing, so when Alexa gets her own musical number, you're hoping this will be an exposition moment where we can get inside her head a little. Time to learn just what Alexa's all about! Like Scar singing "Be Prepared" in The Lion King! But instead of visions of lock-stepped fascist hyenas letting us know what our bad guy's "deal" is, we get the coma-inducing "Wish Upon A Star," which sounds like a rejected Britney Spears sample on a thirty second loop. You know how "Survivor" by Destiny's Child is basically all climax? Imagine the polar opposite. Seriously, this song has no beginning, middle or end. It is the eternal mobius strip of music.
I guess we technically get in Alexa's head, because this is the movie's one "fantasy number." The fantasy looks pretty much like reality, but there are no women, and all the men wear white shirts, and they've rented a party center's "Night of Enchantment" themed décor.
I should mention that when we go into Alexa's fantasy world, you barely notice the disappearing women, because there are only TWO WOMEN at the bar, and they're hidden behind the crazy space chairs they sit in. Here's the big reveal, which I didn't even notice until the third (third!) time I watched:
This number is puuuuuure time-padding. Alexa does the splits and gets carried around the room. All the extras stare vacantly as men dance around her. I don't know if these men are gay or straight, but I will say I've seen more erotically charged mother/son dances at weddings.
Alexa sings about how much she likes boys! She wants to have them all for herself! She has what you could call a "dancers voice." Then she sits back down. The song fades out. That's it! Oh, and the two women reappear in the room. HI TWO WOMEN!
—Zachariah Durr is a bad movie enthusiast and comic in Cleveland.
Finally, the movie's climactic duet: a boat number that is as creepy as it is squinty...
5. "Timeless"
Living in the Twilight Era, it's hard to remember that in 2003 FJTK broke new grounds for shocking, implausible chastity in a teen movie. Parents everywhere celebrated when the two nervous-looking stars showed—while always wearing more clothing than expected—just how boring, insipid, and a waste of time teen romance could be. (It reminds me I wish I could go back in time and tell teenage me to stop flirting with classmates on AIM at midnight and spend that time taking up, I dunno, the saxophone.)
Anyway, onto "Timeless," the "classic" "song and boat" "number". (From now on, just read every following noun as if it is in quotes.) This is the budding romance scene. (Remember the quotes.) In their previous interaction, Justin convinced Kelly to go boating with him by spilling hot sauce all over her lap. You may be reading that as a metaphor for sexual intensity, but it's probably more of a metaphor for the desperate, obnoxious way American Idol execs contractually roped the two principles into filming this DVD coaster in the first place.
Wearing mismatched whites and squinty smiles, Justin and Kelly descend into a boat Justin somehow procured. And then they sing a song about how promising this relationship is... while not looking at each other. Rather than describe the scene to you, I will now pay homage to the budding statistical movement that is changing the way Americans view electing our officials and playing our professional sports by using the power of numbers on America's third-greatest mass opiate: American Idol-related cultural products. Here is all you need to know about "Timeless," in four statistics:
Length of scene: 4 minutes 9 seconds
Establishing shots of scenery: 1 minute, 13 seconds (29.3% of scene)
Eye contact between Justin and Kelly: 38 seconds (15%)
J and K staring into the distance while singing to each other: 2 minutes, 18 seconds (55.7%)
The numbers are harsh, but fair. In a film that feels more like a love letter to filming coastline from a plane rather than the joys of innocent spring break romance, this is the quintessential song number in the film: lack of eye contact, lots of wide-angles, and lyrics that could anchor a week-long philosophy conference ("Timeless/Don't let it fade out of sight").
As the sunlight and the scene fade away, the boat goes further into the harbor, nicely obscuring our two lead actors. It's easier to bet Kelly's going to get Dexter'd rather than kissed at this moment, and maybe she did... Hey, is the rest of the movie a Shamalayanian exercise in dead people in denial interacting with each other? I don't even have to look at the numbers: yes.
—Matt B. Weir is a comedian living in NYC, responsible for the cartoon show Cool Cars and Science.