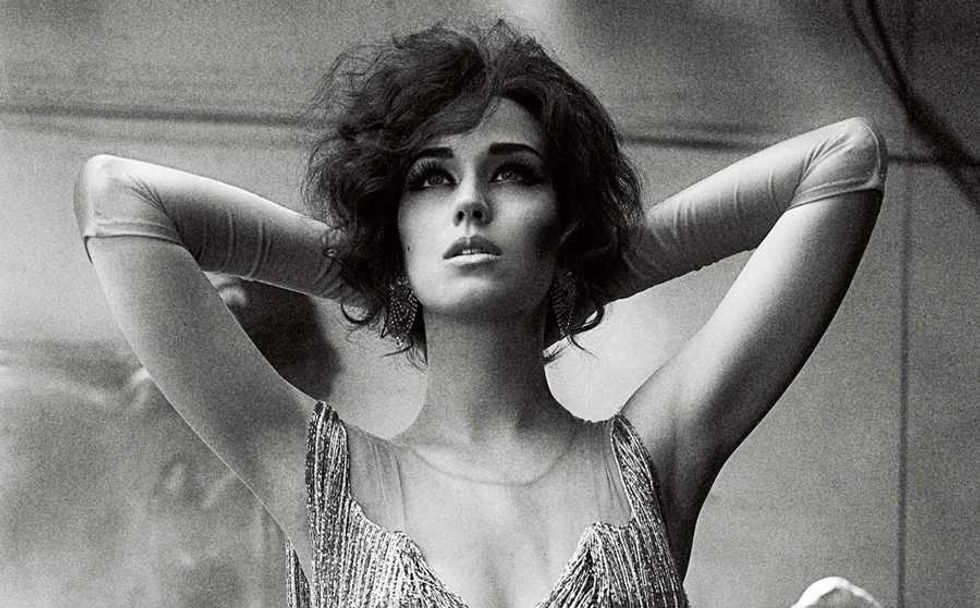 We love a good spread. Particularly when that spread involves the crème de la crème of music stars in glossed up, drama-filled fashion spreads. With 2012 on its way out, we couldn't help but take a trip down memory lane and gather up our favorite editorials this year. Some you may remember, while others you may have forgotten or *gasp* even missed. From Katy Perry channeling her inner bombshell to Lana Del Rey's trademark come hither stare, these images only added to their allure (and gave us even more of a reason to worship them).
Gwen Stefani: Harpers Bazaar
Memorable quote:
(regarding her first encounter with red lipstick)

I remember sitting in my ghetto, beat-up Honda Prelude and putting on that lipstick in the rearview mirror and being like, 'Uh-huh, I like that. That's the shit right there.' I never stopped after that.
Photographer: Terry Richardson
Katy Perry: Interview Magazine
Memorable quote:
Unfortunately, I think a lot of people are affected more by the idea of fame than the actual work ethic involved. A lot of them just want to be reality TV–type people who don't do anything. And if they actually want to pursue a skill, whether it's creating or writing or acting . . . Well, that's hard. Even if you actually have the good intent to do something creative or special with your life, it's hard. I mean, look at the number of people who actually get the opportunity.
Photographer: Mikael Jansson
Lady Gaga: American Vogue
Memorable Quote:
I hate the truth so much that I would prefer a giant dose of bullshit any day.
Photographer: Mert & Marcus
Lana Del Rey: British GQ Magazine
Memorable quote:
 It's the only thing that's really important to me. My music is a luxury. Just like being here in Monaco is a luxury.
Photographer: Mariano Vivanco
Miley Cyrus: Marie Claire
Memorable quote:
(regarding her engagement ring):

I had no input. We'd been kind of talking about getting engaged…I saw it online at one point and thought it was really pretty…I just love that it's old and has a story. And I'm happy because it doesn't look like anything else I wear.
Photographer: Tesh
Rihanna: American Vogue
Memorable quote:
Seriously, all I want is a guy to take me out and make me laugh for a good hour and take my ass back home. He doesn't even have to come up. All I want is a conversation for an hour.
Photographer: Annie Leibovitz
Rihanna: Harper's Bazaar
Memorable quote:
When I was in love, I fell so hard. I was really, really, really in love. The way it made me feel was priceless. And in a blink of an eye my whole life changed. Everything that I knew was different. I never thought I'd feel that pain in my life. I'm afraid of feeling that again.
Photographer: Camilla Akrans
Rita Ora: The Sunday Times' Magazine
Memorable quote:
I don't really hide behind my lyrics. I don't really sing something that I don't believe in or that is not going to happen or that I want to happen, so it's all things that I really believe in. There are no boundaries to my music; if I want to a reggae song, I'll do a reggae song tomorrow. I feel like I want to embrace music to its fullest potential and want everyone to have fun with it and realize you can escape for .three minutes.
Photographer: Damon Baker
Selena Gomez: Glamour Magazine
Memorable quote:
I grew up in one of the biggest high schools in the world, and that's the Disney Channel. Everybody was falling in love with each other or not liking each other, and it was exhausting…and I was the shy one in the corner. And now I'm so opinionated, and I don't have time for the cattiness. I have good people around me, and I'm glad I'm at the place I'm in. I wish I was there back then.
Photographer: Ellen von Unwerth
Taylor Swift: American Vogue
Memorable quote:
I just don't really feel like dating. I have this great life right now.
Photographer: Mario Testino