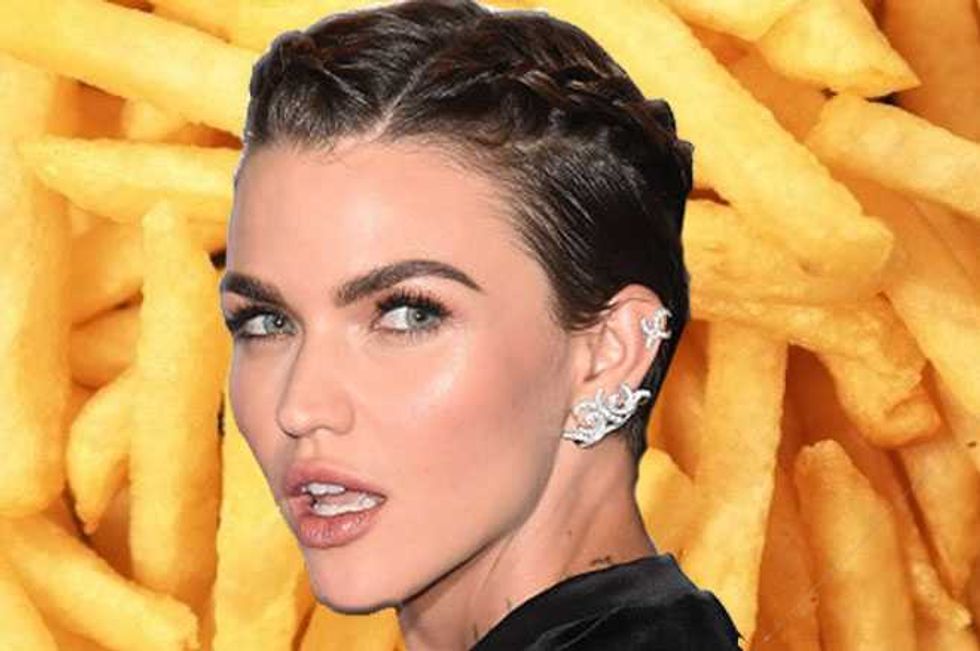 Ruby Rose fry throwing
It's either a famous person who came over all star-diva and demanded special treatment or a bartender who is working overtime for his 15 minutes of fame.
Frygate occurred on Friday 13th (unlucky for all parties involved it seems) in New Orleans.  Orange Is The New Black star Ruby Rose was in town to DJ at the Metropolitan Nightclub and before her set was with a group of pals who were hungry. They rocked up to a very busy restaurant named Rebellion and the evening culminated in Rose throwing a handful of french fries at the bartender before leaving/being kicked out.
That much is agreed upon—it's after that the stories seem to differ somewhat.
Writing on Facebook, Rose claims that her group were left waiting 60 minutes for fries and over 90 minutes for food that never arrived and that she was verbally abused by the bartender, causing her to hurl the fries in frustration.
My assistant, tour manager and myself arrived at an establishment last night for dinner before my show in New Orleans.

We waited 60 minutes for fries and over 90 minutes for food that never actually arrived. When I asked about it, the bartender offered us drinks. I explained I'm sober, but thank you.

He then made some really rude and vulgar comments to the table. When someone makes repeated derogatory jokes about the sobriety I worked so hard to achieve, it's hard not to react emotionally. So I threw a singular fry at him. Then he came back as we were getting ready to leave and continued making awful comments, so I continued with the fries. Every day I learn new lessons about handling cultural and social ignorance. I am deeply regretful to the French fry and I am regretful that I reacted at all. Maybe next time I won't throw fries, then again, maybe next time that bartender won't tell someone who is sober to "go call your f**king sponsor!"

I worked in hospitality for 5 years and I have huge love, respect and admiration for servers around the world and how hard they work. I also have mad love for New Orleans and I want to come back 100 times if you will have me. Next time, dinner at my place
At lease she admitted she shouldn't have taken it out on the innocent fries!
However, the restaurant owner, Seung Hong sees it a little differently. NOLA reports;
Hong said someone called Friday to try to secure a table at Rebellion for dinner. The restaurant's reservations were full, however, so Hong told the caller he might be able to seat them after 9 p.m., but couldn't guarantee a time. There were already three reservations on the books for parties of 10 or more people for the night, Hong said Saturday.

That group arrived at about 9:15 p.m., Hong said, and it included Ruby Rose, who he recognized from Netflix's "Orange is the New Black." Hong told the group it could be a while before food came out from the kitchen because of the large tables already seated ahead of them, but Rose's group opted to wait and was seated by about 9:30 p.m.Rose's party had appetizers within about 40 minutes, Hong said, with entrees following about 10 minutes after that. But, that seemed to be unsatisfactory, so Rose's server asked Hong over to mediate the situation.

"I offered to comp the appetizers, but (Rose) was losing her cool, and then I offered to buy them a round of drinks," Hong said. Rose declined the drinks, and Hong left the table to return to business. "One of my bartenders was walking by and could tell they were upset, and (Rose) threw food at him. ... Ruby told my bartender that if she was a bigger man, she would kick my ass, meaning me."

The bartender also offered drinks to the table, which were again declined, Hong said, and as the bartender left, he saw a french fry hit his shoulder.

"He thought maybe it was an accident, so he came back and he asked, 'Is everything ok?' And she picked up a handful of french fries and threw them at him. I think she was like ... trying to be a bully," Hong said.

Once the bartender relayed to Hong that french fries were being tossed, Hong asked Rose's group to leave, which they did soon after.

"Ruby was already kind of pretty over the top upset, kind of laying into me, which — whatever, I'm in the service industry and it's my job to please customers," Hong said, adding later, "It was the first time I've ever had to ask someone to leave, and it was Ruby Rose."
Hmmm who do you believe?
The family of Miriam Burbank knew she would never miss a party, so they made sure she was on the guest list for the blowout funeral celebration just prior to her own burial
Propped up in a chair and surrounded by a few of her favorite things: Busch beer, menthol cigarettes, and a disco ball flashing overhead, the New Orleans native was the life of the party!
Miriam Burbank's two daughters, who call their mom Mae Mae, said their late mother was a party girl and that they wanted a funeral that would make her proud.
And no party girl would attend a gathering without a perfect pedicure- Miriam had her nails painted black and gold as a shout out to her favorite team, The New Orleans Saints!