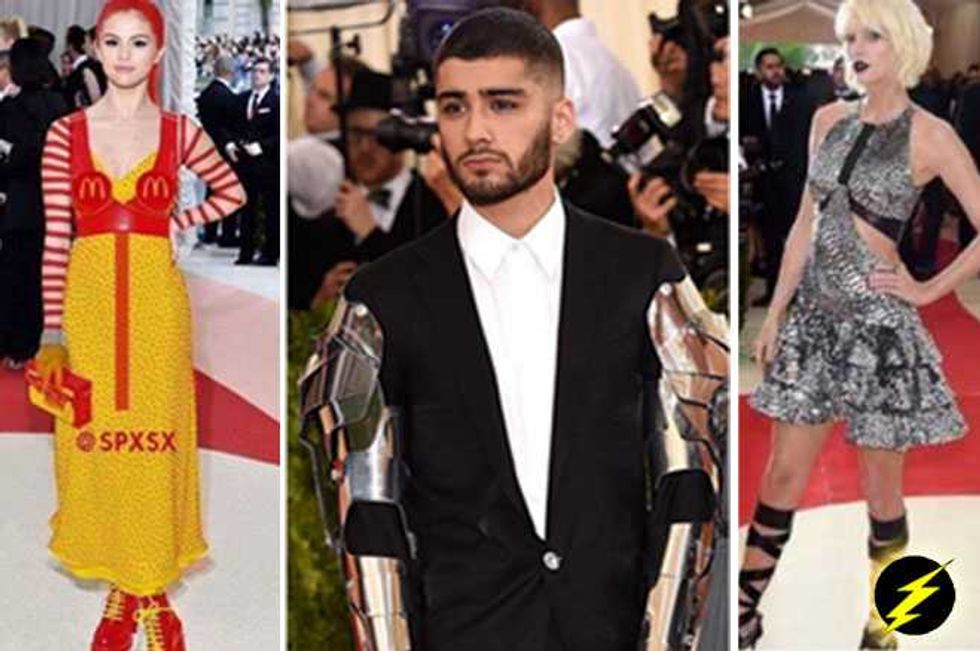 Let the memes begin!
By know we know the theme of this year's Met Gala was "Manus x Machina: Fashion in an Age of Technology"—just rolls off the tongue doesn't it? Technology to you and me.
Most of the stars took the theme very seriously and we were treated to the utterly beautiful (Claire Danes) and the shocking awful (Madonna). However the best thing about the theme, was the opportunities it presented for memes!
With people like Zayn Malik walking the red carpet like an extra from Game of Thrones, and Kim Kardashian treating us to a view of her huge tin foil covered ass—what is the internet going to do but create a whole heap of hilarious memes?!
Here are a selection of our favorites...
#MetGala2016 in one photo pic.twitter.com/PgmYfdilUZ

— Marc Snetiker (@MarcSnetiker) May 3, 2016
All the weird and wacky things celebrities resembled at the Met Gala https://t.co/QE9C7Jp92k pic.twitter.com/5ecUoVLXxm

— Mashable (@mashable) May 3, 2016
Gigi Hadid and Zayn Malik are the droids you're looking for. https://t.co/LPchBiCG6I pic.twitter.com/H9AwY5FzWB

— Mashable (@mashable) May 3, 2016
May 2, 2016
who wore it better? #MetGala pic.twitter.com/3AWZQqtexo

— [:•-•:] (@DubOnDaBeatz) May 3, 2016
Tailor: What you need fam?
Zayn: You ever play mortal kombat?
Tailor: Say no more fam. #MetGala pic.twitter.com/M4TJStxV2S

— [:•-•:] (@DubOnDaBeatz) May 3, 2016
"I might never be your knight in shining armour"#MetGala #MetGala2016
Zayn: pic.twitter.com/58uLpolYJM

— NOTICE ME HAILEE S (@KAMBALNIHAILEE) May 3, 2016
Spot the difference #MetGala pic.twitter.com/vRlfggwnUJ

— ️ (@jasonswitness) May 3, 2016
Taylor looks great at the #MetGala tonight! pic.twitter.com/6o9B6DJl6B

— kate. | 1 DAY!!! (@kateaImighty)

May 3, 2016
.@Beyonce arrives at the #MetGala wearing Becky's skin pic.twitter.com/kxrazWOXdE

— V Magazine (@vmagazine) May 3, 2016
Rita Ora's outfit. #MetGala pic.twitter.com/9Jt7ZmJWXL

— talulah maraschino (@_Sebs_) May 2, 2016
There's always at least one… #MetGala pic.twitter.com/P05K3Kd5hF

— Ellie Krupnick (@elliekrupnick) May 2, 2016
Who wore it best? Julie Macklowe or C-3PO? #MetGala pic.twitter.com/G9r2t236bn

— Racked (@Racked) May 2, 2016
when you fuck up your art project but turn it in for credit anyway pic.twitter.com/7tqXJg1NUs

— Sam Stryker (@sbstryker) May 3, 2016
Is there an oil can in her purse? pic.twitter.com/WtLIS1G8Us

— Sam Stryker (@sbstryker) May 2, 2016