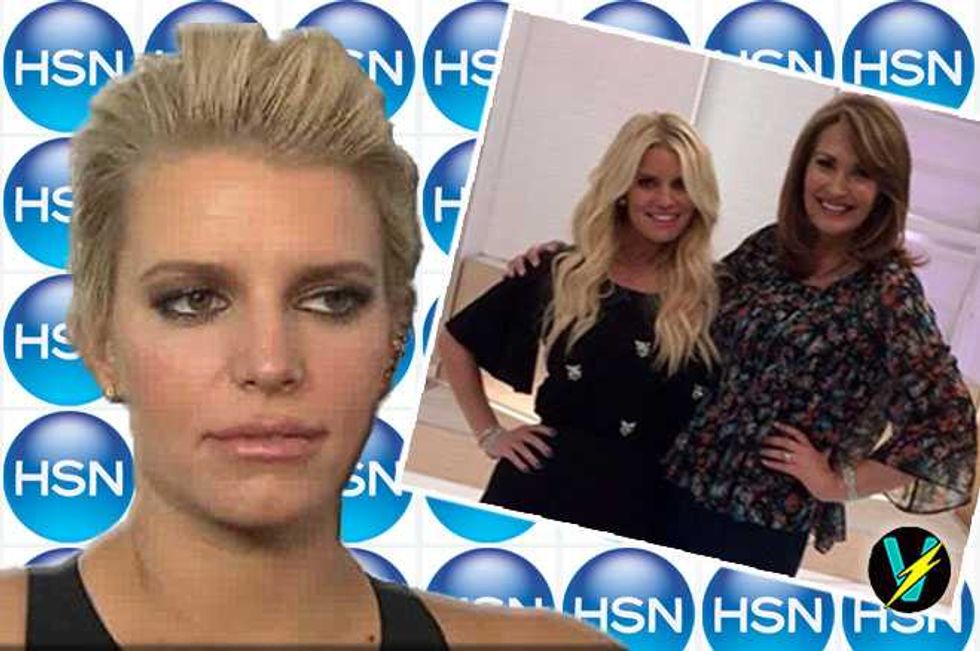 Jessica Simpson made her Home Shopping Network debut on Thursday night, and viewers were left as confused as she appeared to be, with many accusing her of being drunk.
Scroll down for video
Simpson's army of loyal fans plus the regular HSN viewers were not impressed by her performance as she made a live two hour appearance to promote her clothes and accessories.
Jessica Simpson—Scrawny And Bruised: What's Going On?
Jess joined host Colleen Lopez, who did a grand job of trying to hold the thing together as the singer/actress swayed and slurred her way through her segment.  She kept wandering off screen unannounced and seemed to have a little trouble supporting her own head.  Her mother, Tina was watching from the sidelines and she even made an unscheduled appearance—maybe to try to save her daughter?
Watch This Morning's Truly Tragic David Cassidy Drunk Bankruptcy Interview
Twitter reaction veered between amusement and admonishment with sympathy for Lopez in what must have been "the longest two hours of her career".  As word got out some people tweeted they had switched over from the Broncos game to HSN as Jessica was way more entertaining!
Watch! Bill Murray's Hilarious Drunken TV Appearance
It's not the first occasion on which Simpson has raised questions about her bizarre behavior.  In March she gave a rambling interview pulling a series of odd facial expressions at the 2015 Teen Vogue Fashion University event in New York.
Well whether her sales pitch was planned or not it seemed to work—she sold out most of her merchandise!