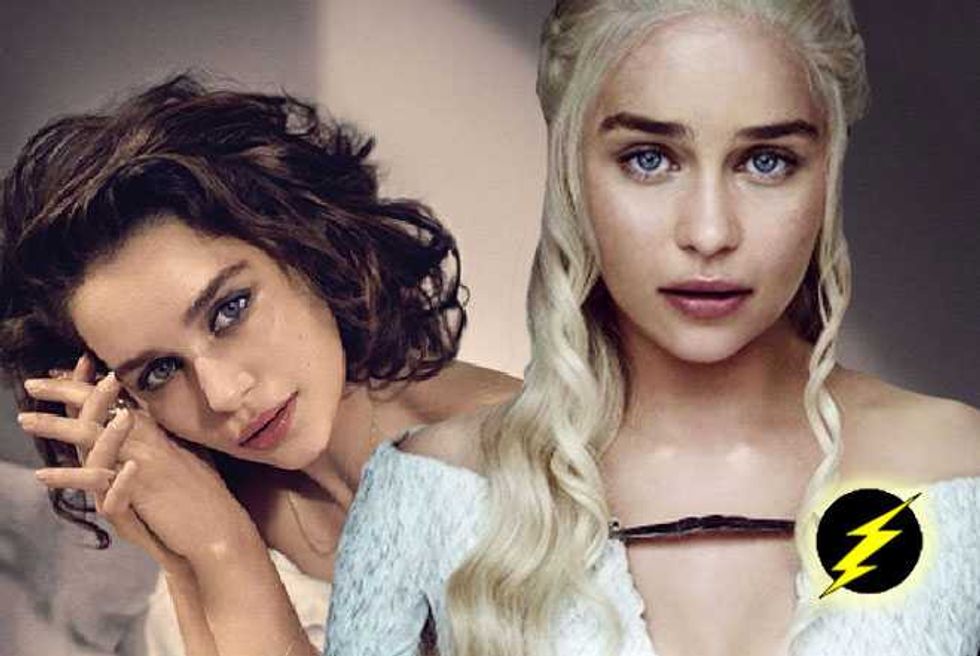 emilia clarke drunk naked photoshop esquire
Game of Thrones' actress, Emilia Clarke, who plays Khaleesi on the hit show, bared all for Esquire last year.
The 29-year-old Brit stripped down naked to celebrate the men's magazine crowning her their 2015 Sexiest Woman Alive last November.
But, she needed a little help to get her in the nekkid mood.
Clarke dished to Ellen DeGeneres about her sexy shoot—confessing she was both drunk and photoshopped:
That was a funny shoot.

Doing those kind of sex scenes on camera is one thing, but doing it as yourself, I need alcohol to do.
Thankfully, the Esquire staff were more than happy to oblige—plying Clarke with enough vodka throughout, to help dull the nerves and remove the layers of clothes.
They just kept giving me vodka.

That's me drunk.

That's me Photoshopped and drunk.
Well, drunk or not, girlfriend looks smokin'…..
Check out Popdust's gallery below to witness the power of vodka for yourself.
Meanwhile, as Popdust previously reported, G.O.T. fans are counting down to the premiere of the new season.
HBO has released three teasers and two trailers for season 6—which kicks off this Sunday at 9pm.
And they promise banners will rise, blood will spill and bodily fluids will mix, because, Game of freaking Thrones.
The second—and final—trailer kicks off with Tyrion declaring, "Whoever you are, wherever you go, someone wants to murder you."
Not shit dude, because, Game of freaking Thrones.
Buckle up GOT nerds—it's promising to be a bumpy ride.
You can watch the final season 6 trailer below.
For more entertainment, music and pop culture updates and news, follow Max Page on Twitter
FreeTheNipple! All Hail Rihanna—A Braless Nipple Baring Goddess!
Selena Gomez Gets Naked, Bares All For GQ
Miley Cyrus Gets Her Tits Out Again (This Time For A Very Good Cause)
emilia clarke drunk naked photoshop esquire
Free The Nipple! The Best, Worst, And Most Blatant Celebrity Nip Slips
Scout Willis Topless Nipple Protest Is For A Very Good Cause
Game of Thrones Recap—Holy Mother of Dragons
emilia clarke drunk naked photoshop esquire
emilia clarke drunk naked photoshop esquire