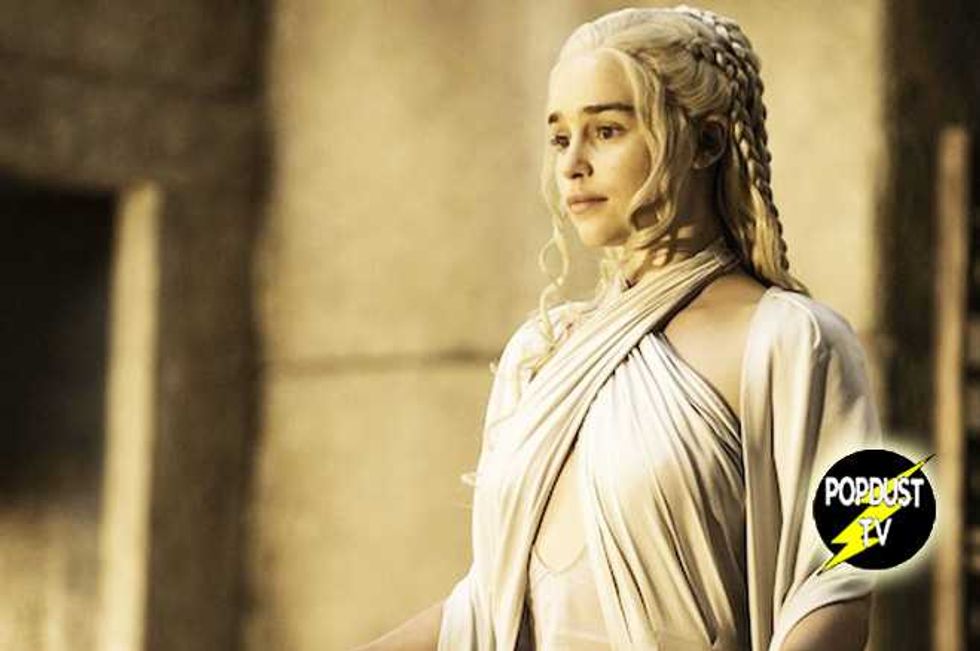 For the record, this week's episode of Game of Thrones featured not one tit or rape, so if that's what you watch it for, you're shit out of luck.
So!
Arya is becoming interesting again - instead of focusing on her admittedly entertaining murder list, she is being sent out among the populace like an avenging angel, righting wrongs and causing quiet mayhem. It's what she was born to do. Anyone who has ever been fucked by an insurance company will enjoy this little subplot.
Game Of Thrones Season 6 Teasers—Banners Will Rise, Blood Will Spill
Sansa is still at Winterfell but does, finally, at LAST, find out from Theon that her little brothers weren't murdered (just two innocent little farm boys instead but who cares about them amirite).
Tyrion and Daenerys finally get to sit down, have a glass of wine (or three) and talk strategy and partnership. They commiserate over their awful fathers and how best to get Dany on the Iron Throne. Dany wants to break the wheel, as per the headline. Meanwhile poor Jorah, exiled yet AGAIN, refuses to leave Meereen and volunteers himself for the fighting pits. It's Usher's U Got It Bad on a goddamn endless loop. He can't let go.
Alright, so, we all hate Cersei, right? She's an evil, conniving, husband-killing, brother-fucking cunt who is cruel and ruthless and treats everyone like shit. Yet, watching her suffer under the whip of these religious fundamentalists is no fun. When Sansa finally roasts Ramsay's balls and feeds them to the dogs there will be cause for celebration. But watching Cersei be tortured by these nutters is just not therapeutic by any means. She is spending all day dreaming of ways to torture and kill her captors and I for one hope she gets to do it. #FreeCersei
Jon "prettier than both my daughters but knows how to fight" Snow has been very sidelined so far this season and with only two more episodes to go, he finally gets some pretty major screentime. While trying to convince the Wildlings to join him south of the wall, the White Walkers attack (does this mean winter is finally fucking here?) and it's a total bloodbath. A lot of them do get away though, but the ones who are left behind and killed by zombie-like Walkers turn into Walkers themselves. The big twist is Jon Snow's discovery that Valyrian steel is just as effective as dragon glass in killing these fuckers. Oh, and Walkers don't swim, apparently.
Don't miss Game of Thrones Sunday nights at 9pm on HBO - and check out the gallery!