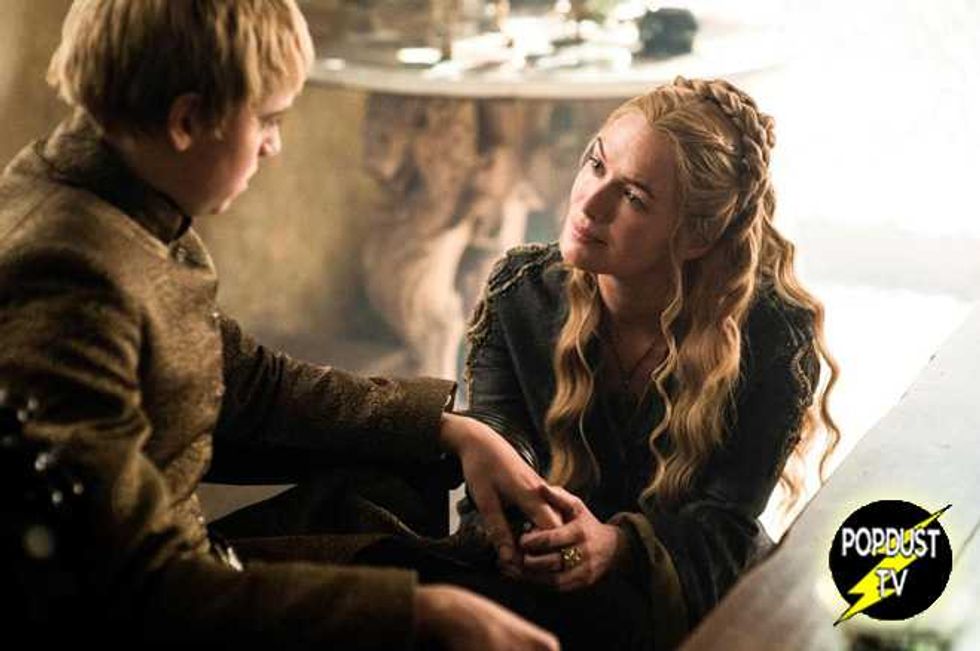 This week's episode of Game of Thrones is where Cersei finally gets hers.
Yes, just as we suspected last week, religious fundamentalists will turn on anyone in their path - including those supporting them. Are you reading this Mike Huckabee? Because you might want to rethink your pro-Josh Duggar stance. He will molest you in a heartbeat, mark my words.
ANYWAY!
Sansa - After last week's horrible ending, we catch up with her covered in bruises and is betrayed by Theon/Reek AGAIN, because he tells Ramsay she is planning on escaping. Good job Reek!
Castle Black - NO ONE is taking the vow of celibacy seriously. First two men of the Watch try to rape Gilly, and when Sam (well, Ghost) stops them, Gilly gives Sam a taste of her Gillyflower. It's amazing the vows these guys will and won't break, no?
Stannis - Refuses to sacrifice his daughter to win the battle of Winterfell, and actually gets a little peeved with Melisandre for suggesting it. Is this the end of Stannissandre?
Jorah/Tyrion - Make their way right into the presence of Dany in the fighting pits - but she isn't happy to see Jorah. A Lannister, though... a gift, indeed!
Annnnnnnnnd CERSEI!
Oh, Cersei. After getting both Maergery and Loras jailed for buggery and lying to the gods about buggery, the silly tart ends up in a cell herself because as you may recall, she used to fuck that one Sparrow before he renounced his Lannister name and cut off his hair. Oops. He betrays her (Littlefinger and Lady Olenna are behind it) and Cersei suddenly finds herself on the wrong side of a law made up by religious fundamentalist fuckface assholes (Huckabee? Are you still reading?).
Who will help her now? She has given far too much power to the crazies and they've turned it against her because, well. She cheated on her husband with her brother, raised their incestuous bastard children as royal heirs and drinks wine all day long.
THIS IS WHAT YOU GET, CERSEI.
Next week - hopefully Stannis murdering Ramsay? The writers are just making it up as they go along now, so if we can watch poor Sansa being tortured week after week we sure as shit can watch Ramsay getting his comeuppance. Please and thank you.
Don't miss Game of Thrones Sundays at 9pm on HBO, and check out the gallery!