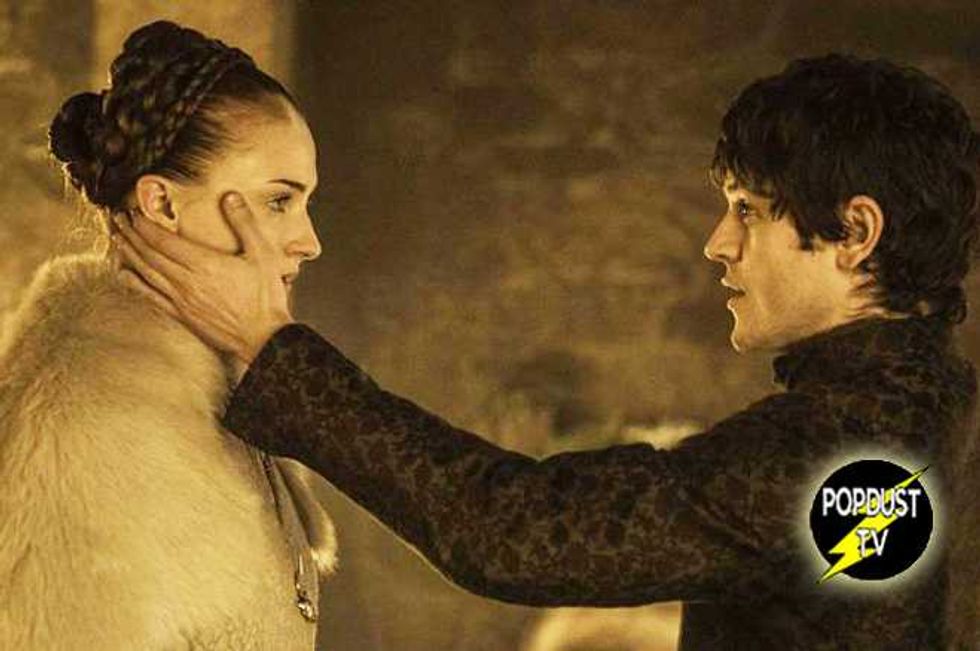 Yesterday's episode of Game of Thrones was very hard to watch (yes, even more so than usual).
The ending was shocking, brutal, and arguably completely unnecessary, but we'll get to that.
Jaime and Ser Bronn get to Myrcella just in time to stop her from being kidnapped by the Sand Snakes, and Cersei manages to get Maergery thrown in jail for lying under oath. It's one thing to have Loras put on trial but Maergery? Nuts. Now that the High Septon and his follows have shown they aren't afraid of confronting the royal family, who's to say they won't turn on Cersei herself? After all, the whole brother-fucking thing is pretty much as open secret in King's Landing, right? One thing is for certain - Lady Olenna Tyrell is not going to just stand by and watch this.
Arya gets further in her quest to become "no one" but realizes she can't do it. The girl has too many left to kill and can't give that up, no matter how hard she tries.
Tyrion and Jorah get kidnapped by slave traders, which leads to a lot of talk about cock merchants (don't ask) and some serious shade thrown at poor Jorah's weatherbeaten face.
Littlefinger makes a deal with Cersei to supply troops to retake Winterfell, from whoever ends up winning the battle between the Boltons and Stannis.
And now, Sansa - poor, poor Sansa. From the beginning of this series she has been a pawn, married or engaged to this person and then that one, her family killed and her life turned upside down. Game of Thrones has a history of putting rape scenes in the show where there were none in the books, and this episode is no different. Sansa gets raped by Ramsay on their wedding night, and Theon is forced to watch her humiliation. It's just fucking awful.
The only thing to look forward to at this point is Ramsay being flayed alive by Stannis or Sansa or both, because this is too dark even for a show that glories in darkness.
Don't miss Game of Thrones at 9pm Sundays on HBO - and check out the gallery!