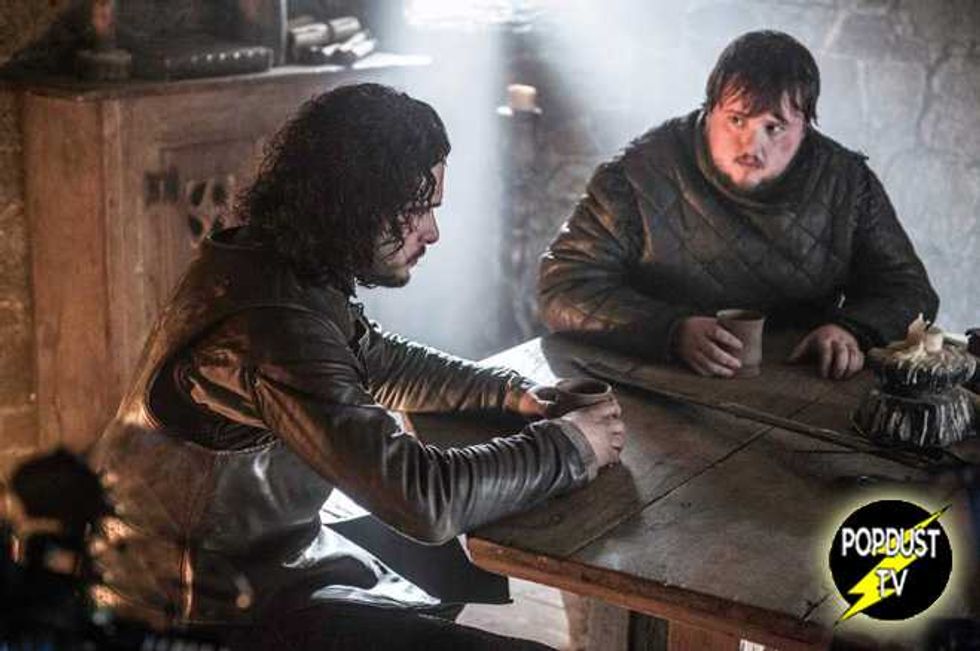 Game of Thrones is done for season 5 and this recapper is very, very conflicted.
The first words I said when the ponderous end credits came up was FUCK this show. Seriously, fuck this show with a chainsaw made of cactuses (oh hey Heathers, hey). No but really. What a completely idiotic ending to a vastly idiotic season.
Game Of Thrones Season 6 Teasers—Banners Will Rise, Blood Will Spill
The writers walked away from George R.R. Martin's books (if you can say that name without sound like Butters good for you - no seriously, try it, it's impossible) this season and it really shows. There is no goddamn narrative through the whole thing, and it ends with some completely silly shit.
SPOILER ALERT!!!
Remember Olly, the creepy little orphan who kept giving Jon Snow really subtle "I am going to betray you" faces every episode? In the least surprising twist this season, he helps betray Jon Snow who is lying on the snow dying of knife wounds from all the stabs his Watch Bros give him - but NOT DEAD when the episode ends. You guys all watch TV, unless we see someone actually dead and buried it doesn't mean SHIT. They have Melisandre, she will heal his pain with her awesome magic witch boobs. But I'm getting ahead of myself.
Game of Thrones Recap—Holy Mother of Dragons
Let's backtrack a little to the end of last week's episode when Daenerys clambered upon a thorny Drogon and flew away. He flew her to God knows where and she gets found by... Dothraki! Drogon is useless. And thus wraps her storyline.
Sansa and Reek try and escape Winterfell by jumping off a giant fucking wall. Cool. Stannis gets killed by Brienne after he attacks Winterfell EVEN THOUGH half his army deserted him thanks to that whole daughter-burning thing. #TeamShireen
Game of Thrones Recap—I'm Going To Break the Wheel (With Zombies)
Cersei is made to walk naked through King's Landing as penance for her sins, and Jaime gets safely away with Myrcella but Ellaria gave her a poisoned kiss and she is DONE. Bleeding from the nostrils done.
Arya killed Ser Meryn Trant in one of the most gruesome, explicit scenes this show has ever had - but for once, it was vaguely gratifying instead of just plain gross. But Arya had a price to pay, and, like every other storyline will probably be wrapped up in season 6. Will you be watching?
Because I certainly will. I can't help it! Enjoy the gallery... See you next season, kids!