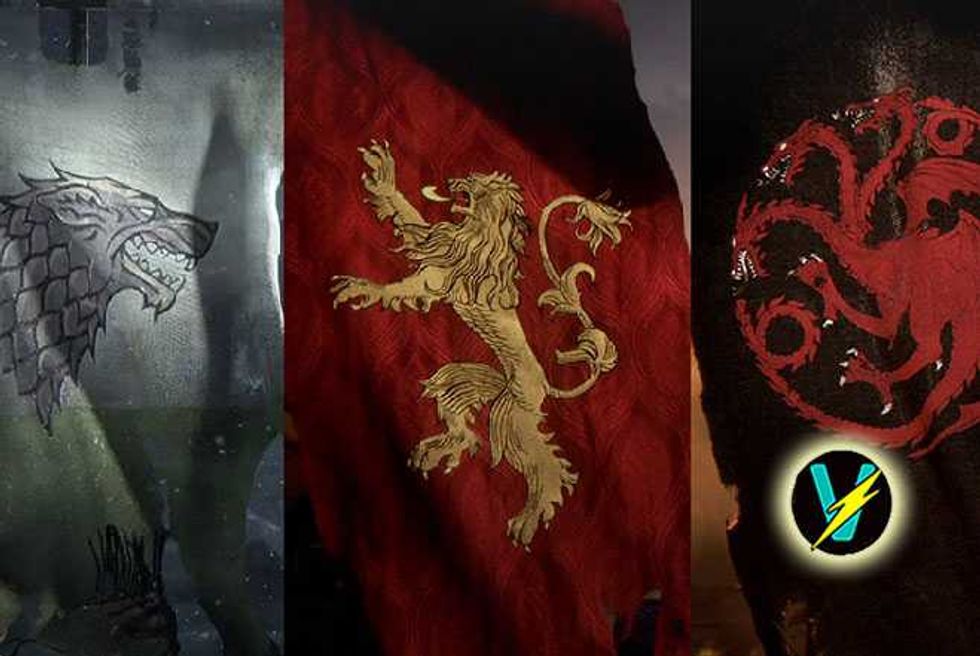 game of thrones season 6 teasers Banners Will Rise, Blood Will Spill
HBO has released three new teasers for Game of Thrones season 6—and they promise banners will rise—and blood will spill and bodily fluids will mix, because, Game of freaking Thrones.
The teasers are all titled Battle Banner, and there's one for House Stark, House Targaryen and House Lannister—and you can watch them right here on Popdust.
Game of Thrones Recap—Holy Mother of Dragons
In the Stark teaser, Ramsay vows
Winterfell is mine, Come and see
In the Targaryen teaser, Daenerys warns
You are nobody, the millionth of your name, Queen of Nothing
In the Lannister teaser, The High Sparrow pledges
Everyone of us is poor, and powerless, yet together, we can overthrow an empire
Game of Thrones Recap—Live By the Sword, Die By the Sword
As Popdust previously reported, season 5 took a turn from the narrative laid out by George R.R. Martin, in his series of five epic fantasy books—and ended with Jon Snow covered in stab wounds, laying in a pool of his own blood, dying.
However, as we all know by now, when it comes to TV, unless we actually see someone dead and buried, it means jack shit—and, even then, characters are known to rise from the dead, like a phoenix from the ashes—remember Bobby Ewin's year-long shower anyone?!!!
So yeah, don't count on Jon Snow being dead and done, at least not just yet.
Game of Thrones Recap—I'm Going To Break the Wheel (With Zombies)
And, sure enough, the bastard son of Lord Eddard Stark of Winterfell, has been cropping up in promos for the coming season—although, Kit Harington, who plays Snow, has claimed in recent interviews, that his character is now a corpse.
But, even if that's true, this is G.O.T. folks! Anything—and everything—could happen.
Game of Thrones Recap—Poor, Poor Sansa Stark
Game of Thrones season 6 premieres Sunday, April 24, at 9 p.m. EST on HBO
For more entertainment, world, music and pop culture updates and news follow Max Page on Twitter