Humor
COMEDY | From Master of None to stand-up to his book on love, Aziz Ansari has a lot to say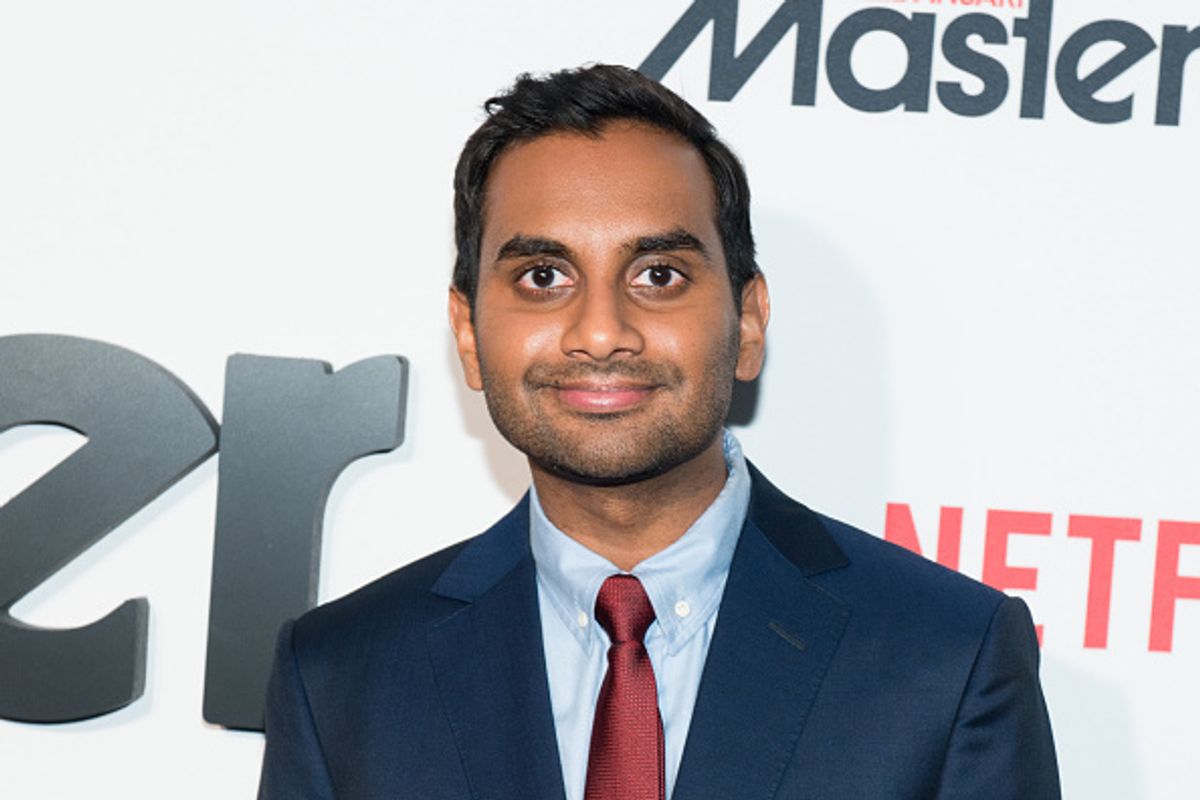 Getty Images
Aziz Ansari reflects on modern dating...with a laugh.
Aziz Ansari has been popping up all over the place lately (well, all over my Netflix queue to be specific) and the world has fallen in love. Aziz brings a modern twist to the comedy world with his bits on online dating, ghosting, and relationships. He manages to make you laugh while also dishing burns at our generation's way of dating.
His most recent work on Netflix,
Master of None
, is an original series that he created and stars in. With this series, Aziz not-so-subtly raises questions about modern American society forcing the viewer to take pause and reflect between bouts of laughter. Aziz also has three comedy specials on Netflix and wrote a book called
Modern Romance: An Investigation
. If you aren't familiar with his work, or just in need of a pick-me-up, we've compiled a list of some of our favorite Aziz quotes for you to enjoy.
Aziz on ghosting

"Now if someone likes you and you don't like them back, you just pretend to be busy forever. That's what people do now, they pretend to be busy forever, then they conduct this strange psychological experiment, where it's like, 'How much hope does this person have?' "
-Live at Madison Square Garden
Aziz on guy behavior
"One girl raved about a nice voicemail a guy had recently left her. I kindly requested she play it and heard this gem: 'Hey, Lydia. It's Sam. Just calling to say what's up. Gimme a ring when you get a chance.' That was it. I pleaded to know what was so great about this. She sweetly recalled that 'He remembered my name, he said hi, and he told me to call him back.' Never mind the fact that what she described was the content of literally every voicemail in history. Name, hello, please call back. Not really a boatload of charm on display. To fail this test, a guy would have to leave a message that said: 'No greeting. This is man. I don't remember you. End communication.' "
-Modern Romance: An Investigation
Aziz on texting etiquette
"There is no official guidebook anywhere on texting yet, but a cultural consensus has slowly formed in regard to texts. Some basic rules: • Don't text back right away. You come off like a loser who has nothing going on. • If you write to someone, don't text them again until you hear from them. • The amount of text you write should be of a similar length to what the other person has written to you. • Carrying this through, if your messages are in blue and the other person's messages are green, if there is a shit ton more blue than green in your conversation, this person doesn't give a shit about you. • The person who receives the last message in a convo WINS!"
-Modern Romance: An Investigation
Aziz on online dating

"That's the thing about the Internet: It doesn't simply help us find the best thing out there; it has helped to produce the idea that there is a best thing and, if we search hard enough, we can find it. And in turn there are a whole bunch of inferior things that we'd be foolish to choose."
-Modern Romance: An Investigation
"For me the takeaway of these stories is that, no matter how many options we seem to have on our screens, we should be careful not to lose track of the human beings behind them. We're better off spending quality time getting to know actual people than spending hours with our devices, seeing who else is out there."
-Modern Romance: An Investigation
"When you hear a Flo Rida song at first you're like, 'What is this, Flo Rida? It's the same thing you've always done. I'm not listening to this song.' And then you keep hearing it and you're like, 'Oh my God, Flo Rida. You've done it again! This is a hit, baby!' And that's what people are like. People are like a Flo Rida song. You need to hear them a couple of times before you really get what they're about."
-Modern Romance: An Investigation
Aziz on marriage
"Hey, so we've been hanging out together all the time, spending a lot of time together and everything... I wanna keep doing that 'til you're dead. I want to keep hanging out with you 'til one of us dies. Put this ring on your finger so people know we have an arrangement."
"I see people my age… getting married to people they've known for like a year and a half. A year and a half? Is that enough time to get to know someone to know you want to spend the rest of your life with them? I've had sweaters for a year and a half and I was like 'What the f*ck was I doing with this sweater?'"

---