Frontpage Popular News
A celebration of friends, fun, and all things cute, this 17-year old artist will make you go "aww".
Deemed "Queen of Gen Z" Ariel Martin aka Baby Ariel just dropped her debut single "Aww" and not only is it incredibly catchy but celebrates a healthy, happy relationship. Ariel and I sat down to chat about her new song and the adorable accompanying music video. Originally from Fort Lauderdale, FL, seventeen year old, Baby Ariel lives there still with her parents and brother. She tells me she grew up surrounded by her immediate and extended family all within a fifteen minute drive in Southern Florida. Ariel says she's been performing forever. She used to organize performances in her living room for her family and friends to watch and that grew to where she is today. One thing always remained content, her passion for sharing her thoughts and feelings with her community be it her family or the vast world of social media.

Ariel got into social media via video platform application called Musical.ly. Musical.ly allows you to create fifteen second to one minute videos of anything you want from covers to lip sync videos and beyond. Ariel told me she started by creating funny lip sync videos and grew her following in that way. She then started to use the platform to speak out about matters she is passionate about. Ariel's efforts have not gone unnoticed either. People Magazine recently recognized her for her #arielmovement, an anti-bullying campaign to end #hackharrassment, internet trolling, and negativity online. She was also named a top influencer by large publications like Forbes, Billboard, and Wall Street Journal.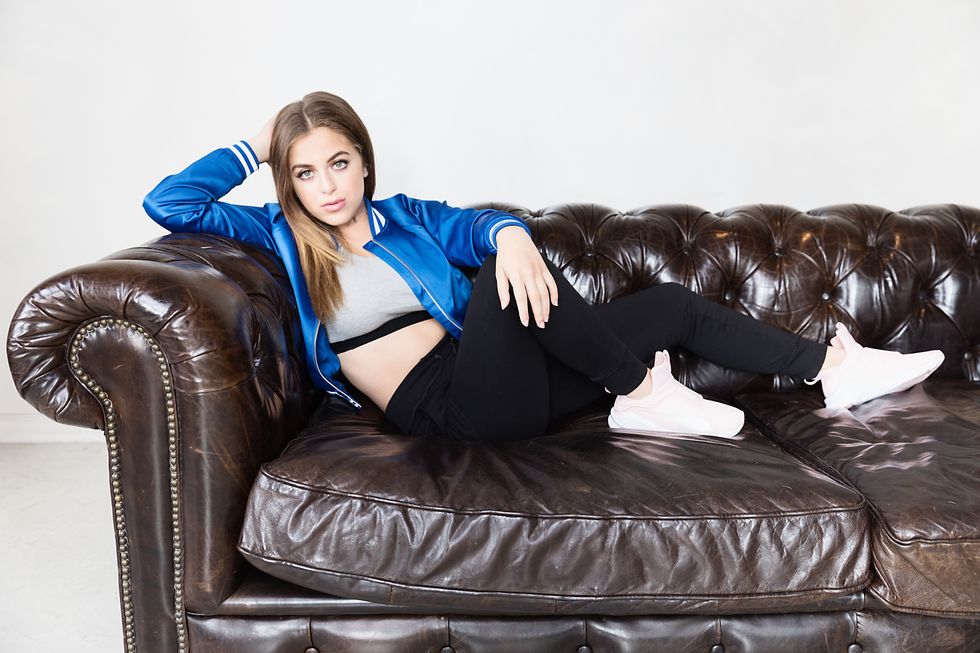 You wonder how a seventeen year old could build so much success so quickly. Incredibly creative, Ariel filled me in on some of her process. She told me that she's been writing in journals her entire life and has a bookcase filled with them that she uses to go back to when she needs inspiration for a song. Also a lover of visual art, Ariel has countless sketch-books that she uses for inspiration too. "I will draw things that I'm feeling whether it be me and a boy or me crying and I'll add a caption," she says she revisits them later too when she's ready to write. Perhaps her love for visuals is what inspired her vibrant new music video.
She told me that she just wanted to put a bunch of cute things in a video, her friends included. The music video not only boasts internet queen Baby Ariel but other major influencers like Patrick Starr, Arii, Zach Clayton, Daniel Skye, and more. Noticing her fun looks in the video and on her Instagram page, Ariel told me she's hit or miss with it. She laughs, "Something I don't care and I'll wear whatever. Other days I'll take thirty minutes to pick an outfit and do my makeup just to take photos." If she had to pick a favorite trend it's crop tops or big tee-shirts. No in between though.
Baby Ariel is so excited to share "Aww" with you. She tells me that she's been in the studio more and more prepping for her next release and has a special message for her Popdust fans. "Tell them I love them and I'm so excited for your to see "Aww!!!" Check out "Aww" at the top of the page and let us know what you think @Popdust.
---
Anie Delgado is a contributor to Popdust and is an actress and musician based in NYC. Follow her on Instagram | Facebook | Twitter and check out her music on Spotify. Press inquiries here.
---
POP⚡ DUST | Read More…
POPDUST PRESENTS | East of Eli
RELEASE RADAR | Fly by Midnight returns with Malibu
How Taylor Swift gained fame and why she is still a powerhouse!