"We set a goal for ourselves, for me it was to be signed," CYN told me.
"What we don't realize in between now and being signed is that there are 20 smaller goals that need to be accomplished," CYN warns young artists. CYN has had the dream breakthrough into the industry. After seeing a Katy Perry show, CYN reached out to her supporting act DJ Skeet Skeet which lead to a collaboration. One thing led to another and CYN found herself writing music with Perry herself, an artist she grew up listening to. "Know what that benchmark or next chapter is," she advises, "set the little goals." She compared her journey to a snowball rolling down a hill. As you accomplish things, you're setting something into motion. "You're going to feel like nothing is happening," she warns but CYN herself is a testament that hard work, talent, and determination do pay off.
CYN grew up in the suburbs of Detroit and always listening to powerful female artists. Her first memory of music is of the Patsy Cline cassette tape of "Crazy" that her grandmother gave her. She says she obviously didn't understand what Patsy was singing about at the time, but "there's a certain emotion you can feel in music from the artist," and that's something she clung onto. She told me that while going through a divorce her mom listened to Jewel's first album a lot which she also connected to. Other favorites growing up included Carol King, Fleetwood Mac, Taylor Swift, Katy Perry, and Avril Lavigne. Surprisingly, CYN also listened to a lot of hip hop, her favorites being Childish Gambino and Kid Cudi. Being from Detroit, there was also a heavy influence of Motown and soul in CYN's musical up bringing.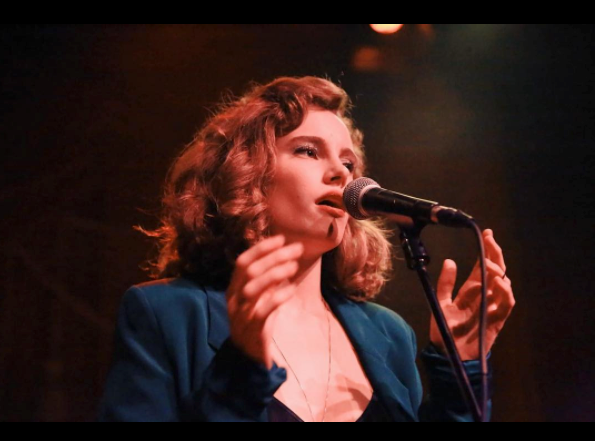 @cynthialovely Instagram
CYN has always journaled and sang but at some unspecific time in her childhood, she started to put the two together. At 14, she started to record herself. CYN and I, both of the same generation wondered what the music industry would be like if the internet wasn't invented. She told me that during college Steve Jobs had passed away and her professor urged them to explore how he changed their lives. CYN told me that the beginning of her recording experience involved borrowing her neighbors Macbook to record in Garage Band. It was then when she realized what a big influence tech has on her music. Before being signed, CYN said she had "no concept of [her] own live show," but would perform her sophomore and junior years in Chicago at small local shows.
Listen to Together here
CYN just released the song, "Together" under Unsub Records. She told me that she was inspired by the word itself. "I wanted to think about all of these things that go together, but aren't typical. How you need to whip the cream to make whipped cream. I don't talk about a man or a girl or anything." The song is more about the concept that anything and anybody is better with it's equal counterpart. Better together. CYN seems to often be influenced by words. Inspiration comes in many different ways. she says, "Sometimes a song can be inspired by a chord progression and suddenly I know what the song is about." Other times, she says that one sentence or phrase can give her an idea. To promote the new release, CYN recently performed at the coveted Public Arts in New York City. She said, that New York City's energy "is one [she] relates to more than LA." Warned by friends that New York City is a tough crowd, she had an amazing experience. She told me she always worries when people in the crowd don't know the words or the artist, but the audience members were respectful and engaged which meant the world to her. Performing with BORNS was another special part of the experience, having been written with similar people and being one degree of separation for about a year or two."I love his style, he's a thing out of 1970, but also so 2017," she said of Garrett Clark Borns. She said she looks up to him as an artist and loved talking to him backstage.
Having landed a dream collaboration with Katy Perry, I had to wonder who else CYN had on her list to collaborate with. "I would love to write with Charlie Puth, Daft Punk, or Pharrell," she said praising Pharrell's lyrical work. "When I open the window, I wanna hug you because you remind me of air," she exclaimed. She told me that she is inspired by lyrics that mean nothing but also everything and nature references much like that one. CYN has a lot coming. While there are no specific dates, she's working on a music video, an EP release, and one more single before then.
Anie Delgado is a contributor to Popdust and is an actress and musician based in NYC. Follow her on Instagram and Twitter @anie_delgado and on Facebook and check out her music on Spotify.