Humor
Tired of scrolling through your Netflix queue? Check out these five binge-worthy comedies.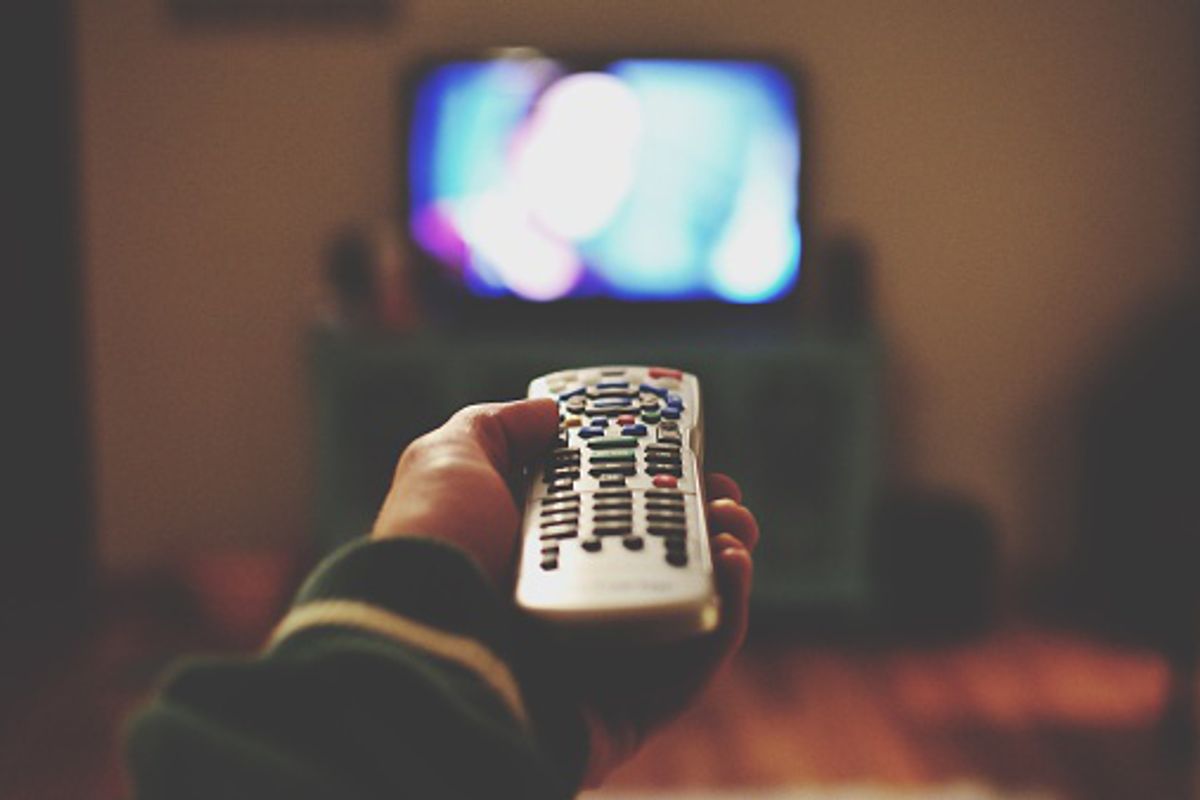 Getty Images
Just want to laugh, but can't find a show that's worth the time to stream?
It's another late night and you've been switching between Netflix, Amazon Prime and Hulu scrolling through the feeds with a million options but nothing spikes your interest. It seems that there are so many TV shows out there making it difficult to filter through all the noise. Instead of cuing up Friends for the hundredth time, why not give some new shows a try?
Catastrophe

The premise of the show is an American guy (Rob Delaney) meets a British woman (Sharon Horgan) and after a one-night stand she gets pregnant. They decide to try and make it work and start a family together. Catastrophe is a kind of like the train-wreck you can't peel your eyes away from. It's a show about what it's like to be in a relationship today, facing realities many couples face like losing a job, infidelity and deception all while trying to raise a family. There are three seasons and each one is vastly different from the last. While still categorized as a comedy, this show pulls on the heartstrings and raises deep questions about love and relationships. But, you'll find yourself rooting for the characters by the end.
The third season of Catastrophe was just released on Amazon. Click here to start with Season one.
Happy Endings

The Friends-style comedy of the 90's worked exceptionally well and we've seen countless series attempt to recreate that plot line. We all know the formula: six friends, three ladies and three guys, two of them are dating, and a couple of them switch off being the comic relief. Happy Endings is one example of a show that was able to get the formula right but with an up-to-date, modern plot line. Each episode surprises you with laughs and the storylines twist when you might be expecting a turn. Happy Endings is the perfect show to turn on when you just want to lounge and veg out, oh and possibly cry with laughter. Unfortunately it was cancelled after three seasons on ABC, but thank God for Hulu keeping it alive.
I dare you to start with the pilot episode and not get hooked. Hulu features all three seasons here.
Transparent
If you're in the mood for a good comedy but like a little more complexity and character development, then Transparent is for you. This show features a far-from-functional family with healthy familial boundaries constantly being crossed. The patriarch of the family, played by Jeffrey Tambor comes out to his family as trans, but the show doesn't just rely on that subject matter to move it forward. Transparent reveals the intricacies of family dynamics focusing on parent/adult-child relationships, sibling relationships, and romantic relationships. This show pushes past the typical boundaries of a prescribed plot line, sometimes forcing the viewer to suspend disbelief and follow it down a rabbit hole into a character's twisted psyche. It's at once improbable and very much relatable to see how complicated all relationships can be.
Start with season one on Amazon Prime. Oh, and the soundtrack is reason alone to watch the show.
Insecure
With only eight episodes so far, Insecure has made quite the impact on the audience scoring 100% on Rotten Tomatoes and receiving much critical acclaim. Created by Issa Rae and Larry Wilmore and loosely based on the web series The Misadventures of Awkward Black Girl, the show revolves around the happenings of main character, Issa and her best friend, Molly. The first season explores themes of dating, building a career, and finding oneself in your 20s, through the black female perspective. This show will draw you in and make you cringe with anxious nerves as you see Issa's life awkwardly unravel, all the while hoping this unraveling is exactly what she needed.
Season two premieres on HBO on Sunday, July 23rd. Read more about Issa Rae and Insecure here.
One Mississippi
Tig Notaro has gained a lot of attention the past few years with her Netflix comedy special and her memoir about loss and her personal experience with cancer, I'm Just a Person. Her new Amazon Prime series, One Mississippi, takes the audience on an emotional adventure when Tig returns to her hometown in Mississippi to be at her mother's deathbed. Written unlike any other show, One Mississippi, is about the absurdity and the unavoidable moments of humor that arise when life presents us with extreme pain and death. Tig crafts a beautiful story about family that somehow makes you laugh even when you should be crying.
Check out season one on Amazon and watch Tig's comedy special on Netflix here.
---