Top Stories
P!nk just keeps proving she's a total legend. Today Beautiful Trauma dropped everywhere.
P!nk: "So what? I'm still a rockstar."
Us: Yes, yes you are.
If you don't know that P!nk is on fire recently, you haven't been paying attention, but really, did she ever slow done? Having one of the most consistently relative and evolving careers in the music industry, P!nk has secured her spot as pop royalty for all time. Somewhat under-rated, I feel like I've definitely jammed to "Rock Star" with the windows down without realizing that now in 2017, P!nk is almost two decades into a killer career and had six studio albums out. Today she drops her seventh and WE. ARE. READY. Along with P!nk these amazing artists also released some bopping bangers this week. We've got your weekend new music playlist right here: Brasko, Tee Grizzley, Inara George, Smithfield, Saint Wknd & Max, Karoak, JT Roach, Prequell, The Jag, and Stars, and Gunner Flinchum.
If you didn't already gather that I'm obsessed with P!nk, well, I'll just profess it here. Aside from being a powerhouse and stunning songstress, she's an incredible role model. Most recently, P!nk was heartbroken when her daughter came home from school discouraged by her appearance and the way her peers reacted to it. P!nk told her daughter, "OK! So, baby girl. We don't change. We take the gravel and the shell and we make a pearl. And we help other people to change so they can see more kinds of beauty." P!nk's pride in her original sense of style has inspired young people since she became significant in the late nineties and it's safe to say there's no stopping anytime soon. Her seventh album dropped today and I adore the title song "Beautiful Trauma." If you've ever been in love with the wrong person, you can relate to this song. It's not that P!nk is throwing caution to the wind and saying, "Oh well, we're in a toxic relationship there's nothing we can do about it," but she is appreciating the relationship for what it was beautiful and traumatic.

Listen to "Beautiful Trauma" here.
Perfect for: Wine and bathtime
Best if you like: .......P!nk?
Brasko moved to Nashville at only 19 and did what he had to, to make a name for himself in The New Nashville from sleeping on friend's couches to sleeping in his car. All of his sacrifices have come to fruition as he now gets to work with a brilliant team to facilitate his vision. Obsessed with David Bowie, cabaret, and Todd Rundgren as a child, you can catch traces of all of Brasko's quirky influences in his work. While influenced by 80's pop, Brasko's "Take Me" takes that aesthetic to the future. The song is sexy and reminds us that sometimes it's good to be bad.

Listen to "Take Me" here.
Perfect for: Strutting your stuff to your club crush and asking for a dance.
Best if you like: Michael Jackson
---
Tee Grizzley | "Win"
Tee Grizzley saw recent success with his previous song "Beef" featuring Meek Mill exceeding 4.5 million views on Youtube. "Win" was produced by well-known hitmaker Helluva and Rolling Stone called Tee Grizzley "2017's brightest rap upstart," definitely putting him on the map this year. I've listened to "Win" over and over because it's so dense. There's so much in there, but I ultimately decided it's mature and retrospective. It's about empowering yourself to better yourself. To Tee, it seems that to "Win" is to take care of yourself and your family.
Listen to "Win" here.
Perfect for: Motivating yourself Monday morning.

Best if you like: Kendrick Lamar
---
In "Young Adult" Inara George looks back onto what it means to be a a "Young Adult." The song resonated with me a lot, especially the lyric "collecting stories like we were saving money." Your twenties is a time where you are fascinated with experiences and addicted to moments. The sweet, minimal track is cinematic in nature and George's voice is both wise and light. Inara's solo album Dearest Everybody will be out everywhere on January 18th.
Listen to "Young Adult" here.
Perfect for: Waking up slow
Best if you like: Sara Barielles
---
This Nashville based country pop duo is on fire. Their sophomore single "Hey Whiskey" saw a ton of online success prompting another release shortly after. Smithfield just dropped "When You're Gone." The song is a sweet ballad about being so into your lover that you don't know what to do when they're gone. The song captures a ton of tender intricacies of the lover's mannerisms from the way she acts when she's "had too many" and the way she dances around with her hair down.
Listen to "When You're Gone" here.
Perfect for: Road tripping with your honey.
Best if you like: Lady Antebellum
---
SAINT WKND & Max | "Survive"
SAINT WKND and MAX collaborated on recent banger "Survive." Well loved on Spotify and Soundcloud just a month after it's release four remixes were just released and are also gaining traction. SAINT WKND is a German producer and MAX is an American songwriter. Though the two were raised on different continents, both rose to notoriety via the internet. SAINT WKND began his career as a bedroom producer dropping remixes on Soundcloud and quickly gaining recognition for his electric performances. Max rose to popularity on Youtube thanks to his stunning pipes. "Survive" is entrancing, mysterious, and sexy.
Listen to "Survive" and the remixes here.
Best for: Driving home late at night.
Perfect if you like: Kygo
---
Karoak | "I Like Me Better" by Lauv Lounge Remix
If you've ever been out ever, you've probably heard the popular Lauv song blasting over a bustling bar or nightclub. The fun banger got a remix by Karoak recently. The fresh take is lighter and bouncier than the original. The choppy and percussive track gives you almost an Eastern feel but also makes me think of an afternoon lounging on the beach.

Listen to "I Like Me Better" here.
Best for: Requesting at a wedding!
Perfect if you like: Zayn
---
This is possibly one of my favorite releases this fall. JT Roach reflects on his the first part of his life in LA. A Madison, WI native, LA was overstimulating and over expensive causing Roach to examine how his relationship with alcohol effected his relationship with lovers, families, friends, and music. The song is reflective but also tender. JT's use of the acoustics and space he recorded in was noticed. It created a nice ambiance for his powerful lyrics and silky vocals.
Listen to "Tipsy Love" here.
Perfect for: A quiet dinner for two at home.
Best if you like: Bon Iver
---
Prequell uses sound in a unique way that is enthralling to listeners. In the second single from their upcoming album, they use sounds from a NASA probe entering the magnetosphere of Jupiter, proving that they are revolutionary in how they integrate organic sounds into their music. Their most recent release, "Part XIV" came with a stunning visual. The visual is electric as two members stand in the center with synths in an inter circle while instrumentalists with stringed instruments surround them surrounded themselves by huge sticks of light. See it for yourself.
Watch "Part XIV" here.
Perfect for: A quiet dinner for two at home.
Best if you like: Bon Iver
---
The Jag | "A Star Is Born"
The Jag preserves a very authentic 1980's pop vibe met with their own unique delivery. Probably one of my favorite parts of this song is the monotoned delivery of the intro. The song itself is very cinematic and that adds to it. I imagine the track playing in the background of Stranger Things. "A Star Is Born" is the Side A of a 7 inch that is now available. You can also stream "Dead Animals" which is Side B.
Perfect for: Your halloween playlist!

Best if you like: Guns N Roses
---
Stars | "Alone"
"Alone" by Stars is exactly what I needed this morning. While complex in composition and instrumentation, the band gets it right using only as much of everything as they need. The details like the moving synth part layer in effortlessly. The song explores the age-old concept of choosing to be alone in an inventive way. The song is reflective of getting over an ex-lover and the progress you've made and the threat of slipping back into those feelings. This is definitely going on my commute playlist and it should be on yours too. Get their full new album There Is No Love in Fluorescent Lights everywhere now.
Listen to "Alone" here.
Best for: Putting one foot in front of the other on hump day.
Perfect if you like: Beach House
---
Gunnar Flinchum | "Not Here"
First thing I thought when I heard this song was -- "He went there." Incredibly vulnerable and heart-wrenching, "Not Here" is about coming to terms with the fact that your ex is with someone else. In tasteful, but emotionally explicit detail, Gunnar explores the almost masochistic but necessary practice of letting yourself know that they chose someone else. The production is amazing as is Gunnar's soft but cutting voice. Gunnar, a recent NYC transplant, is planning live shows in the near future.
Listen to "Not Here" here.
Best for: The break up blues
Perfect if you like: Sam Smith
---
Anie Delgado is a contributor to Popdust and is an actress and musician based in NYC. Follow her on Instagram and Twitter @anie_delgado and on Facebook and check out her music on Spotify.
---
POP⚡ DUST | Read More...

Why P!nk will always remain relevant
LIVE | GGOOLLDD played a luminous first show at The Mercury Lounge
Rising star Caleb Hawley released his LP and it's a must-listen
---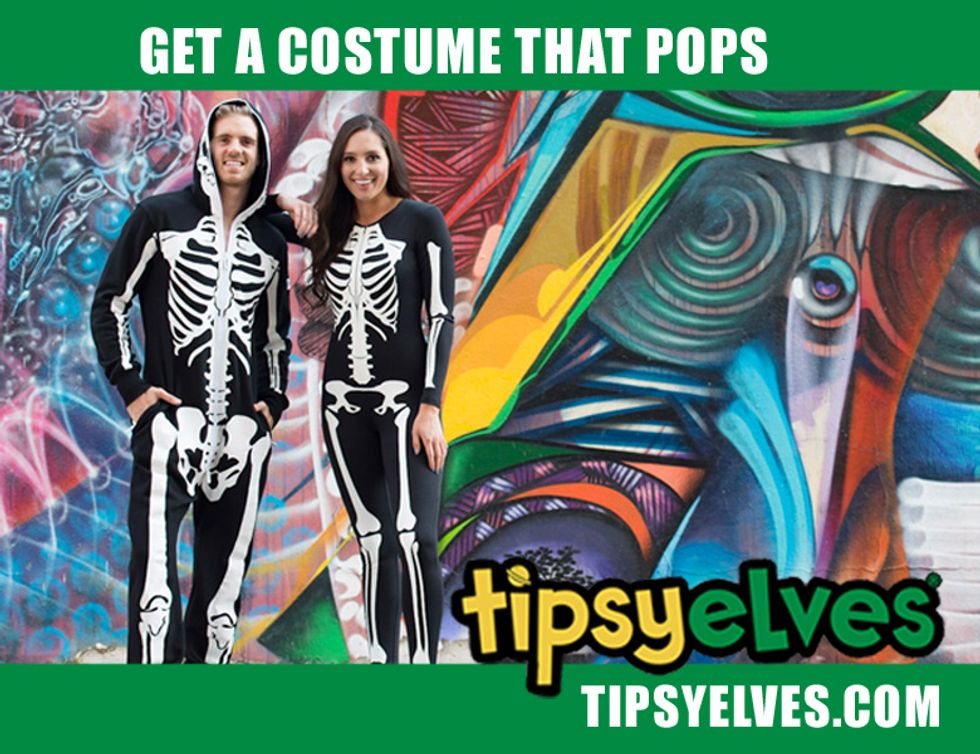 Get Ready for Halloween!! Find Your Costumes at TIPSY ELVES!