Frontpage Popular News
Scaramucci leaves the White House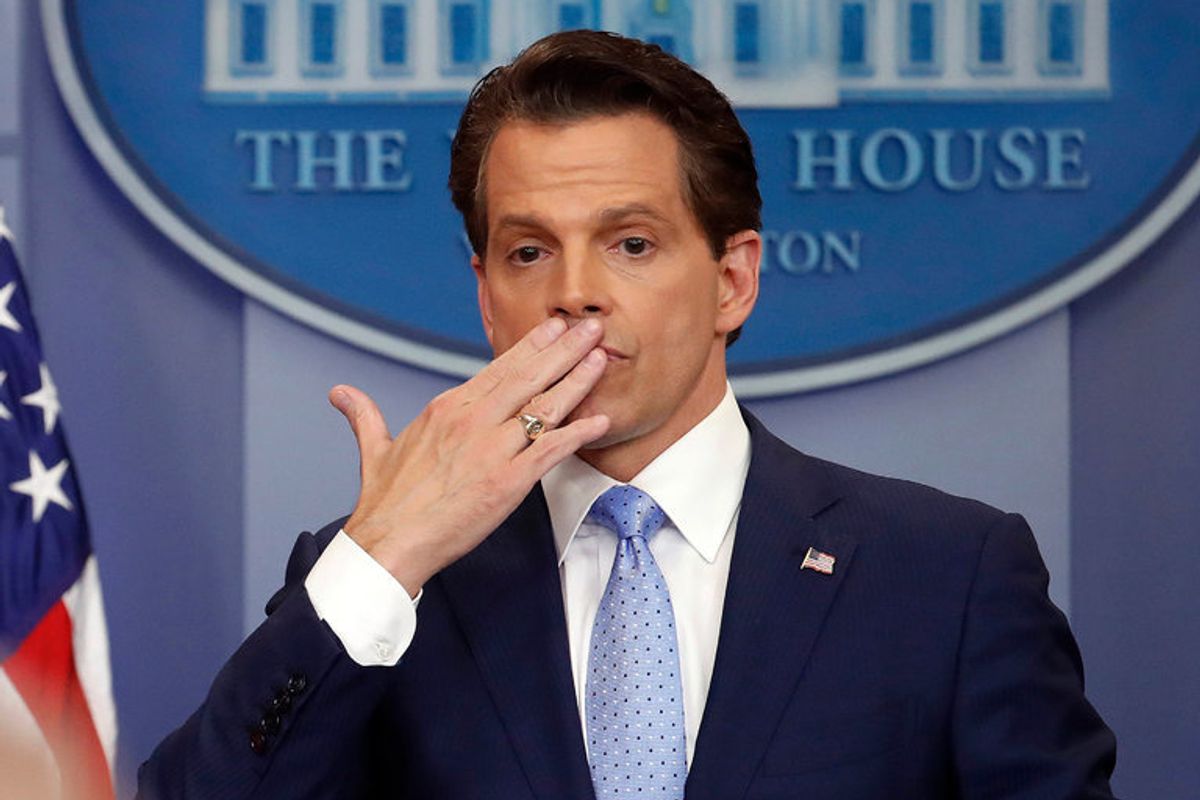 The mooch was comedy gold...
WASHINGTON — It's official, 11 days after Trump announced the hiring of Anthony Scaramucci as communications director, the White House announces that he has been asked to resign. Reportedly Scaramucci, otherwise known as "the mooch," was escorted off White House premises earlier this afternoon.

"Anthony Scaramucci will be leaving his role as White House Communications Director," Sarah Huckabee Sanders, the White House press secretary, said in a statement. "Mr. Scaramucci felt it was best to give Chief of Staff John Kelly a clean slate and the ability to build his own team. We wish him all the best."

Yeaaaaah, but, nah. The real story is that John Kelly (announced as the new White House Chief of Staff only this past Friday), made it his first order of business to rid the administration of the foul-mouthed, wealthy New York financier, that had become a liability within a week of his appointment. Let's keep in mind that Trump loyalists and former cabinet officials, Sean Spicer, the former press secretary, and Reince Priebus, the president's first chief of staff, were SO against the mooch coming on board, that when Trump hired him anyway, they quickly quit (or were forced out).
One would think that such a costly hire would have had a longer tenure, but the never-ending reality show of this presidency maintained proved logic wrong once again. Ironically at 5:30 am this morning, Trump tweeted "No WH chaos!" I think at this point, when Trump tweets something, you can generally presume that the opposite is true.

The tragedy here isn't that Scaramucci is leaving, it's the fact that I was actually looking forward to the sheer entertainment value he was sure to bring to U.S. political news coverage. I mean, I don't want our nation's leaders to be a running joke, but if they are going to be, I at least want them to be funny. And the mooch was comedy gold - in less than 2 weeks check out some of the brilliant comedian reactions he inspired:
First we have my main man, Stephen Colbert delivering a masterful, hilarious, 14-minute long monologue on Scaramucci and his "front-stabbing."
And if you didn't catch this episode of The President Show on Comedy Central (which I highly recommend), then you've got to see Mario Cantone's hall of fame worthy impersonation of the mooch. Too good.

I really wanted to see where that was going to keep going :(
Oh well, maybe like a real TV show we will have a crazy twist where Spicer comes back and Trump realizes he was the one all along :)