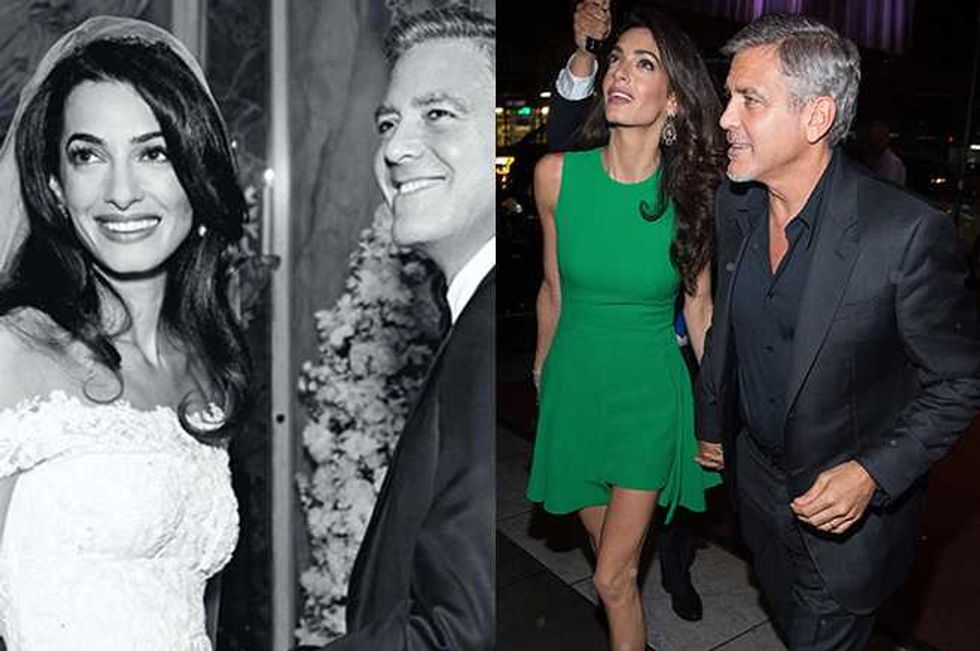 George Clooney and his super-intelligent emaciated wife Amal just celebrated their first anniversary by going out to dinner and reveling in their very genuine, not at all fake romance.
It's been a whirlwind year of shopping for both Clooneys, with Geroge shelling out for a mansion in England and Amal tirelessly acquiring designer dresses, shoes and handbags at a pace suggesting some kind of game-show where she's trying to beat the buzzer.
Amal Clooney—Best Dressed Or Human X-Ray?
You win, Amal! In the last week alone, Mrs. Clooney has appeared in $10,00 worth of brand new Dolce and Gabbana, Versace, Jimmy Choo, Balenciago and Balmain. That is a low estimate, but clearly it is not cheap to maintain a reputation for elegant style.
George and Amal have both been busy this year, making movies and defending human rights, with little success in either endeavor.  Amal has been scorned in certain quarters for being a junior lawyer with a high profile not commensurate with her achievements, but to be fair, marrying George Clooney isn't just nothing.
Amal Clooney Tries For Hillbilly Look on Visit to George's Kentucky Hometown
George has spoken out on Donald Trump, so he's not entirely backing away from politics and world events.
The purchase of their stunning $16 million mansion in Oxfordshire has allowed the Clooney's to collaborate on $12 million of improvements to the property. Neighbors in the surrounding village are upset by the construction work, calling it 'carnage.' They are complaining to reporters about unsightly scaffolding, huge piles of rubble and scores of trucks surrounding the 17th century Grade II listed mansion.
I know the Clooneys feel bad about disrupting the idyllic beauty of the village but they need a new swimming pool, movie theater and tennis courts. It's not their fault that the mansion didn't offer the right amenities.
George Clooney Battles Neighbors Over Security Plans For Historic English Manor
Earlier in the year, George revealed that he and his bride would never spend more than seven days apart. No one has looked into this but there is no reason for doubt, given the deep abiding and very romantic love they share. You can see it in every single photo op.
Cheers to George and Amal for finding perfect happiness!
Before we go, let's look at Amal's anniversary week fashion. Notice her trademark gesture of touching her hair.