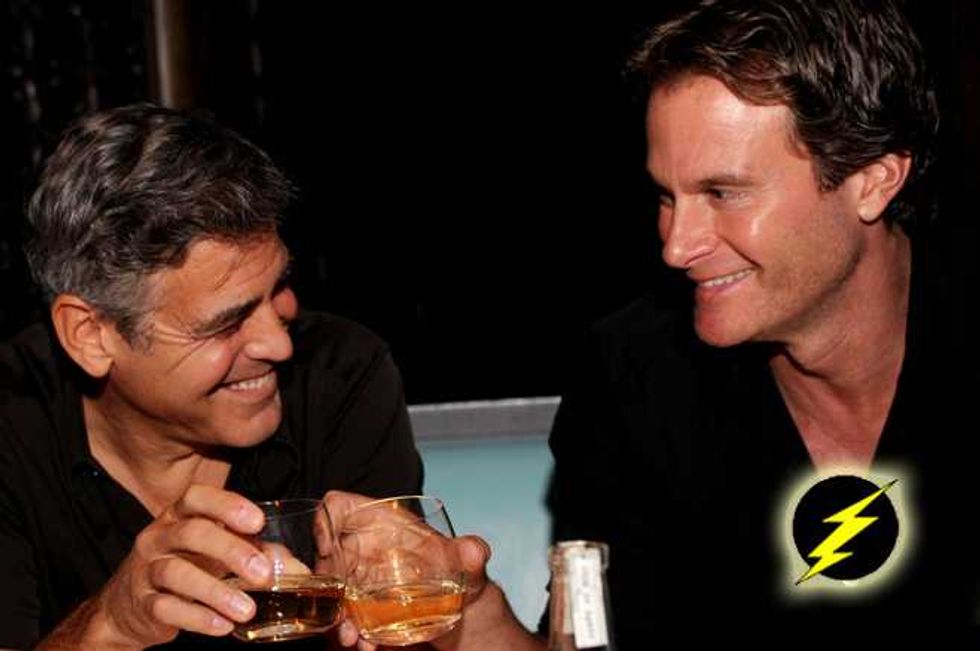 Let's make it clear: There is no truth to the rumor that George Clooney and his BFF Rande Gerber are anything more than close pals. None at all.
Even though the two men built adjoining houses together in Los Cabos, in a compound they call Casamigos,  it doesn't mean they need to be near each other. They just like hanging out.
Gerber, a nightlife entrepreneur who now focuses on his tequila-and-rum company, says:
We've been hanging out for 20-something years. Long before the houses were built, we would travel to Baja together, staying at different hotels and drinking tequila.
Aww.
Originally, the buddies thought of creating one house large enough for everyone (i.e., Rande's wife, third wheel Cindy Crawford) but that concept was eventually axed in favor of two independent structures.
Still, the houses are basically used as a single home, with meals and other activities frequently split between the two. According to Crawford,
Our lives go back and forth. We'll have cocktails at our place and dinner at George's, and vice versa.
I'll bet you do, Cindy! But what does the new Mrs. Clooney think of this arrangement?
Photos of the four amigos spending Christmas at the compound show Amal and Cindy looking bored and distracted, while George and Rande gaze at each other intently, deep in conversation.
I'm sure the men were talking about their business venture, a premium Tequila also called Casamigos.
For more pictures of the palatial but bland houses, see the spread in Architectural Digest.
And check out George and Amal's Italian wedding photos below