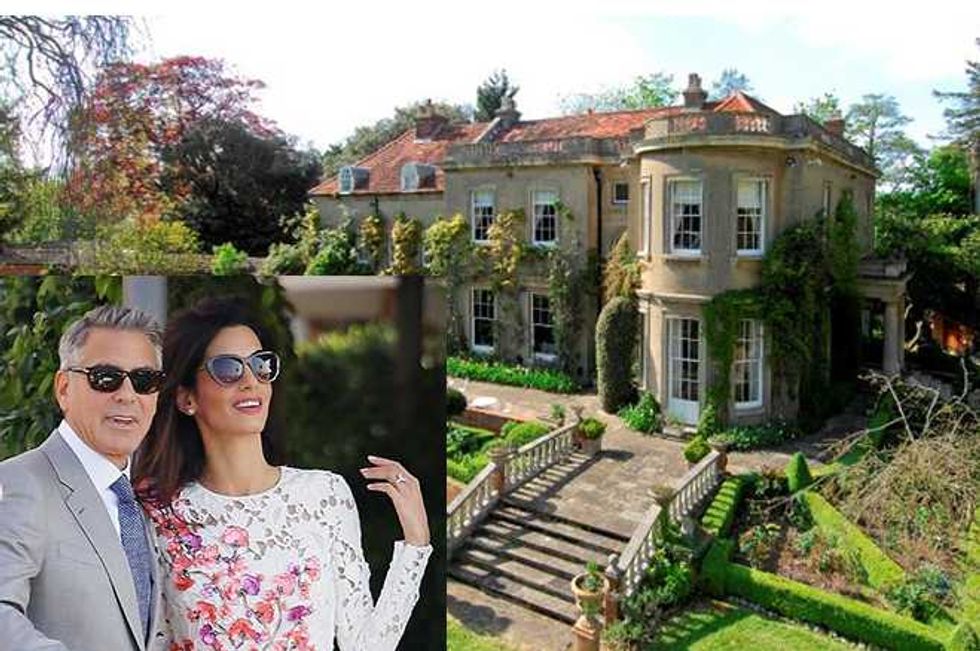 George Clooney is seeking permission to build a massive security system around the $16 million manor he bought for his status-hungry bride, Amal.
But neighbors are objecting to the 18-camera CCTV system that Clooney has proposed, protesting that it would violate their privacy.
Brad Pitt And George Clooney Love Affair?
The local parish council said that the cameras, some on towers six metres high, represented a potential infringement of the privacy of neighboring properties and would be a visual intrusion into the village's conservation area.
The final decision will be made by the South Oxfordshire district council, which has already approved the Clooneys' plans for a new swimming pool, pool house, home cinema and annexe, a replacement river house and new boundary fencing, despite protests from the parish council, who asked that the fencing be set further back from the river.
George Clooney And Rande Gerber Are Just Good Friends, OK?
The 17th century manor sits on a four-acre island in the Thames, and is just an hour away from Highclere Castle, the estate used in Downton Abbey. The purchase of the property closed nine days after George and Amal's spectacular wedding, according to the title filed with the Land Registry office in Gloucester, England.
What a nice wedding gift for Amal, you may be thinking, and so lavish! But the super smart and high-minded human-rights attorney is a prize herself, George likes to remind us at every opportunity. She deserves nothing but the best, and apparently lots of it.
George Clooney Loves His Amazing Wife, God Damn It!
The property includes a gym, spa, and steam room where Amal can prepare for her excursions to London, to model her extensive new wardrobe for admiring paparazzi and passers by.
And best of all, the new crib is just forty minutes away from Amal's mother in Gerrards Cross, in case the lovebirds have a spat!