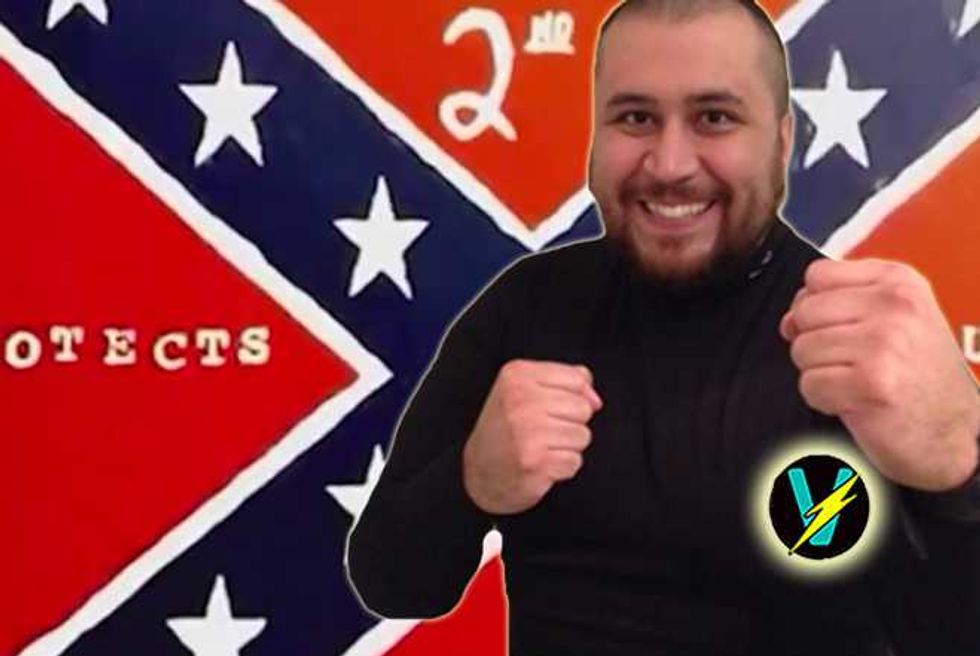 george zimmerman confederate flag painting
Oh, that George Zimmerman!
It was only a matter of time before everyone's favorite over-zealous, gun toting, rogue neighborhood watch murderous hot head would raise his hateful head once again.
And, sure enough, the 31-year-old is back with a vengeance, with a brand new racist masterpiece that he's flogging on line—and he explains the motivation behind his latest artistic travesty on video—which you can watch right here on Popdust.
Riff Raff Knows How To Stop Racism—Because DUH! Of COURSE He Does
Not surprisingly, given Zimmerman's history, and well documented love of firearms, it turns out he's a lover of the Confederate Flag, the right to bear arms, and outright racist policies, such as banning Muslims from entering a place of business—and crafty George has managed to combine all three in his new painting.
Zimmerman is unloading his latest moral atrocity via a series of signed and numbered prints, with the promise that one lucky bigot could win the original stars and bars painting.
Surprise Surprise! George Zimmerman Involved In Road Rage Shooting
"I was painting the American flag," Zimmerman begins, seemingly oblivious to the fact that the Confederate flag is just that, the Confederate flag…. and not the American flag.
"And the caption," he continues, "the second protects the first has a double entendre…. I was painting the American flag, when I heard about you getting sued by CAIR, and I decided I would do for you what the American people did for me.
South Carolina Senate Votes To Remove Confederate Flag
"And truthfully, if it wasn't for all the great patriotic people that we have in this nation that donated into my defense fund, we could not have kept up the fight we needed to… we did not have the money for the hard cost that it took to defend me.
"And, I didn't want to see you, give up the fight simply for financial reasons."
George Zimmerman Scores $100k Payday With Prosecutor Angela Corey Painting
With that in mind, good old George is donating the proceeds from his sales, to his pals at Florida Gun Supply, to help pay their legal fees, as they battle a lawsuit by the Florida chapter of the Council on American-Islamic Relations, the USA's largest Muslim civil rights and advocacy organization.
CAIR filed suit against Florida Gun Supply, and its owner, Andy Hallinan, after he posted a video online announcing that he was banning Muslims from entering his store.
411 On Baltimore City PD Corruption, Racism, Witness Coercion And Coaching
Islam is not "just another religion," Hallinan claimed in the video, adding he has "a moral and legal responsibility to ensure the safety of all patriots."
Hallinan's lawyer backed-up his client—claiming the lawsuit is "absolutely frivolous" because, he says, "There is not one factual allegation of unlawful religious discrimination because no such facts exist.
Kanye West Claims Racism Is Not An Actual Thing—Just Silly Outdated Concept
"The fact that Mr. Hallinan does not want to provide weapons training or to sell weapons to terrorists or those who are affiliated with terrorist organizations does not implicate any federal law whatsoever."
Right… yeah….OK then…so, all Muslims are terrorists? Or affiliated with terrorist organizations?!!
Nope, nothing racist there… nothing racist at all….