Sucker Punch Productions
There are a ton of open world games where you can roam around murdering people in the face, and there are even a bunch where you can do it with a sword.
But Ghost of Tsushima is the only one where you can go around stabbing people with a sword in a grainy, black-and-white "Samurai Cinema" mode meant to resemble chanbara films of the 1950s and also pet cute foxes. Wow. This game really seems to have it all, doesn't it folks?
---
In the recent Ghost of Tsushima Playstation State of Play presentation, developer Sucker Punch Productions showcased tons of exciting features from what will likely be the last major PS4 exclusive game. Alongside the aforementioned "Samurai Cinema" mode and a two-second clip of fox-petting that lured you into this article, the preview featured loads of in-game battle footage and insight into Tsushima's larger world.
FULL Ghost of Tsushima Official Gameplay Presentation | PlayStation State of Play www.youtube.com
Back in March, Ghost of Tsushima dropped a fantastic story trailer introducing us to the game's protagonist, Jin, a trained samurai who must put his honor aside in order to defend the island of Tsushima from invading Mongols in the 1270s. The State of Play, in turn, does a great job showing how Jin's narrative conflict reflects in the gameplay.
As a seasoned samurai, Jin is capable of utilizing various combat techniques in face-to-face battles, seamlessly shifting between swords and bows in order to take on multiple foes at once. He can even call out opponents for duels, challenging them to honorable fights in-line with the code he grew up with. Alternatively, Jin can shirk his upbringing in favor of his newfound identity as the "Ghost"⁠—one of the last surviving samurai in his clan. This means that Jin is not above devious tactics, ranging from fear-mongering to stealth assassinations. The combat looks diverse and polished, and it'll be exciting to experiment on enemies with Jin's various toolkits.
The most unique feature in Ghost of Tsushima has nothing to do with combat, though. While it's probably not the sexiest topic for a video game revolving around cutting down bad guys with a sword and petting foxes, Ghost of Tsushima's navigation system looks incredible. Open world games need to give players an adequate means of finding their way around, and the typical solution is a map that sits in the corner of the screen displaying player location and quest markers at all times. The problem with a corner map, though, is that it risks cluttering the screen and ruining immersion.
So instead, Tsushima utilizes wind. Players set their destination on a separate map screen, and then back in the open world the wind subtly blows in the right direction. It's an incredibly clever implementation of an essential feature, and I sincerely hope that it encourages other developers to try novel means of map navigation in the future. Moreover, Tsushima uses wildlife to drive players to secrets that they wouldn't know to navigate to via their map, meaning that if you follow a bird or a fox, then you might just discover a hidden gem. It's all just so inspired.
Ghost of Tsushima seems all but guaranteed to send the PS4 off on a high note–and, as if there wasn't enough to look forward to already, the game also has a big cherry on top for anime fans (specifically, fans of One Piece). Since it's essentially a giant playable samurai film, Sucker Punch Productions wanted players to have the option of experiencing the game with full Japanese voiceover. So, naturally, they brought on the most legendary samurai voice actor in the business: Kazuya Nakai, the iconic voice of Roronoa Zoro.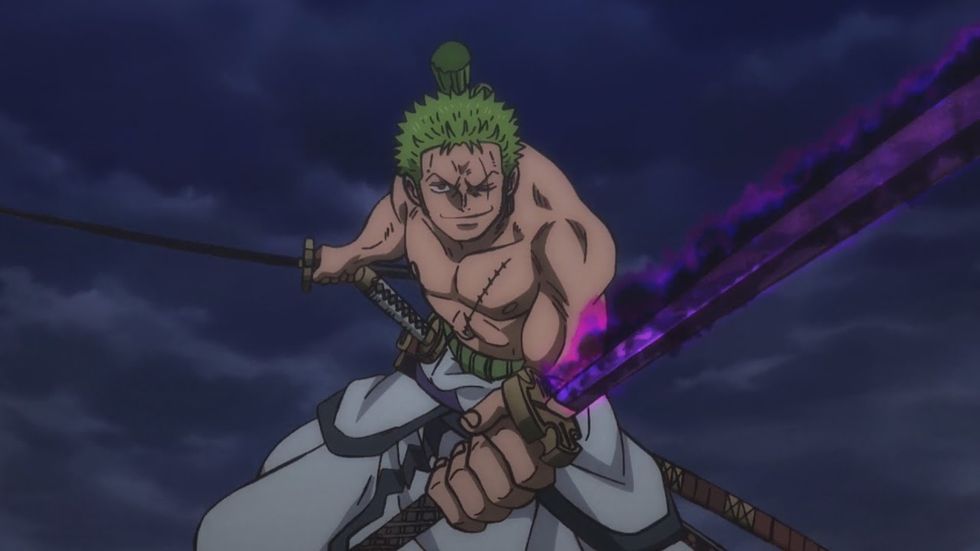 Shueisha
Oh, and let's not forget: you can pet a fox. Ghost of Tsushima launches on July 17th, 2020, and while the two month wait might feel painful, it helps knowing that there are cute, fuzzy animals on the other side.