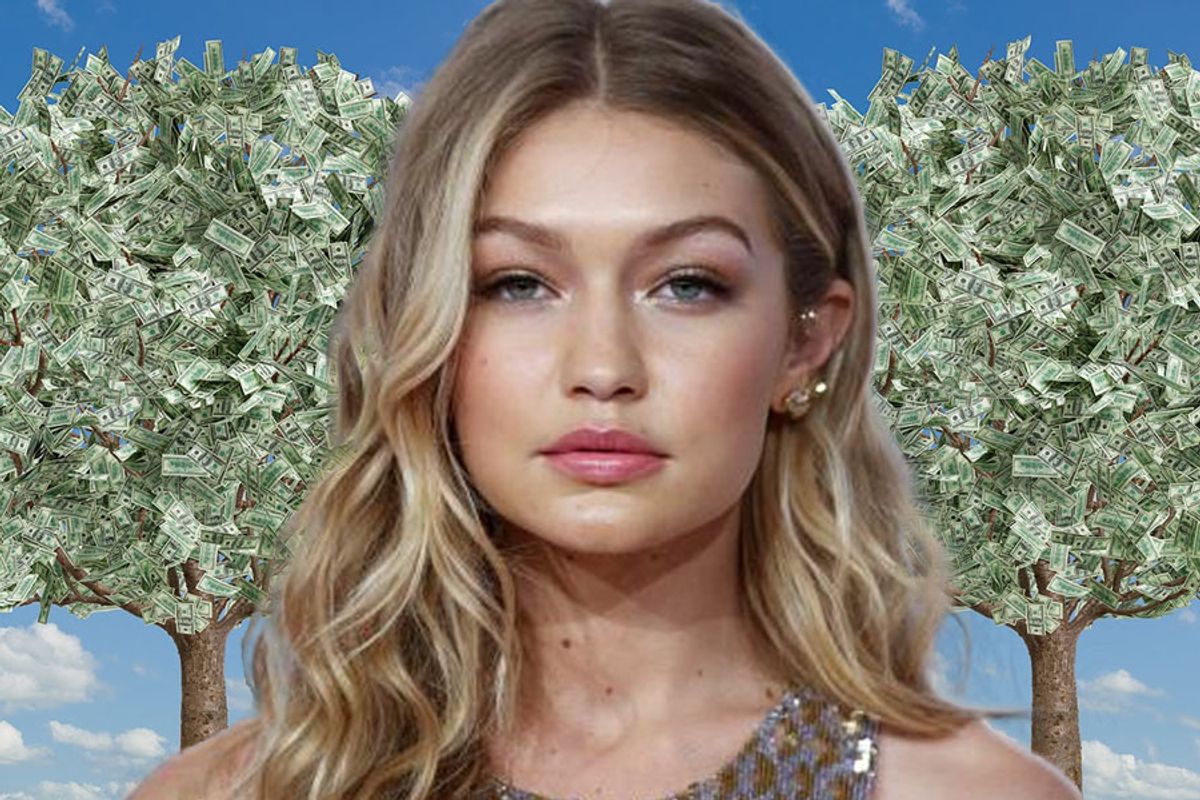 Gigi Hadid is undoubtedly one of the modeling world's hottest "it" girls of the moment.
With a bestie like Kendall Jenner and one A-list boyfriend after the last, Gigi is living it up the way most chicks her age would give an arm and a leg for.
Looks, fame, and money are the three things Gigi is most famous for these days. Sure, she comes from a super-rich family, but her explosive modeling career has made her independently wealthy as well. The rich do get richer, as they say!
Here's how Gigi makes her dough in case you want to follow in her catwalk footsteps.
As per Celebrity Net Worth, Gigi started her modeling early at the tender age of 2! She showed off her toddler talents for Baby Guess. She may have gotten older (and taller) but those naturally good looks have always been there. Mom, Yolanda modeled as well, so it's no surprise her daughter became a blonde bombshell too. Not to mention, since Yo is on RHOBH, Gigi's appearances gave Bravo the go-ahead to pay her some bucks for being "real" on TV.
Of course we know the modeling gigs keep coming in for the sweet and sexy gal. College Candy tells us that she's pouted for magazines including Vogue, Elle, Sports Illustrated, Paper, and more. She's been signed to IMG Models since 2011 and there's been no shortage of work for the stunner. Big name mags and top-notch brands mean big paychecks for the million-dollar model!
---
READ MORE MONEY MONDAY....

Money Monday—How Much Is Kris Jenner Really Worth?
Money Monday—How Much Is Donald Trump Actually Worth?
Money Monday—How Much Is Rob Kardashian Really Worth?
---
Aside from modeling, College Candy notes that Gigi has done some acting too. She was in a short film called Virgin Eyes in 2011. Not sure she can say the same of her own eyes, but that's all part of the gig. She was also in Calvin Harris' music video for How Deep is Your Love. Don't remind Taylor Swift.
Last year, Gigi got her "wings" as a Victoria's Secret angel during the super-sexy Victoria's Secret Fashion Show. She also stuns during Fashion Week, wearing the latest collections from the most well-known and sought-after brands from around the world. Jet-setting and making money is any model's dream and Gigi's has come true.
Let's not leave out the power of social media. College Candy posts that Gigi can make up to $300,000 for a sponsored social media post. What a "tweet!"
As per College Candy, Gigi Hadid is worth $5 million. For a young 20-something with years of hot modeling days ahead of her, Gigi is sure to continue to rake in the Benjamins. Good looks "pay off" in more ways than one!