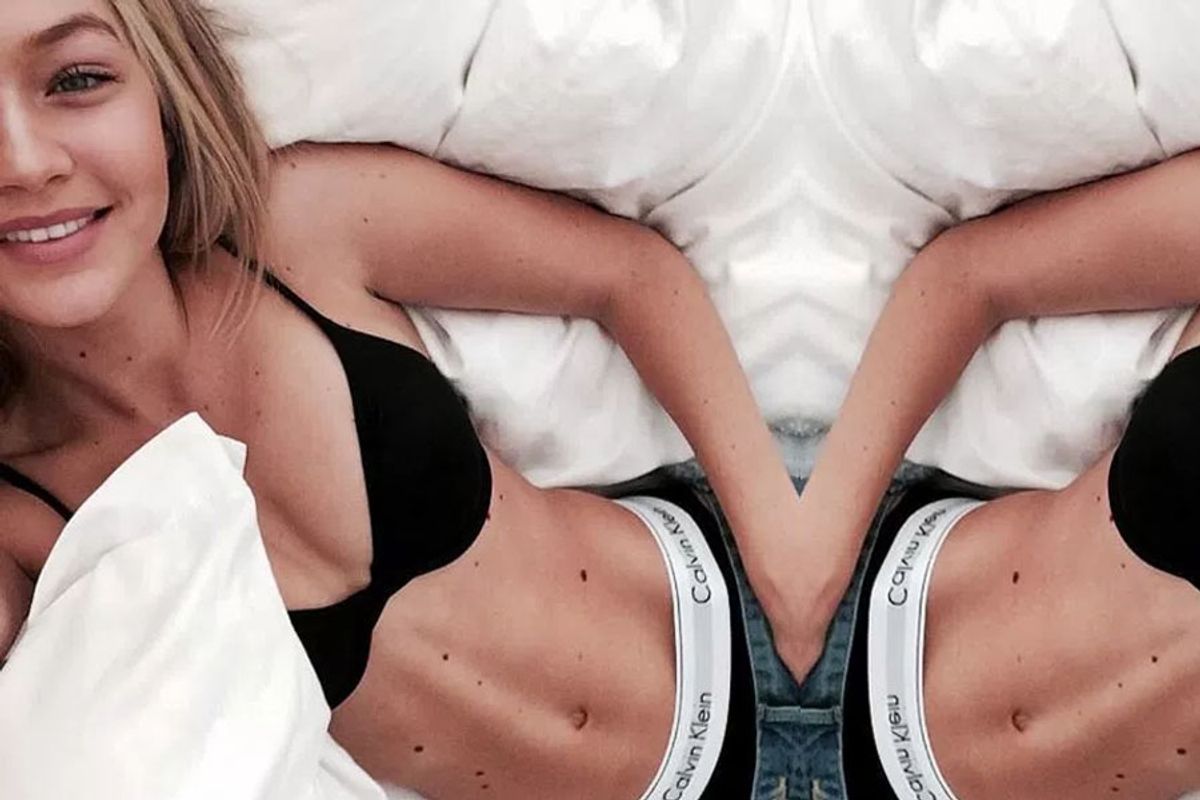 Gigi Hadid has moles....
She's blonde, stunning, rich, and famous, but Gigi Hadid is not as perfect as you think she is, at least not according to her. A source close to the reality star tells Popdust exclusively:
"Gigi has lots of moles, many of that are raised, she's always been very self-conscious about them."
Now that the 21-year-old beauty has officially signed on to be a Victoria's Secret Angel, she feels like the time is right to get them removed for good.
"Ever since Gigi walked in the 2015 Victoria's Secret Angel Run Way Show, she's been booking nothing but lingerie and swimsuit adds," the source explains. Sometimes the photographers airbrush them out, but sometimes they leave them. Gigi feels like it would be better for everyone if they weren't there at all."
---
READ MORE ABOUT GIGI...
Joe Jonas Bummed That Ex Gigi Hadid Moved On So Quickly
Miley Cyrus Hilariously Mocks Gigi and Bella Hadid on Instagram
House Tour Tuesday—Yolanda Hadid's Luxurious LA Condo
---
However, she's encountering some resistance along the way.
"Her mom doesn't like the idea. "She thinks Gigi is perfect the way she is and worries that any kind of cosmetic procedure is a slippery slope, and given that Yolanda's health is so fragile, she doesn't want Gigi putting unnecessary chemicals into her body."
Boyfriend, former One Direction member Zayn Malik, 23, is on "Team Yolanda."
"He thinks every part of Gigi is sexy, including her moles. He is afraid she's going to wind up like one of those typical LA models who changes everything about herself."
But there maybe an upside to Gigi's vanity. According to Santa Monica based Dermatologist and founder of Dermdash, Dr. Behnam:
"Some moles are wise to take off and some are not, depending on each mole. Either way, Gigi is gorgeous!"
If you have numerous large and/or irregular moles and have a parent, brother, or sister who has had melanoma, your lifetime risk of developing melanoma is 100 percent according to The Melanoma Education Foundation.
White people have a 1 in 44 chance of developing skin cancer in their lives, and while African Americans have a 1 in 1,1000 chance!