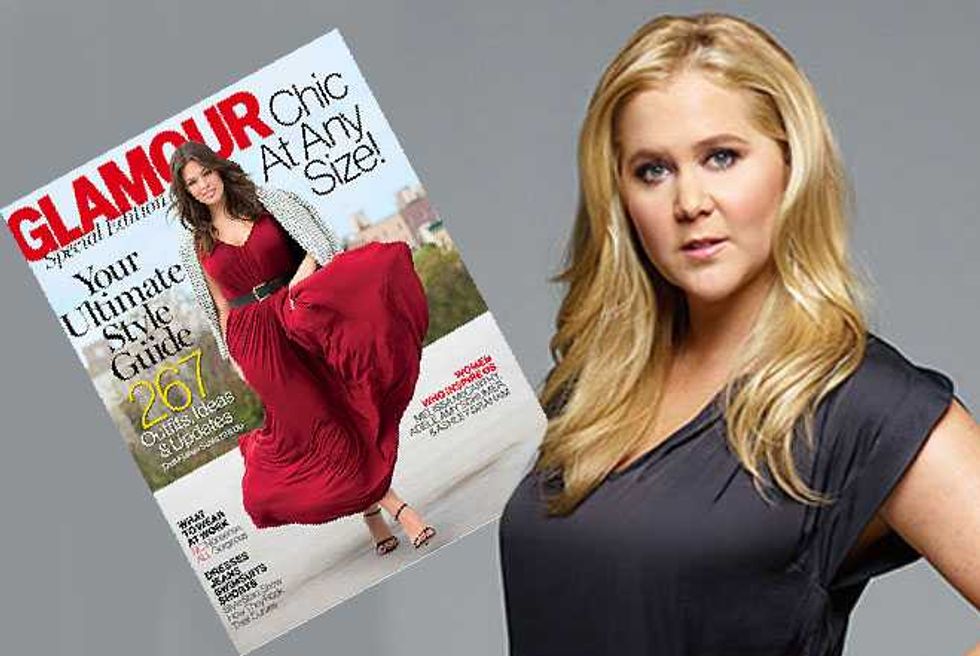 amy schumer plus size glamour
Amy Schumer was less than thrilled to be featured in Glamour magazine's first ever "plus size" edition.
And, after Schumer went public with her disapproval, the fashion mag issued a (sort of) apology, saying they were "sorry" if they "offended her in any way."
That Mean Amy Schumer Hurt Khloe Kardashian's Feelings On SNL
Let's get pedantic
amy schumer plus size glamour
However, they made sure to point out they never actually described her as plus size, because, well, let's get really pedantic about it shall we?
Basically, Glamour are SorryNotSorry Amy.
Good Deed Alert™ Amy Schumer Leaves Waiter A Massive Tip!
Supermodel Ashley Graham graces the controversial front cover,  alongside the cover line, "Chic at any size!"
Inspiring
amy schumer plus size glamour
Then, lower down, there's a sub-heading, "Women who inspire us" which lists Schumer, along with Graham, Melissa McCarthy and Adele.
Graham was thrilled by her inclusion—which, presumably, she had been paid for, as she is the cover model.
Amy Schumer Defends Bill Cosby In The Court Of Public Opinion
The Sports Illustrated Swimsuit model tweeted her approval, calling the edition, "a special issue dedicated to your curves!" along with the hashtag #beautybeyondsize
Doesn't feel right
amy schumer plus size glamour
Schumer also took to social media to share her feelings—but, well, she was decidedly less happy.
Amy Schumer—I'm Too Fat and Disgusting For Los Angeles!
The 34-year-old posted on Instagram:
I think there's nothing wrong with being plus size. Beautiful healthy women.

Plus size is considered size 16 in America. I go between a size 6 and an 8.

@glamourmag put me in their plus size only issue without asking or letting me know and it doesn't feel right to me.

Young girls seeing my body type thinking that is plus size?

Not cool glamour not glamourous
She later took to Twitter to comment further:
Just a little odd and unfair not to be told
Amy Schumer Hits Back At Critic Who Called Her Chubby And Ugly
We love Amy!
amy schumer plus size glamour
Glamour's Editor-in-Chief, Cindi Leive, responded to Schumer via a series of Tweets:
We love Amy Schumer, & would never want to offend her. To be clear, @glamourmag special edition never called her plus-size...

Her 2015 cover story was included in the edition, aimed at sizes 12 and up, with the cover line 'Women who Inspire Us' bc…her longtime message of body positivity—& talking back to body haters—IS inspiring. (To me, too!)

To be clear, size 6-8 is not plus. (Even size 12—frequent size of 'plus' models—is smaller than average American woman!)

But women of all sizes can be inspired by one another's words. So sorry if implication was otherwise, Amy
'Concerned' Anonymous Asshole Fat Shames 50-Year-Old Chicago Reporter
Body positivity
amy schumer plus size glamour
A Glamour magazine spokesperson continued with the company line, issuing the following statement:
First off, we love Amy, and our readers do too – which is why we featured her on the cover of Glamour last year.

The cover line on this special edition – which is aimed at women size 12 and up – simply says 'Women Who Inspire Us,' since we believe her passionate and vocal message of body positivity IS inspiring, as is the message of the many other women, of all sizes, featured.

The edition did not describe her as plus-size. We are sorry if we offended her in any way.
As the Washington Post points out,  Schumer's not the only celeb speaking out against being "plus-sized" by the media.
Cheryl Tiegs Fat Shames 'Unhealthy' Ashley Graham
DropThePlus
amy schumer plus size glamour
A number of high profile females have questioned what the true meaning is behind the term, pointing out it's just another way of labeling women by size, and is in no way "empowering".
There's even a social media campaign decrying the term, using the hashtag #DropthePlus
For more entertainment, music and pop culture updates and news, follow Max Page on Twitter