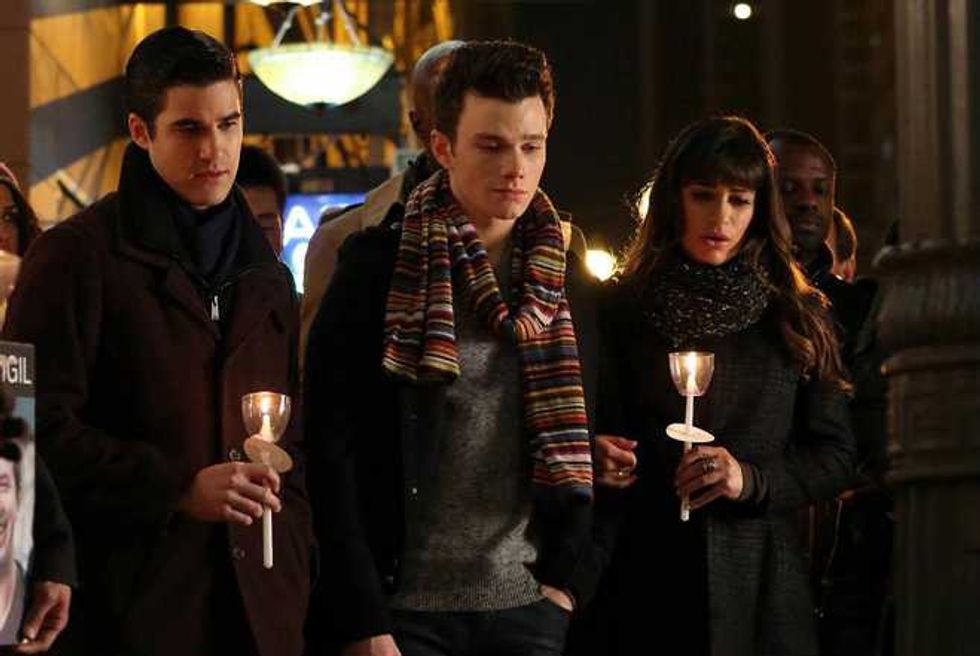 Glee takes hate crime head-on in tonight's (April 8) eerily titled episode "Bash," in which Kurt (played by the incomparable Chris Colfer) is attacked because of his sexuality. Afterwards, he is joined by Rachel (Lea Michele), Blaine (Darren Criss) and Sam (Chord Overstreet) for a utterly haunting rendition of "No One Is Alone" from the legendary Broadway music Into the Woods.
On the surface, the song choice might seem to be a bit odd, but the Stephen Sondheim-created tune fits perfectly with making mistakes. "Witches can be right. Giants can be good. You decide what's right. You decide what's good," the quartet emotionally sings. When you dig into the lyrics, it's about one's moral compass and how you take the bad with the good and make life OK for yourself. You must learn who's on your side, and who isn't.
The performance takes place on the dingy streets of New York City, and the gang is headed down to a candlelight vigil for a young man, who obviously met an ill fate after his run-in with homophobes. Rather saddening. "Someone's one your side. No one is alone," Blaine and Rachel conclude the song.
As we previously reported, the gay bash isn't the only storyline running in tonight's charged episode. Rachel is preparing for the opening night of Funny Girl, and she must also get ready for NYADA's mid-winter evaluation...in front of Carmen Tibideaux. That's right, Whoopi Goldberg makes her grand return to the small screen! Balancing her school and career becomes too much for Rachel, and she must make a choice.
Meanwhile, things between Mercedes (Amber Riley) and Sam are heating up again, but will they hook up?
Elsewhere in the episode, the cast takes on such iconic material as "Broadway Baby" from Follies, "Not While I'm Around" from Sweeney Todd, and Aretha Franklin's "You Make Me Feel Like A Natural Woman."  Take a listen to all the songs here.
Grab your box of tissues and get ready to cry:
Tune into FOX tonight at 8/7c for the next NYC chapter of our favorite comedy-musical!