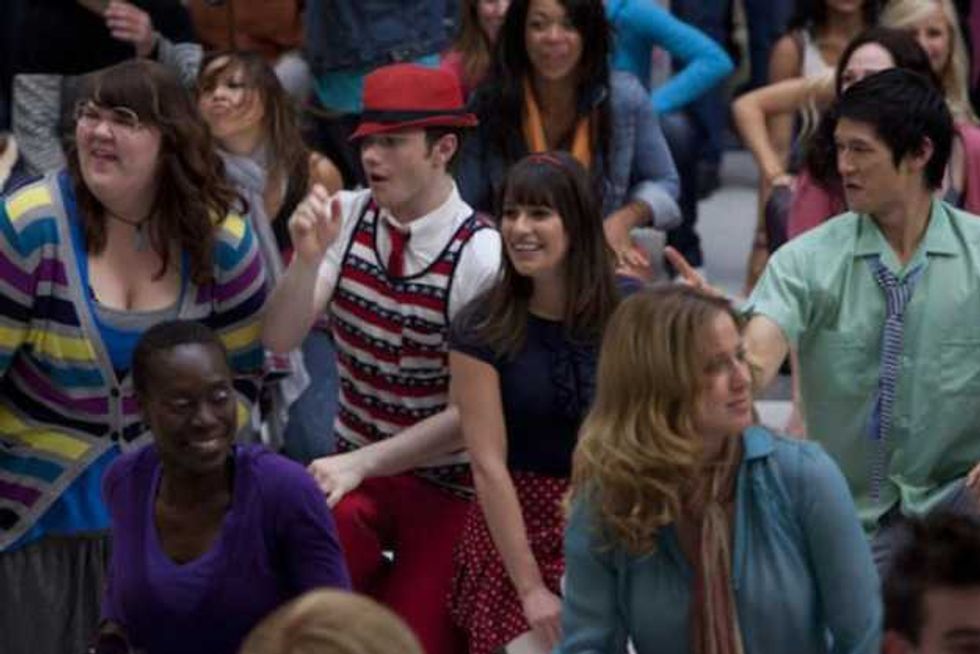 Santana > "As If We Never Said Goodbye" > "Born This Way" > Kurt Hummel's Bondage Fashion > Karofsky's Redemption Continues > TLC > Saying Bye To The Dalton Warlber Boys > All The T-Shirts > Finn's Dancing > Quinn's "Dark" Past > Rachel's Nose
While the cast and crew of Glee invaded New York City this week to film the group's upcoming trip to nationals, in the world of Glee it's still midyear and time to explore the theme of self-acceptance in a 90-minute episode that came off both wanting and overstuffed at the same time. While many of the scenes were brilliant on their own, they didn't add up to a great episode. There were four separate plotlines that could be filed in the bulging folder tabbed "Self-Acceptance," but only one that truly made Popdust's heart swell.
The least interesting plotline involved Emma finally seeking professional help for her OCD. Mostly we're relieved, both for Emma and for us. And for Schue, who no longer has to clean her grapes one by one, adorable as that was.
Rachel Berry, after getting smacked in the face by a clumsy Finn, ends up at a somewhat sleazy doctor who advises her to get a nose job. This plot drags on the entire episode, and since we all know Rachel won't be going under the knife, it's mostly pointless. It did lead us to two nice numbers: Finn's song-and-dance routine with Mike to "I've Gotta Be Me," where he tries to embrace his bad dancing and work on improving it; and later, a group dance to Duck Sauce's "Barbara Streisand," Rachel's heroine for all matters showbiz-and-probiscis-related.
Which brings us to Quinn. Quinn's inconsistency throughout Glee is well documented. Her motivations are muddled and her character bounces around from sympathetic to mean. This week she continues on her Prom Queen quest, all while befriending Rachel in her plastic surgery hour of need. Quinn serves as the nose model for Rachel's future face, and the two sing a mashup of "I Feel Pretty" from West Side Story and "Unpretty" by TLC, a song I had completely forgot existed until this track appeared online last week (can we have more TLC on Glee? I call for "No Scrubs" as soon as possible). Both girls sound great on this track. However the song is set early in the episode, more in Rachel's plot than Quinn's, so it doesn't make much sense why she's joining Rachel in her self-hating until her story unfolds more.
Quinn, we learn, has a secret past that has nothing to do with her pregnancy. In middle school, Quinn was overweight, with a big nose and acne, and went by her legal name, Lucy. (No one found out her legal name before when she was in the hospital giving birth? Really? I am pretty sure doctors write down those sorts of things.) She hated herself, and went through a transformation of acne meds, ballet and a nose job before coming to high school and switching to her middle name to avoid any possible association. After taking drastic steps to hide all this, Lauren undoes it all with one poster on the bulletin board—not that you can really tell it's Quinn, it looks more like those Fatface Facebook program manipulations than anything else. Of course, this backfires and now the same girls who once looked up Lauren have switched allegiance to Quinn. A quick apology from Lauren and the two are suddenly walking down the hall arms around each other, but like with all of Quinn's friendships I am sure this will be aborted by the next episode.
For more Gleecap, click NEXT.
Finally, the Queers of McKinley storyline—which could be it's own awesome Showtime series—revolves around the return of Kurt Hummel to McKinley and the progression of Santana and Karofsky's self-acceptance. While Santana plots ways to win back Britt by becoming Prom Queen and convincing her that it's part of her royal decree that they date, she laments the lack of potential power-couple partners in the men of the school until she lands on football hero Karofsky, only to notice him checking out Sam's ass at the water fountain. Her head voice exclaims, "I'm a closet lesbian as judgmental bitch, I have amazing gaydar!" She doesn't figure out how to use this information to her benefit until she's at coffee with Kurt and Blaine and she realizes the only way to get Kurt back to the school and become a hero is if the Karofsky problem goes away.
Santana isn't one for beating around the bush, and invites Karofsky to coffee to let him know she knows he's gay and to lay out her grand plan for world domination. For the first time Santana lays it all out for someone who isn't Britt, letting Dave know they're on the same team and proposing they use each other as beards to win the prom titles and rule the school. Making things right with Kurt is a means to an end so they'll be seen as model students instead of the bullies that they are. And if Dave doesn't agree, Santana will tell the whole school about him, knowing he has more to lose than she does. "The only straight I am is straight up bitch," she proclaims.
After Dave delivers a clearly rehearsed speech to the Glee club about making amends, the two announce their coupledom and plans to start the Bully Whips, an anti bullying patrol that wears the absolute gayest berets and shiny jackets. They're doing a really poor job at this beard thing already. To seal the deal, the Hummels and the Karofskys return to the principal's office and try to determine if it's really safe for Kurt to come back. Kurt asks the adults to leave and then calls Karofsky out, knowing he's got an angle on this. Karofsky admits that this was Santana's idea to become heroes, but that he really is sorry about what happened between them. Kurt doesn't make it that easy for him, explaining why he's not outed him already and demanding that Karofsky start a PFLAG group on campus so he and any other McKinley kids can get educated regardless of preference. Karofsky is not looking forward to it, but he's willing to do anything to keep his secret a little longer. The scene is powerful; Glee might be the only network program ever to not just have multiple gay characters, but to stress that gays are as different from one another as are straights. Coming to terms with the wide range of queerness is a growth point for Kurt as well.
Kurt returns in a fabulous top hat and straightjacket-inspired ensemble, and since he left Dalton without so much as a goodbye the Warbler boys have to schlep out to McKinley to sing him his goodbye number, Keane's "Somewhere Only We Know." Finn's brotherly welcome-back hug tugs at my heart, and Kurt's embrace of Blaine and fiercely whispered "I'm never saying goodbye to you" will have to be enough to sustain the Klaine shippers, since Blaine promptly walks away without another word. I guess they do have to rush to make the commute back to Dalton in the middle of the school day.
For more Gleecap, click NEXT.
Kurt's return wouldn't be complete without his own welcome back number to the club, a stunning take on the musical Sunset Boulevard's "As If We Never Said Goodbye," with Chris Colfer in top form. The staging veers a little on the literal side—actual cardboard trees and painted seas and makeup chairs—but Kurt looks stunning, and when he simply stands in front of his classmates singing it out you can't help but be captivated. As fun as it was to have a whole new school to play with in Gleeverse, Kurt is back where he belongs.
Finally, as the group plans to finally perform Lady Gaga's "Born This Way," complete with t-shirt highlighting the thing about themselves they are owning up to and embracing, Britt approaches Santana in the hallway with a new shirt for her, "Lebanese." Santana puts on Britt-goggles and realizes it's supposed to say "Lesbian" and refuses to wear it, saying that she still doesn't want everyone to know. Self-acceptance is one thing, but being out is still a non-starter. Britt is upset, trying to convince Santana that she shouldn't be ashamed. Santana is less ashamed and more angry that Britt doesn't love her back, and Britt argues that Santana clearly doesn't love herself as much as Britt loves her, otherwise she'd put on the shirt and come dance. Hopefully she'll find her way in the coming episodes.
Kurt Hummel's true return to form is the fierce opening to "Born This Way." For once Tina's singing doesn't end in tears; instead, Kurt's jacket is ripped off to reveal his "Likes Boys" shirt. Everyone else in the club's shirts are varying degrees of serious (Puck's going to accept that his penis is stupid?) and for some reason in an extra-long episode that found room for everything else they cut the song to eliminate the "no matter gay straight or bi, lesbian transgender life" line. It's reminiscent of the cutting of "transsexual" from the Rocky Horror episode, even though "tranny" survived that time. Fox has some weird standards for a show whose teenaged characters are 33 percent queer. I would have watched this song in full six times over instead of practically every scene about Rachel's nose. As the song ends we find Santana and Karofsky in the audience—Karofsky looking pained and Santana looking sadly at her Lebanese t-shirt.
While it was nice to see some variation in self-acceptance plotlines, none was as strong as the sexuality one. I know there are other stories to tell aside from Lima's Gay Adventures, but when something works while everything else falters, maybe Glee should sit down and think about why and then build their other characters and relationships accordingly. We'll see how they fare next week with the club awash in rumors, including a fan service tease to the idea of Sam and Kurt clandestinely cheating at a motel. It's Fleetwood Mac-themed, and Glee has spotty success rates on their theme episodes, so expectations are low.