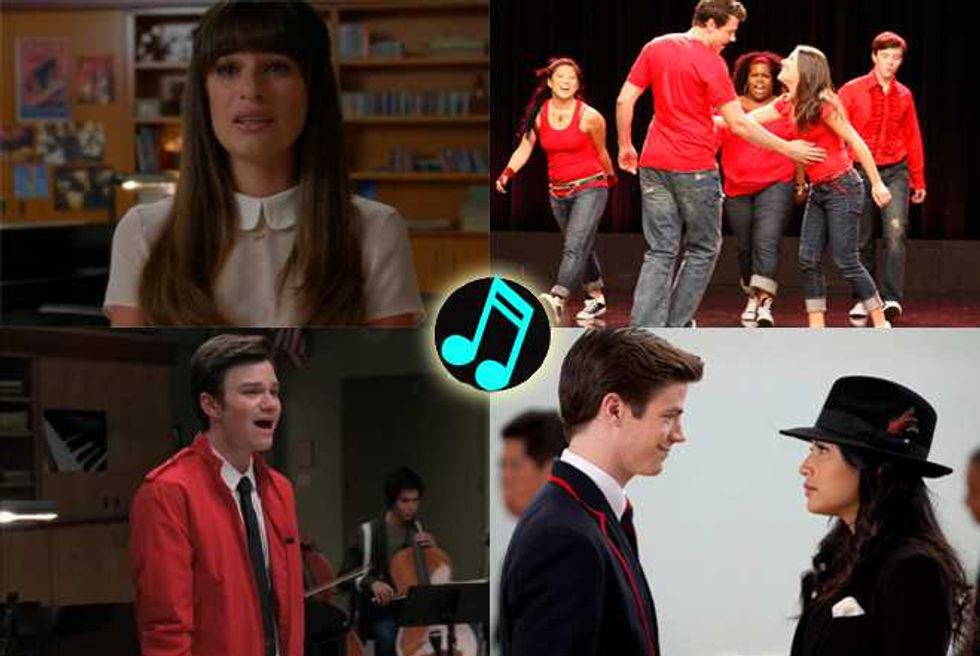 Glee comes to a bitter-sweet end with this Friday's (March 20) two-hour series finale. Six seasons, hundreds of musical numbers and countless used tissues is only scratching the surface of the worldwide phenomenon that had us all rooting for the underdogs and cheering at their every accomplishment. Of course, along the way, the ragged band of McKinley High misfits had us believing in our own inner strength and beauty.
Rachel Berry (Lea Michele) might have been at the core of the show, but every single character touched our lives in some way. It was always the music, too; the music brought their stories to life and showed us that it was OK not to be OK—that today's failures were tomorrow's triumphs. From Finn Hudson (the late Cory Monteith), Kurt Hummel (Chris Colfer) and Brittany S. Pierce (Heather Morris) to Santana Lopez (Naya Rivera), Sugar Motta (Vanessa Lengies), Blaine Anderson (Darren Criss), Quinn Fabray (Dianna Agron) and Mercedes Jones (Amber Riley), and countless other characters in between, the cast was a bevy of superstar vocalists, dancers and musicians, forever illuminating our hearts and our minds.
Of course, there was also a smorgasbord of guest stars, including Carol Burnett (as Sue's momma Doris), Kristen Chenoweth (as April Rhodes), Gwyneth Paltrow (as Holly Holliday), Grant Gustin (as the naughty Sebastian Smythe) and Kate Hudson (as Cassandra July, a NYADA instructor), Whoopi Goldberg (NYADA creative director Carmen Dibideaux), among others.
Special shout-outs go to a handful of truly unforgettable characters: the adorable, OCD guidance counselor Emma Pillsbury (Jayma Mays with her always frank pamphlets (for every occasion); the crazy-faced, let's-fake-a-pregnancy Terri Schuester (Jessalyn Gilsig); the fearless Becky Jackson (Lauren Potter); the loud-mouth, Puck-nabbing Lauren Zizes (Ashley Fink); the too-hot-to-handle Brody Weston (Dean Geyer); the super-supportive dad (who we wish we all had) Burt Hummel (Mike O'Malley); the uber-shy Sheets 'N Things employee Howard Bamboo (Kent Avenido); the downtrodden Principal Figgins (Iqbal Theba; the nosy blogger Jacob Israel (Josh Sussman); and Lord Tubbington.
Meow!
Regardless of their role, every character had one thing in common: heart. They embarked on this journey with a pocket full of dreams and a few sheets of music (or tins of catnip), and while the show had its fair share of rocky roads, it never stopped being what it set out to be: an inspiration to millions of "underdogs."
Created by Ryan Murphy, Ian Brennan and Brad Fulchuck, Glee told the tale of Lima, Ohio kids who loved to sing. Fortunately, they had a knack for it, and with the help of instructor, mentor and former glee club Nationals champion Will Schuester (played by Matthew Morrison), their dreams became a reality.
It wouldn't be a journey, though, without road blocks in their way—mostly the villainess Sue Selvester, brought to life by the incomparable Jane Lynch. In the end, they were not, in fact, Lima Losers. They just needed a little push (it, baby!)
To send the musical dramedy off in style, Popdust has gathered together the show's 50 Best Musical Performances, in order from great to awesome. Don't worry, we've also put together a YouTube playlist of all 50 epic performance at the bottom of this post.
Let's start from the top:
50. Papa, Can You Hear Me? // Rachel (Season 2, Episode 3: Grilled Cheesus)
What better way to kick things off than this smokey and haunting performance? We'll just leave this here...
49. Pretending // Cast (Season 2, Episode 22: New York)
The only original ballad to arrive on this list, the sweltering performance resulted in a lip-lock between the show's leading pair: Finn and Rachel. Despite their good intentions, it cost them placing in the Top 10 at Nationals in New York City; they placed 12th.
48. Americano / Dance Again // Cassandra (Season 4, Episode 1)
Lady Gaga and Jlo? SIGN US UP! And there's no better singer to take this on than Kate Hudson (as the witchy NYADA instructor Cassandra). She might have given Rachel a hard time, but at least she backed it up with stratospheric talent, right? Right?
47. Defying Gravity // Rachel & Kurt (Season 1, Episode 9: Wheels)
Who could forget Kurt botching that high note so Rachel could win? Both divas at heart, neither would let the other have the spotlight. When it came down the the wire, Kurt wouldn't let this moment be the moment they resented each other for life, so he stumbled. Of course, both performances were superb on their own, but paired as a duet made it even more intense.
46. Bohemian Rhapsody // Jessie & Vocal Adrenaline (Season 1, Episode 22: Journey)
The Jesse St. James (Jonathan Groff)-led Queen cover (say what you will) is an impressively choreographed number, resulting in Vocal Adrenaline's ultimate victory at the close of Season 1 at Regionals, and rightfully so. His passionate vocals as he tore into the rock anthem were chill-inducing. It would have placed higher here, but come on, McKinley wins.
45. Will You Love Me Tomorrow / Head Over Feet // Jane & Mason (Season 6, Episode 3: Jagged Little Tapestry)
If it weren't for the show coming to an end, Jane Hayward (Samantha Marie Ware) and Mason (Billy Lewis Jr.) would have gone on to have quite an impressive place in the show's history. Possessing a more throwback vibe than most other performances, the duo ripped into the heartfelt lyrics, sweetly caressed each lyric and never once overdid it.
44. Shake It Out // Santana, Tina, Mercedes (Season 3, Episode 18: Choke)
Taking a pound of flesh, this trio utilized the blistering lyrics to offer up an apology, following their appalling comments about Shannon Beiste's abuse in her relationship with Cooter. They certainly burried the hatchet with this one, an impassioned vocal and stirring story.
43. Cell Block Tango // Sugar, Santana, Brittany, Tina, Mercedes (Season 3, Episode 18: Choke)
It's a risky move to take on one of the most iconic musical moments. It could have fallen quite flat, but no, the cast concocted a performance just as edgy, sexy and vigorous as the original. Of course, having Santana Lopez is always a plus. Oh, and a little Sugar (Vanessa Lengies) goes a long way, too.
42. Happy Days Are Here Again / Get Happy // Kurt & Rachel (Season 2, Episode 4: Duets)
There are always plenty of mash-ups to go around! Take the series' (probably) two most consistent vocalists and plop them down in a whirlwind of brass instruments, and you'll be slapped in the face by a wall of sound. #boom
41. Loser Like Me // Cast (Season 2, Episode 16: Original Song)
The only other original to land on this list, the uptempo, high-powered pop-rock track is a response to Sue's constant bullying. It soon became the anthem of the series in many ways, ultimately a hit on its own, too.
40. Poker Face // Rachel & Shelby (Season 1, Episode 20: Theatricality)
Sewing together two enormous voices into a stripped back dance-pop hit is the recipe for a bewitching performance. This is Rachel's first-ever duet with her mom Shelby (Idina Menzel), and it's like they are cut from the same dazzling cloth. Seriously, are Idina and Lea related in real life, because...
39. The Scientist // Finn, Rachel, Blaine, Brittany, Emma, Kurt & Santana (Season 4, Episode 4: The Break-Up)
Piano ballads are a dime a dozen on this show, but when they're done right, they are magnificent wonders. Sure, this Coldplay song is quite overdone in pop culture, but no matter how many times you listen to it, it strikes the heart in exactly the same way.
38. Rehab // Vocal Adrenaline (Pilot)
As the McKinley glee club's first taste of their competition, the almighty Vocal Adrenaline reinvented this Amy Winehouse song into a spellbinding (and jaw-dropping) tour de force.
37. Roots Before Branches // Rachel (Season 3, Episode 22: Goodbye)
Another iconic moment: immediately after Finn calls things off with Rachel and drops her off at the train destined for New York City, Rachel breaks out into this. Only tears.
36. All That Jazz // Cassandra & Rachel (Season 4, Episode 9: Swan Song)
Cassandra's role on the show was tragically short lived. This showdown, leading up to Rachel's first Winter Showcase, took duet face-offs to the extreme. While Rachel's dancing might not have been able to live up to Cassandra's, her vocal certainly chomped her instructor down to size.
35. And I Am Telling You I'm Not Going // Mercedes (Season 1, Episode 13: Sectionals)
Who could not be absolutely floored by this miraculous vocal acrobatic achievement? No other reasoning is necessary.
34. If I Were a Boy // Unique (Season 5, Episode 5)
Unique (Alex Newell) had a pretty heavy storyline during her journey on the show. Grappling with her feelings inside and how she appeared to everyone else, she dealt with her fair share of unwanted hate and bullying. The climax came in the form of this truly heartrending performance in the bathroom.
33. Flashdance...What a Feeling // Tina & Rachel (Season 3, Episode 20: Props)
Tina and Rachel were probably the most unlikely of pairings, but when they did get together, it was an act of sheer (and charming) wizardry.
32. Take Me To Church // Roderick (Season 6, Episode 11: We Built This Glee Club)
Admittedly, there were simply not as many shiny and memorable performances in the show's last season, but Roderick's (Noah Guthrie) riveting lead here elevated this one above average. Of course, Jane and company sprinkled it with a healthy dose of "oomph."
31. Ain't No Way // Mercedes (Season 2, Episode 17: A Night of Neglect)
If it could be possible, every single Mercedes performance would be included on this list, but she soared to ridiculous new levels with this Aretha Franklin ode.
30. Toxic // Brittany (Season 2, Episode 2: Britney/Brittany)
Britney Spears' catalog was often the go-to for so many flashy glee club numbers, but Brittany's version (aided by her fellow comrades) of this slinky track is by far top-notch.
29. Thriller / Heads Will Roll // Cast (Season 2, Episode 11: The Sue Sylvester Shuffle)
Maybe the most satisfying fully-produced number ever? Killer, thriller and electrifying! (Drops mic)
28: River Deep, Mountain High // Mercedes & Santana (Season 2, Episode 4)
There's nothing quite like a Mercedes and Santana explosion. Of course, their love of Breadstix (and their previous performance of The Boy is Mine) fueled them to greatness. Tina Turner would be proud!
27: It's a Man's, Man's, Man's World // Quinn (Season 1, Episode 21: Funk)
Quinn can be as funky as the rest of the gang! She might've been pregnant, but that didn't stop her from rolling out this statement song. Showing off her soulful and gritty side, she delivered meaningful performance, even if a few members were less than pleased.
26: Tightrope // Jane (Season 6, Episode 2: Homecoming)
Jane: aka the best asset from the show's last batch of newbies. Talent and sass for days, she attempted to break the male-only tradition at Dalton Academy. Despite offering up a fantastic, high-energy performance, she failed to impress Blaine and company. Probably the biggest travesty of Season 6. Oh well, she landed on her feet at McKinley, and the rest is history.
25. Don't Rain on My Parade // Rachel (Season 1, Episode 13: Sectionals)
Rachel had been performing this song since she was four. It was her "go-to" song, you could say. At the last minute, New Directions must come up with a new set list and so this pint-sized powerhouse surprises the crowd with his soaring and remarkable performance.
24. Girls Just Wanna Have Fun // Finn (Season 3, Episode 7: I Kissed a Girl)
Following Santana's epic slap in Mash Off, Finn whips out a piano rendition of this Cyndi Lauper hit to let her know that he really does care about her. He's just a big old teddy bear, you guys! Sometimes simple is far better than loud.
23. We Found Love // Cast (Season 3, Episode 10: Yes/No)
This musical number had our hearts falling (again) for Mr. Schuester. While enlisting the help of his students for a "proposal number" seemed a bit odd on paper, we can't fault the final result. It was incredibly romantic and became the template for lovers everywhere.
22. Paradise by the Dashboard Light // Cast (Season 3, Episode 21: Nationals)
It took the glee club several attempts to make it to Nationals. This performance, especially, highlighted how far they had come, particularly in their uptempo numbers: through adding more choreography and layering on more cool harmonies. After some nail-biting tension, they came out on TOP!
21. If I Die Young // Santana (Season 5, Episode 3: The Quarterback)
The Quarterback is probably in the Top 5 best episodes ever, and Santana's sorrowful rendition of The Band Perry remains as one of the most tear-soaked. After hundreds of re-plays, Naya Rivera's gutsy and piercing interpretation is magnetizing. Even before she breaks down in tears, you'll be breaking out those tissues in bulk.
20. Chasing Pavements // Marley & Cast (Season 4, Episode 1)
With most of the original cast members having graduated from McKinley, this was the very first final musical number with newbies. Marley (Melissa Benoist) may have been touted early on as "Rachel 2.0," but her innate talent speaks for itself. She was nothing like her predecessor. In fact, she showcased a powerfully delicate performance on par with many of the show's greatest.
19. I Dreamed a Dream // Shelby & Rachel (Season 1, Episode 10: Dream On)
After hearing Shelby's voice on a recording for the first-time ever, Rachel dreams of the day she can sing alongside her. This performance comes as a dream sequence but is a soaring performance, nonetheless. They didn't share a stage till later with Poker Face (also on this tally).
19. Because You Loved Me // Tina (Season 3, Episode 20)
Tina: the most mishandled character. Her potential was never quite utilized as it should have been, marred by outrageous storylines (e.g. her crush on Blaine) and being relegated to second tier. But here, she had a chance to deliver a memorable vocal, even if she did appear in a dream as Rachel Berry.
17. I Feel Pretty / Unpretty // Quinn & Rachel (Season 2, Episode 18: Born This Way)
The show is as good at supplying boisterous crowd pleasers as it is with stripped down acoustic performances. Despite being rivals most of the show's run, Rachel and Quinn two came together for a simple moment, when both were feeling less than beautiful (and jealous of each other in the process).
16. Everytime // Marley (Season 4, Episode 2: Britney 2.0)
Possessing a syrupy but soulful voice, Marley ripped our hearts out with this truly sensational performance, the closer to the second Britney Spears-centric installment. As she grapples with Jake (Jacob Artist) dating the vicious Kitty (Becca Tobin), tt also served as the backdrop to Rachel at NYADA.
15. Rumor Has It / Someone Like You // Santana, Mercedes & The Troubletones (Season 3, Episode 6: Mash Off)
The show was not only known for its outstanding solo numbers, but it's mash-ups, as well. This particular high-octane, vocally-charged mash-up was the final number of the episode, during which Finn outed Santana as a lesbian. What resulted next was the biggest slap of all time!
14. Somebody to Love // Finn, Rachel & Cast (Season 1, Episode 5: The Rhodes Not Taken)
Whenever Finn and Rachel would lead the cast in a fist-pumping anthem, it was just magic. This was early on in their romance and one of their most captivating ones, bolstered by great soulful runs from Artie and Mercedes.
13. Lucky // Quinn & Sam (Season 2, Episode 4: Duets)
A really cool pairing resulted in a truly sweet moment. Neither are powerhouse belters but they delivered a nuanced and super romantic performance.
12. Cough Syrup // Blaine (Season 3, Episode 14: On My Way)
As one of the show's most valuable assets, Darren Criss offered up one of the most poignant and harrowing vocals. As he crooned on the dark track, David Karofsky (Max Adler), once Kurt's bully, ends up on the other side and attempts to hang himself. It was one of the most sorrowful sequences of the show, but the most honest.
11. Faithfully // Cast (Season 1, Episode 22: Journey)
As one of the most triumphant moments of the show, this Finn-led number brought the group's dreams to new heights. It was a vocal masterpiece, soaring from low valleys to the dizzying heights of mountain peaks. Beginning the performance from the aisles, Finn and Rachel (as the rest of the cast merged onstage) dazzled the judges at Regionals. They ultimately didn't win, however, but it proved that they were only one song away from becoming the top dogs.
10. Anything Goes / Anything You Can Do, I Can Do Better // Harmony (Season 3, Episode 1: The Purple Piano Project)
With a fireball of a voice, Lindsay Pearce (as the mega-hyper NYADA hopeful Harmony) was one of the greatest wastes of talents in Glee history. During her stint on The Glee Project, she more than proved her mettle as a triple threat, but for some reason, Murphy never took advantage of her well-spring of talent. This single performance is her best onscreen moment ever, vaulting past hundreds of performances from series regulars.
9. Teenage Dream // Blaine (Season 2, Episode 6: Never Been Kissed)
Blaine turned up the heat in his navy blue Warbler blazer, crooning over Katy Perry's syrupy-sweet romantic ode. It was the moment Kurt's love for Blaine began, and he never looked back. Sure, their road to true happiness was a rocky one, but it was in this four minute performance that their fate was sealed.
8. Take My Breath Away // Quinn & Santana (Season 3, Episode 19: Prom-asaurus)
Following Quinn's near fatal car accident, it was unclear whether she would ever recover. It was the magical moment at prom that sparked her life again, leading to one of her finest performances ever, alongside Santana. It was a spine-tingling and joyous moment.
7. No One is Alone // Rachel, Kurt & Blaine (Season 5, Episode 15: Bash)
The show prided itself on tackling tough subjects, and in Bash, they dug their musical heels into hate crimes. This blistering and authoritative performance (of an Into the Woods signature) was surreal, peppered with footage of a candlelight vigil in New York City. Gut-wrenching would be the appropriate descriptor here.
6. Keep Holding On // Cast (Season 1, Episode 7: Throwdown)
After school gossip and blogger Jacob (Josh Sussman) runs a Quinn pregnancy story on his blog, the rest of the glee club performs this power ballad to demonstrate their loyalty to her. Rachel and Quinn lock eyes, and in that moment, there's an understanding that blooms between them. That foundation, of course, comes into play later on in the series.
5. Maybe This Time // April & Rachel (Season 1, Episode 5: The Rhodes Not Taken)
Combine the legendary Broadway status of someone like Kristin Chenoweth with the more contemporary polish of Lea Michele, and what you get is one intense collaboration. Kristin's contribution lit up the small screen (her operatic power note at the end is just delicious) and balanced Lea's equally stunning vocal. The odds are in their favor!
4. Smooth Criminal // Santana & Sebastian (Season 3, Episode 11: Michael)
Backed by 2Cellos, Santana and Sebastian's (Grant Gustin, once of the Warblers) rivalry came to a head with this orchestral-pinned version of one of Michael Jackson's classics. Vocally, both singers fueled each other and as each cello ebbed and flowed with a sinister edge, they kept time and powered through one of the most innovative performances on the show.
3. I Want Hold Your Hand // Kurt ( Season 2, Episode 3: Grilled Cheesus)
This show has never skimped on the blistering power ballads, but Chris Colfer's soaring rendition of this Beatles classic has stood the test of time. While Burt's life stood in limbo, Kurt turned to his friends and music to find solace in the unknown. Of course, things turned out fine, but in that moment, he didn't know if his father would make it out alive.
2. Don't Stop Believing // Cast (Pilot)
It was the performance heard 'round the world. As the final musical number in the show's pilot, it set the bar high very early on. It combined the charm we all came to relish in with an impressive musicality: here we had the underdogs finding themselves in the music. That would later come back to propel them to far greener pastures than McKinley's walls. We'll never look at simple red T-shirts the same ever again.
1. Make You Feel My Love // Rachel (Season 5, Episode 3: The Quarterback)
As Lea's finest vocals and interpretations, this particular performance was visceral for the audience, as well. It was not only a tribute to Finn Hudson but to Cory Monteith's legacy, too. His life was tragically cut short, and this performance was a stark reminder of his potential. And for Lea, this performance was at her most raw, most vulnerable state. Truly a masterclass performance.
Well, Glee, thanks for the memories!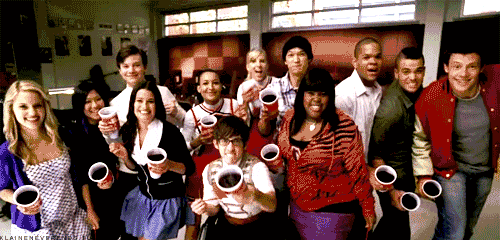 To end this unbelievably enjoyable era in TV history, click through this handy-dandy YouTube playlist with all performances and get ready to cry:
Stay tuned for Glee updates. Be sure to follow @Popdust and @JasonTheScott on Twitter!