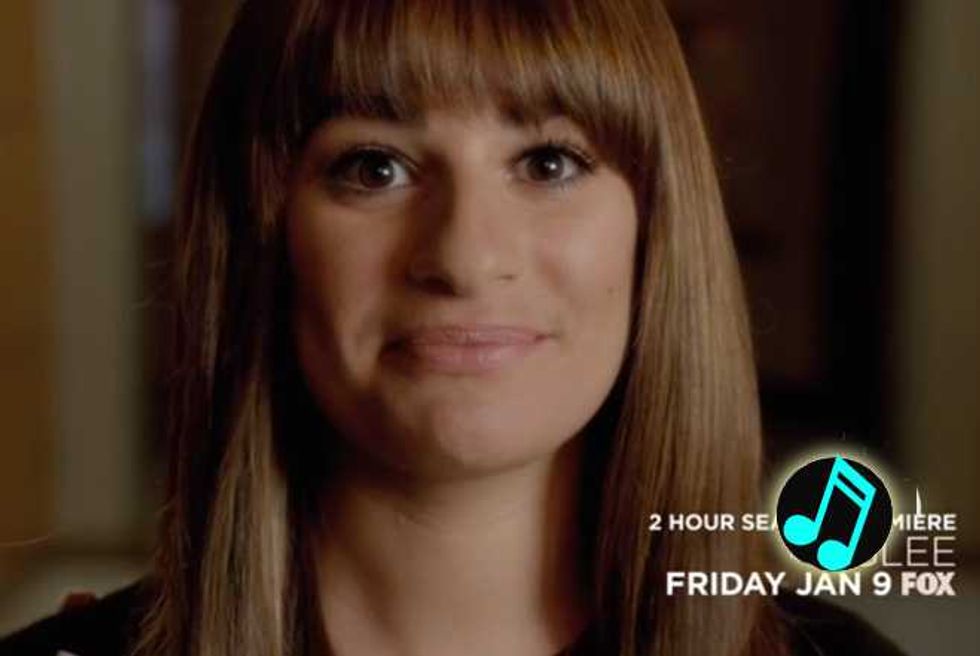 The final chapter of Glee's endearing saga begins on Friday (Jan. 9) with the Season 6 premiere. And what better way to start saying goodbye than with (yet another) version of Frozen's signature "Let It Go." It originally was recorded by Broadway legend and Tony Award winner Idina Menzel (who plays Lea Michele's onscreen mother) and then re-recorded by pop star Demi Lovato. Since the soundtrack dropped in late 2013, every major network television show has made some reference to it. Now, Michele takes it on, giving it a dose of optimism that only she could.
Entertainment Weekly first debuted the clip exclusively, before it was added to Hulu (watch below).
Featuring a time jump since Season 5, Friday's two-hour premiere, "Loser Like Me"/"Homecoming," sees many of the original cast members returning to Lima, Ohio. That's right: New York City is gone. The official synopsis reads: "After Rachel's humiliating failure as TV actress, she comes home to Lima to figure out what she wants to do next. Upon discovering that Sue has banished the arts at McKinley, Rachel takes it upon herself to reinstate and lead the Glee Club. Meanwhile, Blaine, no longer in a relationship with Kurt, has moved home to coach the Warblers while Will is coaching rival Vocal Adrenaline, and Sam is the assistant coach for the McKinley football team. Then Puck, Quinn, Santana, Mercedes, Brittany, Artie and Tina all return to McKinley for Homecoming and help Rachel and Kurt recruit for the new glee club."
Show creator and executive creator Ryan Murphy previously shared what fans can expect for the show's final bow. "The final season is really its own story and its own location, and while the New York stuff will be alive, the final season is not New York-centric at all," he told The Hollywood Reporter. It really [will be] a lovely, fitting season that … dwells on the original people that were on the show and what happens to them and how they give back. That really is the last season. … We'll revisit some of the new kids that came and went. There's a return of the Jane-Matt characters in a big way. It's really interesting, a very sweet, satisfying ending to the story."
After a triumphant run since the summer of 2009 (the pilot episode debuted months before the series officially launched), Glee has become an pop culture staple. Through covering every major and indie artist on the planet, it quickly built a loyal fan base and blockbuster iTunes sales. In 2011, it shattered music records by charting an impressive 113 songs on the Hot 100, usurping Elvis Presley (with his 108 total). Now, with only 13 episodes remaining in its TV run, we can only look back and sigh with satisfaction.
Glee returns to FOX on Friday (Jan. 9) at 9/8c. Get those tissues ready!
Stay tuned for updates. Feel free to follow @Popdust and JasonTheScott on Twitter!