Frontpage Popular News
TELEVISION | The actor and writer will star in the new comedy AP Bio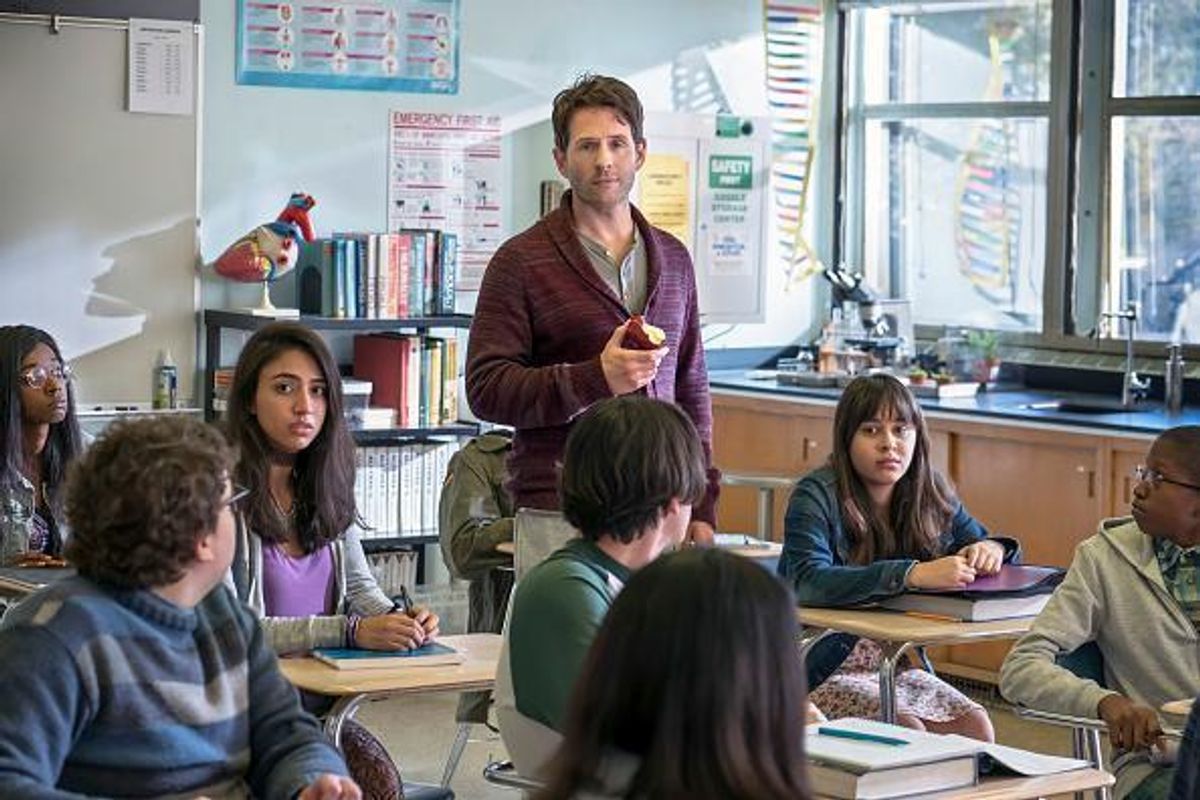 NBC- Getty Images
The star and co-creator of the long running FXX series may be leaving as his new NBC comedy is picked up for the new season.
Is Dennis Reynolds' leaving Philadelphia for good? Things appear a lot more uncertain after NBC announced it would be picking up the new comedy series AP Bio, starring Glenn Howerton, as part of their 2017-2018 lineup. The new series was one of the most buzzed about contenders for the new TV season thanks to it's impressive creative team including, producers Seth Meyers and Lorne Michaels and costar Patton Oswalt, The series centers on a philosophy scholar (Howerton) who's forced to return to his hometown and teach an AP Bio course despite his total disinterest in the subject.
As intriguing as this new series may be, it does however raise questions about Howerton's future involvement on It's Always Sunny in Philadelphia, the long running series he co-created and stars in on FXX. Howerton himself has been cryptic about his future on the series since becoming involved with AP Bio, suggesting his new series could make it difficult to continue his involvement on Sunny. Unlike co-star Kaitlin Olson, who has managed to lead her own Fox series The Mick, as well as appear in Sunny's latest season. Howerton's situation is a bit more complicated, since in addition to acting he also writes and produces the series. A major contributing factor to the show will certainly change the dynamic.
[rebelmouse-proxy-image https://media.rbl.ms/image?u=%2Fwp-content%2Fuploads%2F2015%2F05%2Falways-sunny-3.jpg&ho=http%3A%2F%2Fmypullzone.orangepopmediall.netdna-cdn.com&s=341&h=fcae94f1eeaf82c3e3401a8e56b2cbd6900f1bc08b97a3aa4f8a7f6690efe0e9&size=980x&c=77011489 photo_credit="" caption="The Interrobang" pin_description="" image-library="0" crop_info="%7B%22image%22%3A%20%22https%3A//media.rbl.ms/image%3Fu%3D%252Fwp-content%252Fuploads%252F2015%252F05%252Falways-sunny-3.jpg%26ho%3Dhttp%253A%252F%252Fmypullzone.orangepopmediall.netdna-cdn.com%26s%3D341%26h%3Dfcae94f1eeaf82c3e3401a8e56b2cbd6900f1bc08b97a3aa4f8a7f6690efe0e9%26size%3D980x%26c%3D77011489%22%7D" expand=1]The Interrobang
This isn't to say Sunny is in anyway at risk, having already been picked up for at least two more seasons on FXX. Yet, Howerton's new commitment could definitely have a serious impact on how soon those new episodes arrive. Howerton himself has said the series will take an "extended hiatus" while he and the rest of the cast pursue other projects. While not necessarily common, series like Louie and Curb Your Enthusiasm have been offered a similar flexibility to take extended breaks for the sake of their creative teams outputs.
Of course with all new series carrying the risk of not catching on with audiences, even despite impressive pedigrees, it is probably a bit premature to assume we won't see Howerton's Dennis whenever Sunny returns. At the very least, because of his strong ties to the show, it seems reasonable to expect Howerton to make at least guest appearances on the series if not return on some recurring basis. Still, even with the potential bummer of this scenario, there's certainly reason to be excited for Howerton's new series offering an even larger showcase for the performers snarky charms.
---
More From Film/TV
The hypocrisies of #FireColbert
What has us excited and concerned in the new Defenders trailer
CBS officially picks up a Sheldon Cooper/Big Bang Theory spinoff