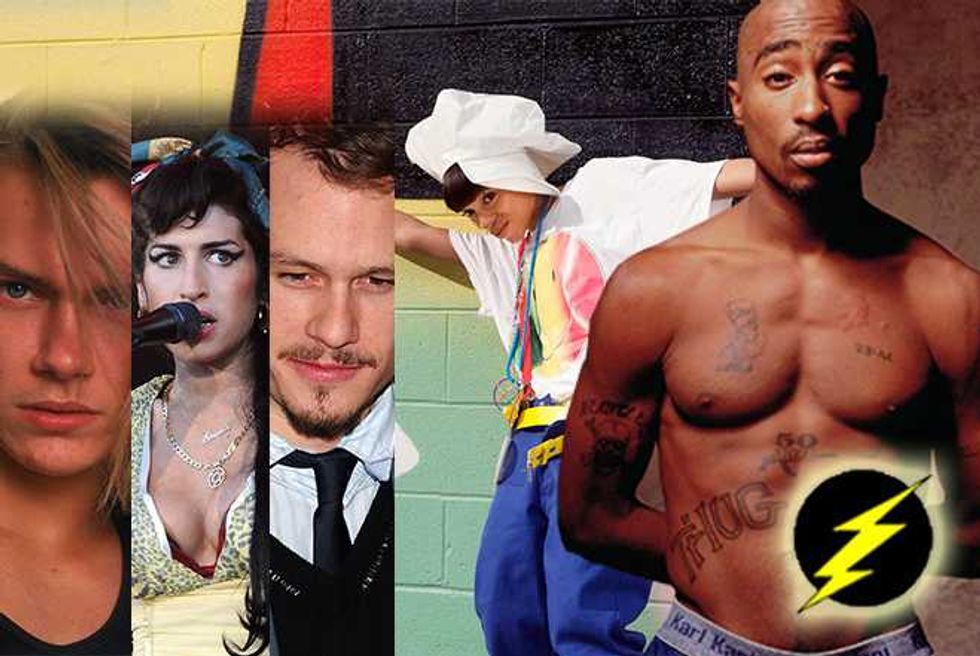 As Benjamin Franklin once said, there are only two things guaranteed in life—death and taxes.
Sadly, as Bobbi Kristina Brown's tragic passing on Sunday has shown us, one other thing is for sure, old age is not guaranteed to us, and tragedy can hit when you least expect it.
When somebody dies, whether they are family, a friend, or someone you looked up to, it can be devastating for those left behind. When a celebrity dies, it's always a sad thing for family and friends, of course, but also for fans.
Stars Who Made It Into The Tragic 27 Club
Even though the vast majority of fans don't actually, personally, know the celebs they look up to, often their death can hit hard—resulting in public outpourings of grief and mourning amongst fan communities.
The shock and pain is undoubtedly intensified when the death is unexpected—or, if the celebrity passes at a time in their career when they were still giving, or in their prime.
Miley Cyrus' Song To Her Dead Blowfish Pablow Is Really Kinda Awesome
The overwhelming public outpouring of grief in Great Britain following the shock death of Princess Diana in 1997, was on a scale not witnessed in generations—and gave Brits their very own JFK moment—everybody over the age of 25 is likely able to tell you where they were, and what they were doing when they learned the tragic news.
Diana's death was an example of how much the passing of a public figure can devastate even those who didn't know the person on an intimate basis. Thousands of people journeyed to Buckingham Palace to leave flowers in honor of the Princess of Wales, who died in a car crash in Paris, France, age 36—and central London ground to a standstill, eerily deserted, on the day of her funeral—as residents either watched the proceedings on TV or lined the streets to show their respects as the procession passed by.
Rupert Murdoch's Nasty Final Dis To Joan Rivers
Some people sneer at those grieving for celebrities, believing it to be insincere, as they think there was no personal connection between the grieving and the famous deceased. But, who's to say how much a celebrity's death may genuinely hurt and affect a fan?
Many fans feel a hugely personal connection with celebrities—the death of Michael Jackson proved that point, following his shock passing in June 2009.
Candid Never-Before-Seen Elvis Presley Photos Show The King's Intimate Side
Despite many controversies during his 50-year life, Jackson touched the hearts and minds of millions—maybe even billions—around the world, with his music, dance and life story.
Not surprisingly, the public outpouring of grief was immense following Jackson's death, with fans taking to the streets to hold candlelight vigils, and thousands flocking to the Staples Center in Los Angeles to attend a public memorial service, which was broadcast live around the world, and watched by a global audience of up to one billion people.
Woman Parties At Her Own Funeral
From Princess Diana to Michael Jackson; Heath Ledger to Brittany Murphy; Buddy Holly to Elvis Presley; Lisa "left Eye" Lopes to Tupac Shakur, Popdust remembers the celebrities, from past to present, that died too young.