Music Features
Their debut album Canyons is set for release June 12th.
Patrick Tracy
Fourteen years ago, two-time Grammy Award winner Colbie Caillat met Jason Reeves.
The two relatively unknown musicians would soon go on to curate Caillat's double platinum debut, Coco; her single "Bubbly" would become an international hit and take over the world. The success would spawn a life-long creative friendship. Now, the two will take center stage together as part of the country quartet Gone West, whose debut album, Canyons, is set for release on June 12.
---
The birth of Gone West came naturally. Guitarist Justin Young had been part of Caillat's band for over a decade, and Reeves has been married to Danielle Leverett for 8 years. To form a band seemed like a no brainer. "I always wanted to be in a band," Caillat told Popdust. "It sounded more fun to me than being a solo artist. Trying it out with my friends just sounded like a good idea!" The band talked with Popdust about their incoming debut album, life in quarantine, and their infectious new single "Slow Down."
Colbie, you're so used to being a solo artist all these years. How has the creative chemistry changed now that you're part of a band?
There are a lot of compromises and learning from each other. Like any partnership, not all parties are gonna always agree on the same thing, so it's been important for us to be able to incorporate all of our individual ideas and styles together, so it truly feels like Gone West.
The band seems really special considering how well you all know each other. You guys have so many different creative backgrounds, so how do you guys balance each other's unique styles?
Because each of our musical backgrounds is completely unique to where we grew up, you will hear moments of inspiration from each of us individually on Canyons. We're all from different places, Tennessee, Iowa, Texas, California, Hawaii, but when those choruses hit and we sing together, we sound like "one voice." It's truly special!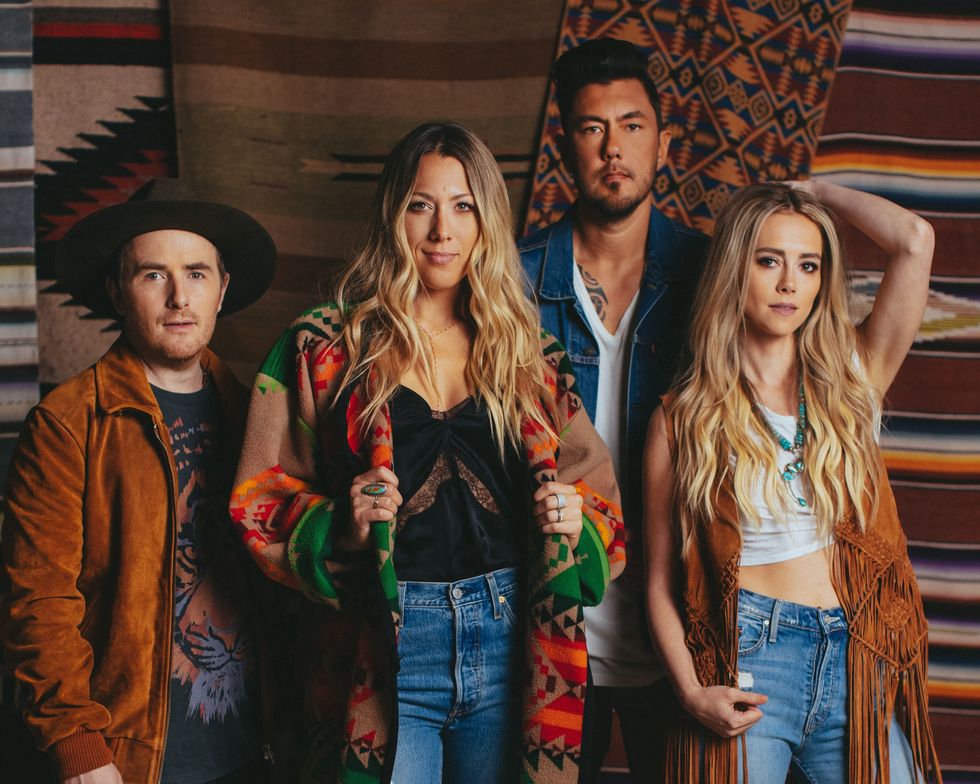 Patrick Tracy
Tell me about "Slow Down." It seems fitting for the current climate. Why do you guys feel it's important now more than ever to slow down?

It's about embracing the people/loved ones most important to you in life, as well as the places you love, and things you enjoy to do. We should just always be living life this way.
How are you guys spending quarantine?
We have been cooking every single meal together and started to get really creative!
That's great! I guess that helps the time go by.
Nelly just learned how to make homemade hummus and Mediterranean dressing! But we really miss our fans and want nothing more than to play this album for people live.
Canyons is out June 12th.
Slow Down