As the dour pair of philosophers, Max Horkheimer and Theodor Adorno, once observed, in their Dialectic of Enlightenment, "the culture industry perpetually cheats its consumers of what it perpetually promises…all it actually confirms is that the real point will never be reached, that the diner must be satisfied by the menu." While reckoning the promise of the Enlightenment with the horrors of the Second World War, it is safe to say that, in some spiritual sense, Messrs. Horkheimer and Adorno have seen the horrors of a music festival lineup. While the rest of the world was busy celebrating the possibilities of the other sex in the movie theater, the music festival remained a safe space for old men and Governors Ball was no exception: Flume or Chance the Rapper! Phoenix or Donald Glover! Wiz Khalifa or Tool! The possibilities were endless.

But another choice loomed over festival goers this year. "Panorama just had such a chill vibe," one mattress-salesman told me while passing me joint. "It was so much better organized," confirmed a South African journalist who had been to them all. This was the first Governors Ball to occur right alongside the specter of potentially better choices. Even the sponsored graphics on the jumbotrons seemed to agree: ads for the Meadows Music & Arts Festival ran at all hours. Like Gov Ball, the event is run by Live Nation but transpires in a parking lot in Queens instead of an island in the middle of the Harlem River. At times, I wondered if the wi-fi would be better there. Or if I'd rather catch Jay-Z instead of Wiz Khalifa. Like a dating app constantly reminding you that you could, in the words of one band on Sunday's lineup, be having it so much better, a fear of being somewhere else hung like the clouds that threatened a repeat of last year's canceled festivities.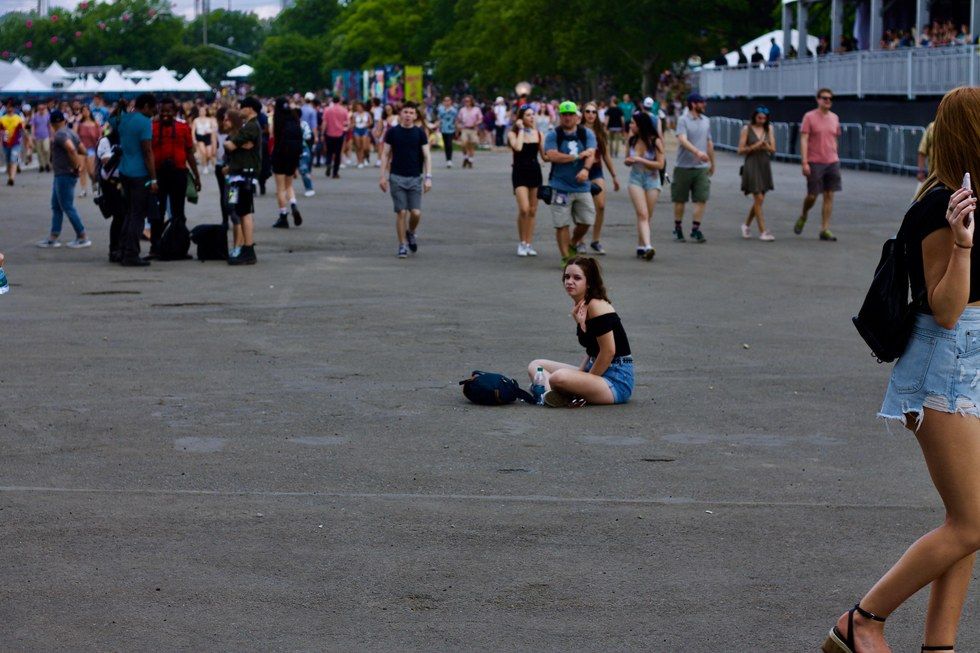 Would better bathrooms really exist at next month's Panorama Music Festival?(Andrew Karpan)
Also absent this year's proceedings was Kanye West, the centerpiece of both New York festivals that Live Nation ran last year. His first appearance was canceled because of fears of a lighting storm that never ended up happening and the second had been cut short when Kim Kardashian was robbed at gunpoint in Paris.
For this reason, perhaps, the festival programmers had elevated Chicago's other famous rapper, Chance, to Kanye-like prominence. Lines were set up, as they had been last year, for Chance-only merchandise and, when the time came, Lil Chano From 79th rolled on stage in his retro-hip motorcycle and begun a communal singalong to "Mixtape," the track from Coloring Book that celebrated his accomplishments in the world of releasing mixtapes. In a sense, this is framed as an accomplishment of the American Dream's individualist fantasia; "How can they call themselves bosses/when they got so many bosses," Chance asks of his peers. But the presence of the absent Mr. West could still be felt, Chance performed a set of three songs from West's The Life of Pablo--concluding with"Ultralight Beam," the track where Chance was the first voice heard when millions tuned into West's record for the first time last year.
Chance, interestingly, wasn't the only act covering "Ultralight Beam" this weekend. Two days later, the LA's Local Natives performed their cover of the song, originally released last December in a singles series for the streaming giant, Spotify. Turning Kanye's gospel choir into a Beach Boys-esque exercise in harmonics striped the song of some of its church session power but, accordingly, makes it into something more likely to be played at a Target.
In addition to performing their cover of "Ultralight Beam," Taylor Rice of Local Natives also challenged popular convention that said man buns were out.
(Andrew Karpan)

To make up for these absences, the festival's corporate sponsors were called upon to do double their regular, necessary work. The Honda Stage, normally one of the festival's smaller stages, was elevated to co-headline level and given a shiny neon ring. The regular VitaminWater van was supplemented by a nearby establishment dishing out their owner's flagship product. Lines coiled quickly, as festival patrons were allowed to personalize their own Coke cans, that thing they do now with the names. One of the employees gave me strange looks for trying to christen one "Pepsi."
Most curious, however, was the new presence of Subway®, who had opened up an impressive-looking erection called 'The Green Room'; a press release called it "a restaurant, performance space and lounge." Hammocks were set up nearby and, soon, mysterious disappeared. But the main attraction was inside, where an even longer line waited pleasantly for free "mini sandwiches" and was willing to bear the presence of DJs who regularly complained about people just jumping on the marshmello bandwagon. "It's also a chance for people to connect with Subway® in a fresh way, and reconsider how they see our brand," Karlin Linhardt of the company wrote. Less perverts, more EDM.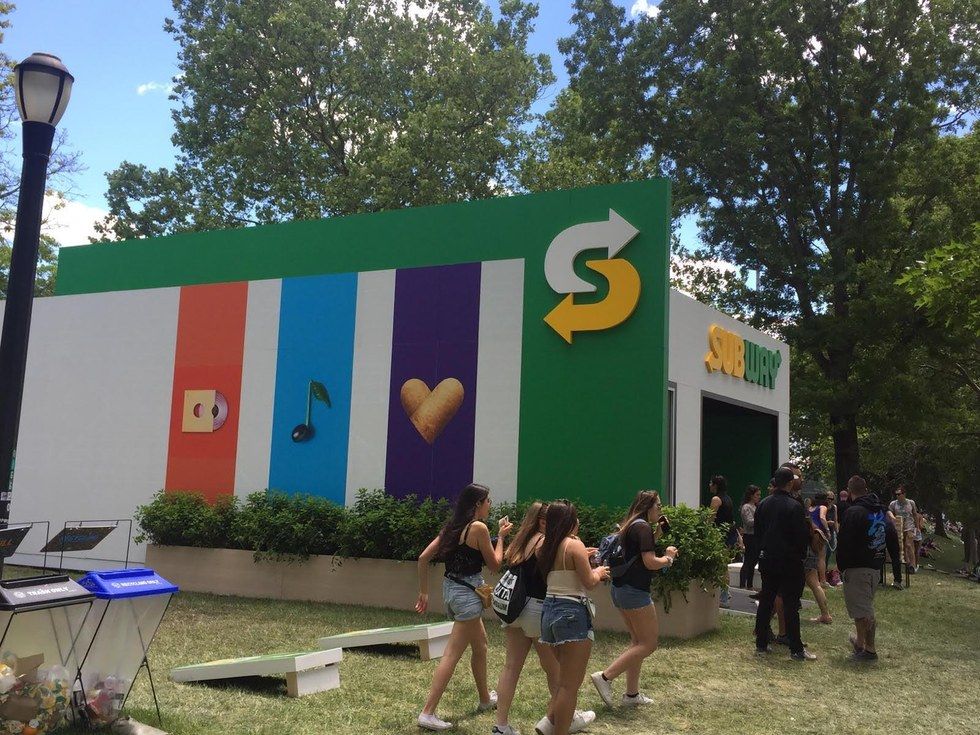 "Us? Knowingly harbor a pedophile? Never!"
The seventh annual Governors Ball was remarkable for a number of other firsts. It was, for instance, the first to take place since the state's actual governor, Andrew Cuomo, begun pushing for the decriminalization of weed. While police presence was notably "stepped up" in wake of the recent bombing of Ariana Grande concert, use of 'illicit' substances seemed to have steeped up in strange synchrony, remarkably unrestrained. As I strolled from the barely contained rave that was Rae Sremmurd's blunt-passing mayhem to watching Brooklyn hippies in backward baseball caps sell their pre-rolled wares to bored Long Island teenagers, I wondered what now?
Surrounded by the frightening neons of a city crashing to earth, the posters for the Governors Ball Music Festival have always been notable for their strikingingly egalitarian approach. Where festivals like Coachella became infamous for inscribing lesser bands to microscopic script, Gov Ball has always presented a playing field where, say, bands like Lo Moon and Welles appeared like friends invited the same party as Phoenix and Lorde. This comes from the festival's longstanding attempts to connect it to the New York ethos, the if-you-can-make-it-here, you-can-make-it-anywhere mentality. Gov Ball has, accordingly, always been something of an odd fiction: from the little stickers that proclaim, adamantly, that somebody is doing great to the drolly 'urban' cartoon spread the festival attempted to use last year. Now, with the possibilities of other and better festivals popping up every week like little weeds, the Gov Ball's greatest fiction has become itself. But, maybe, being confined to an island in this 'fake news' era (ironically, the wi-fi password at the press tent) isn't the worst thing. The real world is scary, bro.
Nobody could quite capture the experience of being at a music festival like the New Zealand singer, Lorde.
(Andrew Karpan)
A dental hygienist from LA, she told me she was very upset to have missed Coachella this year. "There are way too many teeniboppers here," she told me. We discussed for some time what that meant.
Suspiciously abundant this weekend was Baywatch paraphernalia. There were no Wonder Woman get-ups in sight.
(Andrew Karpan)

---
Andrew Karpan has been to many music festivals but has yet to burn a man. Help him out and follow him on Twitter.
More Gov Ball Coverage:

GOV BALL | TOVE LO is our poet of imperfection
GOV BALL | ROOSEVELT really wants to remix Adele
GOV BALL | Is WELLES the last rocker left?