MUSIC
PopDust Presents LIVE | Bradley was supported by his Extraodinaires and could easily be the best set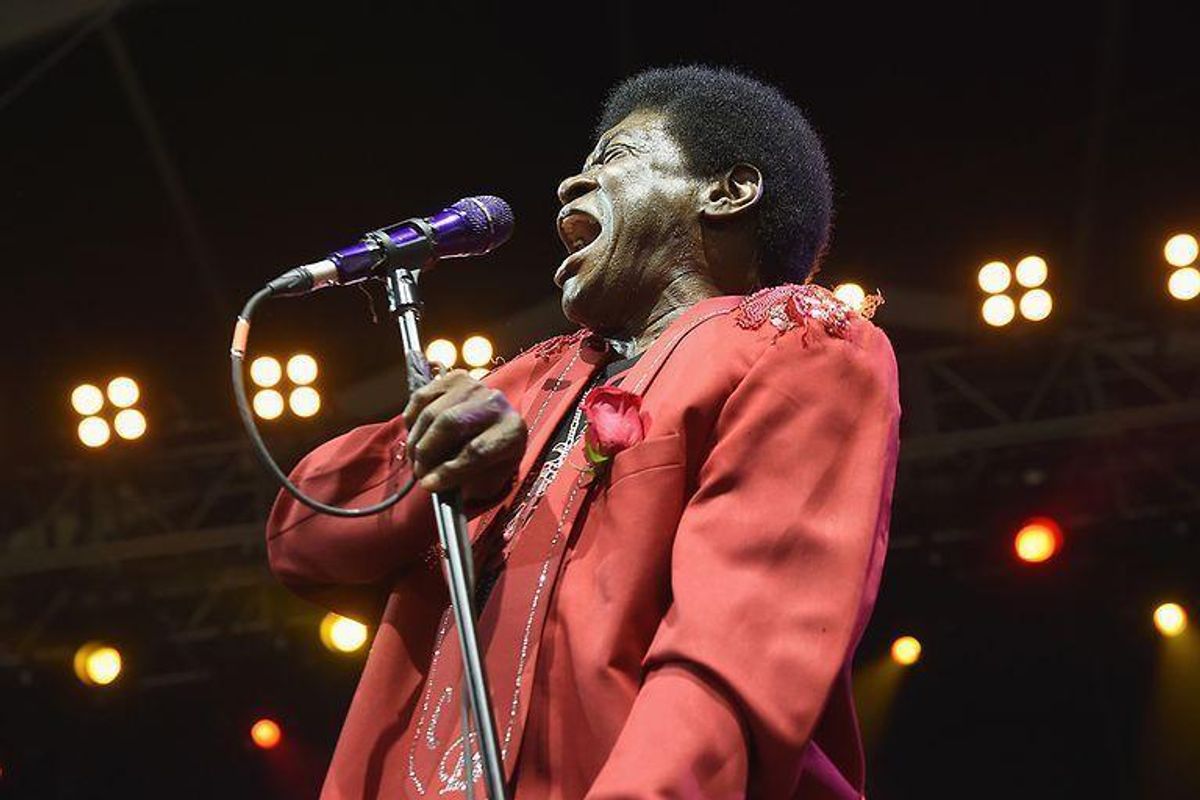 Fuse TV
Charles Bradley could easily be mistaken for James Brown.
Bradley's voice is so powerful and potent with each grunt, groan and growl in a very soulful way. It is coming from a place of love. So it's not surprising that Charles Bradley & his Extraodinaires are on Daptone Records. Daptone is a record label from Brooklyn, NY, that represents the tastiest, most delectable nuggets of Soul, Funk, Gospel and Afrobeat to be found on a vinyl platter.
He played Governors Ball Music Festival 2017 this past weekend. Popdust was there to cover this 67-year-old soul legend's powerhouse performance. He announced during his set that the reason he had not been playing shows or putting out new material was due to his struggle with stomach cancer. Once Bradley had the diagnosis, he immediately began medical treatment and had to cancel all of his upcoming tour dates. After just over six months later, he successfully completed his treatments. He was so happy to share with the crowd that he was back and better than ever. He kicked that cancer to the curb.

"I am so grateful to my beautiful fans and touched by all the love and support they showed me through my crisis and time of sickness," Bradley wrote in a press statement. "They truly lifted me up and kept me going. I am honored and glad to be back and am going to give you all of my love."
At the performance on Saturday, June 3rd, st the Bacardi stage, he told us that we were his family for an hour, for forever and the reason he beat the cancer. The band was incredibly tight and the bass was solid. It was pure and simple joy to see this act and very hard to follow. The singer is a true showman and can really dance. Charles Bradley could easily be mistaken for James Brown with the way he gets down. The horns were killing it too. The guitarist had a very Jimi Hendrix style. The organ was a Hammond B3 with a Leslie speaker. He went off stage at one point to let the band jam, and then came back with a costume change. He also threw roses out to the crowd. Pop dust is glad he will be around to inspire us for years to come.
[rebelmouse-proxy-image https://media.rbl.ms/image?u=%2Fconsequenceofsound.files.wordpress.com%2F2017%2F06%2Fben-kaye-governors-ball-2017-51.jpg%3Fw%3D802%26h%3D552%26crop%26quality%3D80%26strip%26ssl%3D1&ho=https%3A%2F%2Fi2.wp.com&s=976&h=6169823e0dbae0a67fc51654966f9b2e9d48ce546172e1443cfbac1a67ec6b4f&size=980x&c=1890276284 photo_credit="" caption="Consequence of Sound" pin_description="" image-library="0" crop_info="%7B%22image%22%3A%20%22https%3A//media.rbl.ms/image%3Fu%3D%252Fconsequenceofsound.files.wordpress.com%252F2017%252F06%252Fben-kaye-governors-ball-2017-51.jpg%253Fw%253D802%2526h%253D552%2526crop%2526quality%253D80%2526strip%2526ssl%253D1%26ho%3Dhttps%253A%252F%252Fi2.wp.com%26s%3D976%26h%3D6169823e0dbae0a67fc51654966f9b2e9d48ce546172e1443cfbac1a67ec6b4f%26size%3D980x%26c%3D1890276284%22%7D" expand=1]Consequence of Sound
Following a one-off appearance at South Carolina's High Water Festival last month, Bradley and backing band His Extraordinaires will make their triumphant return to the road on an upcoming North American tour. Set for the summer and fall, his itinerary features stops in Brooklyn, Chicago, and Detroit, and is jam-packed with festival appearances, including Sasquatch! in Washington, SoCal's Arroyo Seco, WayHome in Ontario, and Portland's Pickathon. Bradley's last album came in 2016 with Changes, which saw him cover the Black Sabbath track of the same name.
According to Wikipedia the soul rocker has had a huge impact. "Bradley's songs have frequently been sampled by hip hop artists, such as Jay-Z and Asher Roth.[17] Bradley provided the singing voice of the Krampus in the American Dad! episode, "Minstrel Krampus". A live Bradley performance appears in the Amazon television show Alpha House (season 1, episode 6 in 2013).[18] The song "The World (Is Going Up In Flames)" was featured in the TV series Spotless, as well as the final installment of the CW's 2016 Arrowverse crossover, Legends of Tomorrow S2E7 'Invasion!'. The song "Dusty Blue" was featured in the 3rd Season and the song "Changes" was featured in the 6th season of the TV series Suits. He is featured performing "Ain't It A Sin" in the third episode of the Netflix Marvel series Luke Cage. The song "Where Do We Go From Here" appears in the 4th season of the Showtime series Ray Donovan."
His full schedule is below.
[rebelmouse-proxy-image https://media.rbl.ms/image?u=%2Fwww%2Fsystem%2Fimages%2Fphoto_albums%2Fgovball2017-d1%2Flarge%2F170602-govball-day01-05.jpg%3F1384968217&ho=https%3A%2F%2Fcdn.pastemagazine.com&s=864&h=749dadc4899167aa95844b68d0274b691e1775b131716cc7cfdd0998a417bbce&size=980x&c=2951004302 photo_credit="" caption="Paste Magazine" pin_description="" image-library="0" crop_info="%7B%22image%22%3A%20%22https%3A//media.rbl.ms/image%3Fu%3D%252Fwww%252Fsystem%252Fimages%252Fphoto_albums%252Fgovball2017-d1%252Flarge%252F170602-govball-day01-05.jpg%253F1384968217%26ho%3Dhttps%253A%252F%252Fcdn.pastemagazine.com%26s%3D864%26h%3D749dadc4899167aa95844b68d0274b691e1775b131716cc7cfdd0998a417bbce%26size%3D980x%26c%3D2951004302%22%7D" expand=1]Paste Magazine
Charles Bradley 2017 Tour Dates:

06/10 – Asbury Park, NJ @ Stone Pony
06/16 – Monterey, CA @ Monterey Pop 50th Anniversary
06/22 – Detroit, MI @ Chene Park Amphitheater
06/24 – Pasadena, CA @ Arroyo Seco Music Festival
06/30 – Ottawa, ON @ Ottawa Jazz Festival
07/01 – Waitsfield, VT @ Friendly Gathering Festival
07/04 – Montreal, QC @ Montreal Jazz Festival
07/07 – Des Moines, IA @ 80/35 Music Festival
07/13 – Chicago, IL @ House of Vans
07/15 – Birmingham, AL @ Sloss Music & Arts Festival
07/16 – Louisville, KY @ Forecastle Festival
07/29 – Philadelphia, PA @ XpoNential Festival
07/30 – Oro-Medonte, ON @ WayHome Music & Arts Festival
08/03-04 – Portland, OR @ Pickathon Festival
08/05 – Whister, BC @ Wanderlust Festival
08/06 – Kaslo, BC @ Kaslo Jazz Festival
08/12 – Missoula, MT @ Travelers' Rest Festival
08/19 – Wellston, MI @ Hoxeyville Music Festival
08/26 – Pine Plains, NY @ Huichica East Festival
08/31 – Salt Lake City, UT @ Twilight Concert Series
09/04 – Long Island, NY @ The Surf Lodge
09/16 – Rio de Janeiro, BR @ Rock in Rio
09/29 – Lincoln, NE @ Lincoln Calling
10/01 – Long Beach, CA @ Music Tastes Good Festival
10/07 – Santa Barbara, CA @ Santa Barbara Polo & Wine Festival
Watch his Official Music Video for "Good To Be Back Home"