Frontpage Popular News
FESTIVAL | The line-up is hot, but there are some you just can't miss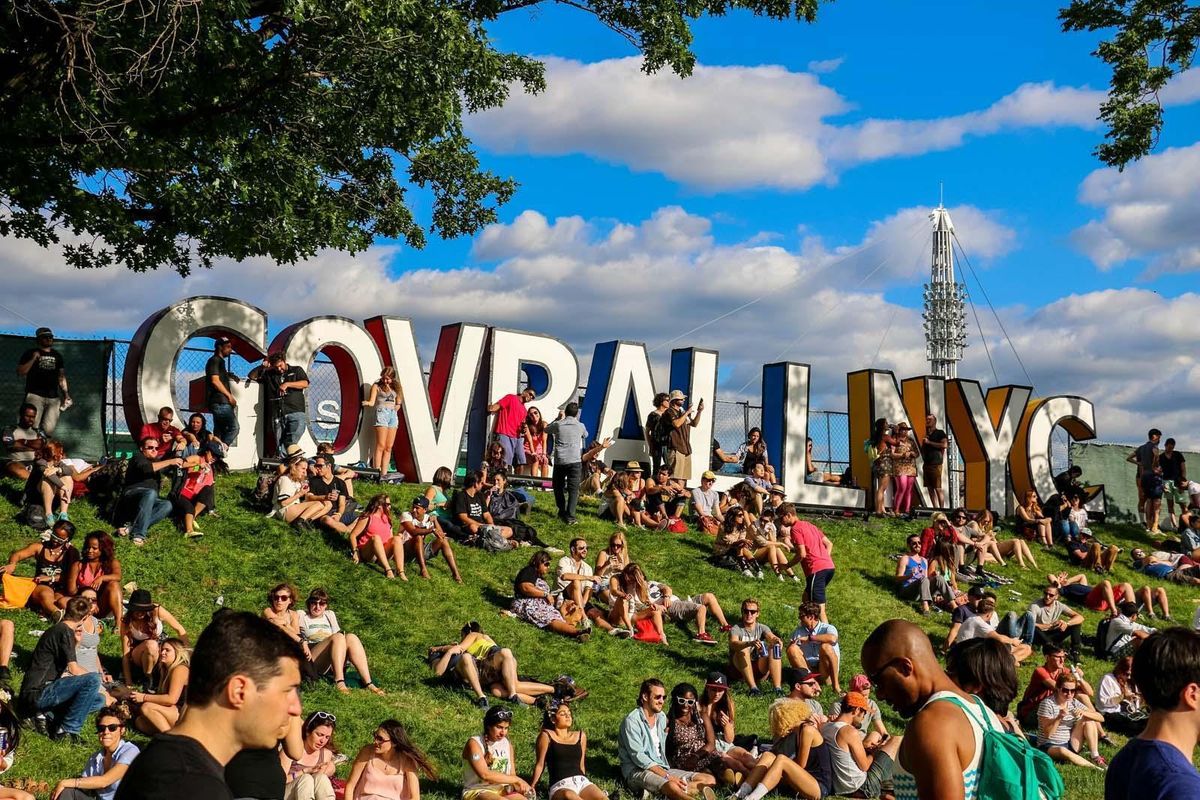 This may be the best Governor's Ball yet!
Every year around this time, you know it is summertime when the Ball comes to town; Governor's Ball, that is. It will take place this weekend beginning on Friday, June 2nduntil Sunday, June 4th. Even though there are plenty of concerts and festivals in New York City, this has proven to be the event not to miss. Popdustis very excited to cover GOV BALL NYC this year, as there are so many acts I admire. Keep in mind, these are not all the groups I am enthusiastic about, just the ones I won't miss.
---
FRIDAY (6/2)
MICHAEL KIWANUKA [ FRIDAY | Time: 5:45 - 6:45 pm | Stage: Big Apple ] This artist was introduced to me by a friend on Facebook. He mentioned that he couldn't believe he missed the release of his album, "Love and Hate." The album captured me right from the beginning to the very last song. The "One More Night" video is just one of those pop soul tracks. I then started it again. It actually made me feel some kind of way about my life and the people in it. His music is sexy, plain and simple. I imagine his live band to be just as emotionally driven.
---
BEACH HOUSE [ FRIDAY | Time: 7:45 - 8:45 pm | Stage: Big Apple ] This 2 person band is a dreamy shoe-gaze vacation. I first fell in love with their song "Wishes" off their album "Bloom." It stokes the heart and puts your mind in a mood to float down a river, blasted by sunlight. When I listen to this, I want to believe in love... in the way it hurts. In general, the new record shows a return to simplicity, with songs structured around a melody and a few instruments, with live drums playing a far lesser role. With the growing success of Teen Dream and Bloom, the larger stages and bigger rooms naturally drove them towards a louder, more aggressive place; a place farther from their natural tendencies. Here, they continue to let themselves evolve while fully ignoring the commercial context in which Beach House exists.
---
[rebelmouse-proxy-image https://media.rbl.ms/image?u=%2Fstatic%2F564637f4e4b0588643c24e7c%2Ft%2F56954a68dc5cb4d9f91c7905%2F1452624671853%2F%3Fformat%3D750w&ho=https%3A%2F%2Fstatic1.squarespace.com&s=124&h=6f4f3db5857de900c083f8de1db0a16c51d85826277b4b879120b13d6b33702c&size=980x&c=3227108126 crop_info="%7B%22image%22%3A%20%22https%3A//media.rbl.ms/image%3Fu%3D%252Fstatic%252F564637f4e4b0588643c24e7c%252Ft%252F56954a68dc5cb4d9f91c7905%252F1452624671853%252F%253Fformat%253D750w%26ho%3Dhttps%253A%252F%252Fstatic1.squarespace.com%26s%3D124%26h%3D6f4f3db5857de900c083f8de1db0a16c51d85826277b4b879120b13d6b33702c%26size%3D980x%26c%3D3227108126%22%7D" caption="" pin_description="" image-library="0" expand=1 photo_credit=""]
CHARLES BRADLEY & HIS EXTRAORDINAIRES [ FRIDAY | Time: 3:45 - 4:45 pm | Stage: Bacardi ] Charles Bradley is an American funk/soul/R&B singer, signed to the Daptone Records. Dubbed "The Screaming Eagle of Soul," he has been on the rise since the release of his widely praised 2011 debut album No Time For Dreaming, and his ascent has continued long after the release of his triumphant second album, 2013's Victim of Love. Check out his live version of "Why Is It So Hard?"
---
ROOSEVELT [ FRIDAY | Time: 12:45 - 1:30 pm | Stage: Big Apple ] These guys are so damn groovy, without the sharp edges. It has soft vibes with a killer beat. His voice is smooth and luscious combined with pop anthems. Marius Lauber AKA Roosevelt released his self-titled debut album last fall to much acclaim. So chill and exactly what my summer needs. His latest 'Remixed 2' EP is out now featuring a Joe Goddard (Hot Chip) remix of album single "Moving On."
---
SATURDAY (6/3)
VANT [ SATURDAY | Time: 12:15 -12:45 pm | Stage: Gov Ball NYC ] I can't say enough about how rare it is to find an album with every song being good. Vant does that with their debut "DUMB BLOOD," which came out in February. I have listened to it probably about 10 times. This British punk-rock band earned five consecutive "Hottest Record In The World" spots from Annie Mac on Radio 1. See them open on the main stage.
---
STORMZY[ SATURDAY | Time: 3:00 - 3:45 pm | Stage: Honda ]I strongly encourage seeing this act. Stormzy raps Grime and is from the UK, spitting this fresh flow on us here in the States. It captured my attention because it's roots are in Drum and Bass. I love the way he says words and has a great sense of humor. The content is not like the hip hop we have, so I have his album constantly playing in my ear buds as I walk the urban terrain of Brooklyn, imagining myself as tough as his rhymes. He is also one of the brightest minds.
"I was meant to go to Oxford University," laughs Stormzy, AKA The Problem, AKA Big Mike, AKA Stiff Chocolate. "I got the best grades at A-level, and the owner of my school was a governor at Oxford. He wanted me to go and it looked like it was going to happen. My mum thought I was going, my friends thought I was going. Then I started making videos and going on YouTube and stuff and…" his voice trails off, and then he grins and winks...
---
[rebelmouse-proxy-image https://media.rbl.ms/image?u=%2Fvi%2F1TcLNHwGh3k%2Fmaxresdefault.jpg&ho=https%3A%2F%2Fi.ytimg.com&s=90&h=f9cab0c87c96fe91d122f017f4df71975a877e35fc925801fe1f1d54bb8fb9be&size=980x&c=448503517 crop_info="%7B%22image%22%3A%20%22https%3A//media.rbl.ms/image%3Fu%3D%252Fvi%252F1TcLNHwGh3k%252Fmaxresdefault.jpg%26ho%3Dhttps%253A%252F%252Fi.ytimg.com%26s%3D90%26h%3Df9cab0c87c96fe91d122f017f4df71975a877e35fc925801fe1f1d54bb8fb9be%26size%3D980x%26c%3D448503517%22%7D" caption="" pin_description="" image-library="0" expand=1 photo_credit=""]
LOCAL NATIVES[ SATURDAY | Time: 5:45 - 6:45 pm | Stage: Big Apple ] Just released "The Only Heirs" single -- a collaboration with Nico Segal -- which comes with "I Saw You Close Your Eyes" that premiered via CloseYourEyes.net, a facial recognition website that plays the song when it identifies closed eyes facing the computer's camera. These two new songs follow their acclaimed full-length, 'Sunlit Youth,' and arrive as the band continues a world tour that includes a run of summer festivals. Additionally, the band's Matt Frazier will sit-in as the guest drummer of The 8G Band on Late Night With Seth Meyers throughout the week of May 22nd.
---
CHILDISH GAMBINO [ SATURDAY | Time: 9:15 - 11:00 | Stage: Honda ] This promises to be a spectacle like no other. Donald Glover, otherwise known as Childish Gambino, may be recognized by his comedic performances and role on the television show, Community. His music is from another planet. I am also on line to go to space. I imagine this show to be much like the music of Parliament funk and soul, with the intense vocals of Prince and Morris Day. Very conceptual, but hard to be ignored, his album "Awaken, My Love" is groundbreaking to say the least. My ears perked up and said "...what is that sweet sound?" I can not be doing anything except vibe with this dude during his set. His live band is supposed to be so sick, that it will shake the foundation of Randall's Island.
---
CAR SEAT HEADREST [ SATURDAY | Time: 2:15 - 3:00 pm | Stage: Big Apple ] What a great name? This is such catchy space indie-rock music like Mercury Rev, but also giving me a flavor of the Killers, with a bit more musicality. They jam out and I am sure will be a great live act. I will be in the front row! Car Seat Headrest will release Teens of Style on October 30, with Teens of Denial to follow soon after in 2016. This prolific artist (n Will Toledo) comes to Matador having already crafted an 11-album catalog of staggering depth, all self-released on Bandcamp, which has gained him an obsessive following and over 25,000 downloads - all without the muscle of a manager, label, agent, or publicist - until now.
---
Sunday (6/4)
[rebelmouse-proxy-image https://media.rbl.ms/image?u=%2Fstatic%2F570442b91bbee0c6ec41d1cc%2Ft%2F570ec6137c65e4a1ebd44dea%2F1460586074535%2Fair-smoke-new-logo.png%3Fformat%3D1500w&ho=https%3A%2F%2Fstatic1.squarespace.com&s=937&h=bdfeed14f1099360d686f4fd12782e8275652c3a4a90b0e294bfb5546d338a9d&size=980x&c=63308480 photo_credit="" caption="www.aircheology.com" pin_description="" image-library="0" crop_info="%7B%22image%22%3A%20%22https%3A//media.rbl.ms/image%3Fu%3D%252Fstatic%252F570442b91bbee0c6ec41d1cc%252Ft%252F570ec6137c65e4a1ebd44dea%252F1460586074535%252Fair-smoke-new-logo.png%253Fformat%253D1500w%26ho%3Dhttps%253A%252F%252Fstatic1.squarespace.com%26s%3D937%26h%3Dbdfeed14f1099360d686f4fd12782e8275652c3a4a90b0e294bfb5546d338a9d%26size%3D980x%26c%3D63308480%22%7D" expand=1]www.aircheology.com
AIR: [ SUNDAY | Time: 8:00 - 9:15 pm | Stage: Bacardi ]Amazing French electronic group that was popular for their hugely influential album "Moon Safari" and the score they did for "Virgin Suicides". This band was essential to my music collection and had opened up my mind to the possibilities to music besides rock. Electronic landscapes that capture a thematic journey into emotions that are murky, yet they are still bright. Like a fragrance of a summer night with a warm breeze in your hair as you drive through the night-time air.
The legendary band announced their American twentyears Air tour, which starts at New York's Governors Ball on June 4th and ends in Los Angeles at the prestigious Greek Theater on June 25th. The tour, their first American one since 2010, is a reminder and a celebration of the ever-surprising Air universe.
---
SKEPTA[ SUNDAY | Time: 8:00 - 9:15 pm | Stage: Bacardi ] I was happy to share this with a friend that is all about hip hop. I was surprised he hadn't heard of it. Not every day I can show him anything he hasn't heard of that is as hot as this. I want to do the same. Has a great party vibe that has a different type of beat. It's known as Grime. And it's invading the states. Thanks to the U.K.
Spitting on hip-hop beats before he ever entered the booth in grime circles, Skepta unleashed his rapid flow in the mid 2000s. Shouting out Meridian Crew and Hackney's Roll Deep he stepped to the forefront alongside his brother, in the era of pixelated video on Nokia devices, street DVDs and Akademiks sweatsuits.
---
[rebelmouse-proxy-image https://media.rbl.ms/image?u=%2Flarwp%2Fwp-content%2Fgallery%2Ffeb2015_cage-elephant_tower%2FCAGE%2520THE%2520ELEPHANT-TOWER-2-05-15-162.jpg&ho=http%3A%2F%2Flarecord.com&s=88&h=e2e77977e065a6d085a26f1d9c9e3316b0d949a427b19e5aeb1f3b4ab4017dfc&size=980x&c=1671393632 photo_credit="" caption="larecord.com" pin_description="" image-library="0" crop_info="%7B%22image%22%3A%20%22https%3A//media.rbl.ms/image%3Fu%3D%252Flarwp%252Fwp-content%252Fgallery%252Ffeb2015_cage-elephant_tower%252FCAGE%252520THE%252520ELEPHANT-TOWER-2-05-15-162.jpg%26ho%3Dhttp%253A%252F%252Flarecord.com%26s%3D88%26h%3De2e77977e065a6d085a26f1d9c9e3316b0d949a427b19e5aeb1f3b4ab4017dfc%26size%3D980x%26c%3D1671393632%22%7D" expand=1]larecord.com
CAGE THE ELEPHANT [ SUNDAY | Time: 8:00 - 9:15 pm | Stage: Bacardi ] With their fourth album, Tell Me I'm Pretty, Cage the Elephant are pushing the advances they made with their last record—2013's Melophobia, which was nominated for a Grammy for Best Alternative Album—while also drawing from the sounds that initially inspired them to start making music back in their hometown of Bowling Green, Kentucky. The results are the band's most forceful and focused songs yet, a set of concise, punchy garage-pop with a feel that guitarist Brad Shultz describes as "a psychedelic John Wayne at an Iggy Pop show."
---
[rebelmouse-proxy-image https://media.rbl.ms/image?u=%2Farticle%2Fnews%2F1%2F38281_1_ver1452178597.jpg&ho=https%3A%2F%2Fcdn.ustatik.com&s=524&h=c8a6ceae7b39fde8fc6002a04b320215cc03205eb090276b14b6c2f17f7d4cb8&size=980x&c=180880917 crop_info="%7B%22image%22%3A%20%22https%3A//media.rbl.ms/image%3Fu%3D%252Farticle%252Fnews%252F1%252F38281_1_ver1452178597.jpg%26ho%3Dhttps%253A%252F%252Fcdn.ustatik.com%26s%3D524%26h%3Dc8a6ceae7b39fde8fc6002a04b320215cc03205eb090276b14b6c2f17f7d4cb8%26size%3D980x%26c%3D180880917%22%7D" caption="" pin_description="" image-library="0" expand=1 photo_credit=""]
TOOL [ SUNDAY | Time: 8:00 - 9:15 pm | Stage: Bacardi ] Tool, headed by front man Maynard James Keenan, is a monster icon in the world of rock. They have easily had more impact on the world of music than any band they share the stage with. The energy that comes off this band is intense like nothing I have ever experienced. This is literally the end of the festival and sure to be the climax of an epic thrashing, the likes of which have not been seen. I am ready for the light show and deafening sound that will leave my ears ringing for days. Small price to pay for an experience that will stay with you the rest of your life.
---
For the Full Line-up & Schedule at Governors Ball:
[rebelmouse-proxy-image https://media.rbl.ms/image?u=%2Fwp-www-governorsballmusicfestival-com%2Fwp%2Fwp-content%2Fuploads%2F2017%2F01%2Fgb17_admat_by_day_lineup_rgb_final_170530.jpg&ho=https%3A%2F%2Fwww.governorsballmusicfestival.com&s=810&h=34b0932133104e6a3242bc2c115609ac814746df435b9a78fd34ed93571561fe&size=980x&c=671372946 crop_info="%7B%22image%22%3A%20%22https%3A//media.rbl.ms/image%3Fu%3D%252Fwp-www-governorsballmusicfestival-com%252Fwp%252Fwp-content%252Fuploads%252F2017%252F01%252Fgb17_admat_by_day_lineup_rgb_final_170530.jpg%26ho%3Dhttps%253A%252F%252Fwww.governorsballmusicfestival.com%26s%3D810%26h%3D34b0932133104e6a3242bc2c115609ac814746df435b9a78fd34ed93571561fe%26size%3D980x%26c%3D671372946%22%7D" caption="" pin_description="" image-library="0" expand=1 photo_credit=""]